Bolt fires to win as Van Niekerk stars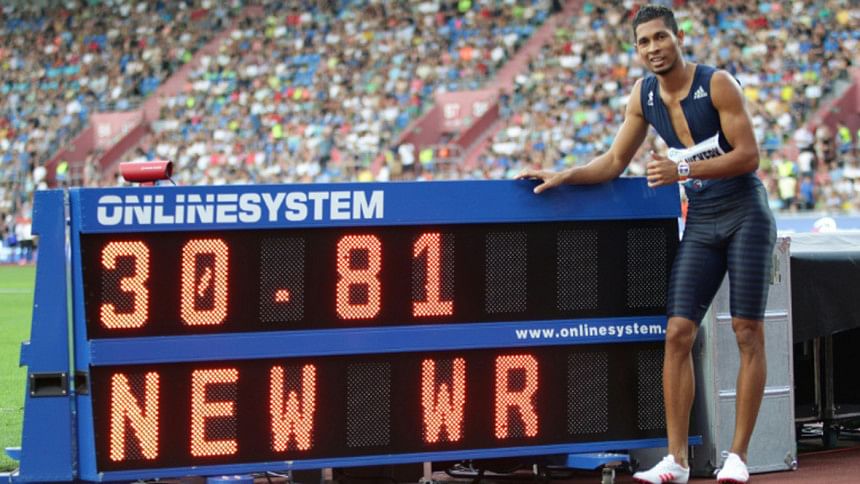 Usain Bolt racked up a straightforward 100m victory on the European bow of his farewell season, but likely successor Wayde van Niekerk stole the headlines in Ostrava with a world record in the little-run 300m.
Bolt struggled with a stiff back and a pedestrian start to beat a weak field. For the briefest of moments, Cuban Yunier Perez thought he might have got the better of the towering Jamaican.
But Bolt turned on the after-burners to win in a modest 10.06sec, leaving him another outing over 100m at next month's Monaco Diamond League before his swansong at the August 4-13 World Athletics Championships in London.
"I have always loved coming to Ostrava," Bolt said. "The great fans make this meeting a really unique one."
Bolt, 30, said his back had been playing up "as always. It's always an issue".
"My doctor told me over the years that the older I get, the worse it's going to get, so I just have to really try to keep in check which is why I need to go and see him to make sure everything's smooth because it feels a little bit tight, but I didn't get injured so that's a key thing, I'm happy about that."
The build-up to Bolt's race was nothing short of electric, with the Jamaican's self-appointed successor Van Niekerk making good on his promise to get "ridiculous" by setting a new best in the 300m.
The 24-year-old clocked an outstanding 30.81 seconds, beating the previous world record of 30.85sec set at altitude in Pretoria in 2000 by American Michael Johnson.
It was the second time the South African has usurped Johnson, having broken his 17-year-old 400m world record when racing to victory at last year's Rio Olympics.
"It's a real honour to twice beat Johnson's records," said Van Niekerk.
"I hope I can continue to make babysteps to be better day by day."
Van Niekerk's time also shattered the meet record of 30.97sec -- previously the second fastest time ever run -- set by Bolt in 2010.
Farah on form
Britain's Mo Farah marked his last circuit outing over 10,000m with victory in 27:12.09.
Since winning silver over 10k at the 2011 world champs in Daegu, Farah is on an unbroken streak of nine global final wins (the 5000m in 2011, and the double at the 2012 and 2016 Olympics and the 2013 and 2015 worlds).
But he will retire from the track to focus on road racing after the world champs on home soil in August.
The 34-year-old held off Kenyan Mathew Kimeli for a smart win just 4sec off Abadi Hadis' world leading mark.
"It was my last 10km race and I enjoyed it," said Farah. "I honestly hoped I could run a bit faster but the wind slowed me down even though we ran quite a fast pace from the beginning."
There was, however, no joy for David Rudisha, double world and Olympic champion and world record holder in the 800m, as he aimed to break the meet record for the 1000m, another little-run distance.
The Kenyan was beaten into fourth as compatriot Nicholas Kipkoech held off local hopes Jakub Holusa and Filip Sasinek to win in 2:18.51.
Olympic champion Conseslus Kipruto's bid for victory in the men's 3000m steeplechase floundered with a fourth place finish behind fellow Kenyan Benjamin Kigen, winner in 8:11.54.
American Christian Taylor claimed victory in the triple jump with a best of 17.57 metres, while Anzhelika Sidorova, the Russian who won European gold in 2014 but is now competing as an independent in the wake of the doping scandal that has rocked the country, romped to victory in the women's pole vault.
Sidorova managed a best of 4.70m, beating out Alysha Newman of Canada, but bombing three times at what would have been a season best of 4.80.