14 Russian athletes fail dope tests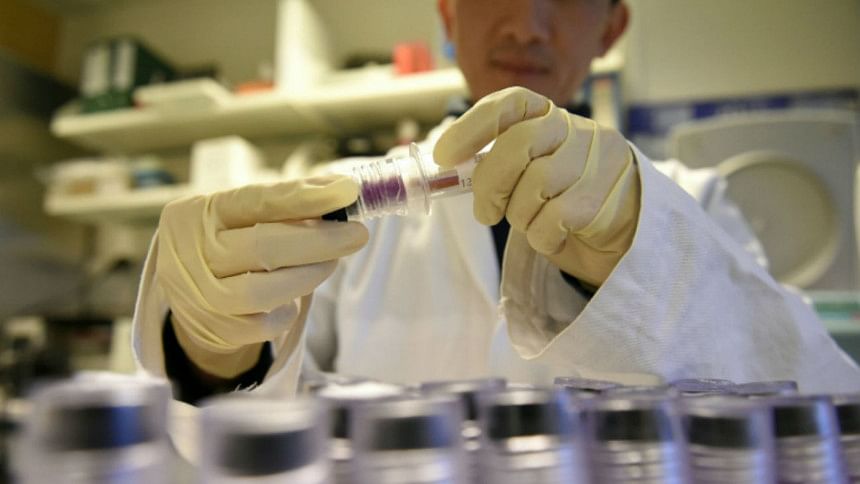 Russia's Olympic Committee (ROC) said Tuesday that 14 of its athletes in the 2008 Beijing Olympics had been found positive for doping in new tests of their samples given during the Games.
"Fourteen Russian athletes in three disciplines gave a positive result," the ROC said in a statement, a week after the International Olympic Committee (IOC) announced that 31 athletes from 12 countries had failed doping tests after new analysis of samples taken from the Beijing Games.
ROC said that the names of the athletes, according to the disciplinary rules, would not be made public until a second set of control samples had also been tested.
Russia's Match TV channel reported the names of the athletes as including 10 Olympic medallists. One, Yulia Chermoshanskaya, won gold as part of the 4x100 metre relay team, while four won silver.
Belgian sprinter Kim Gevaert, part of the Belgian squad that claimed silver behind the Russians in the relay, said: "At the time, we already had some doubts about this girl (Chermoshanskaya) who we didn't know and who we didn't hear of afterwards. It was a bit strange."
Among those also listed was bronze medallist high jumper Anna Chicherova, who is likely to compete in the Rio Olympics in August if Russia takes part.
Chicherova told Match TV: "I can't explain how the sample tested positive," adding she had taken hundreds of doping tests over that period.
Sports Minister Vitaly Mutko told R-Sport news agency that the names of the athletes should not have been released because a second control sample still needs to be tested.
"It's a sensitive topic, why someone does this, I don't know," Mutko said, while not denying the leaked list was genuine.
"It's wrong to name names if a person could be found not guilty," he said.
The president of Russia's athletics federation, Dmitry Shlyakhtin, told Interfax news agency that "we also do not have official information" on the names of the athletes.
The head of the ROC's legal department, Anna Brilliantova, was quoted on its website as saying that the second "B" samples of all the athletes under suspicion will be checked in Switzerland on May 31 and June 1.
The Russian athletics federation said in a statement on Tuesday that it would bar any athlete found to have used doping in previous years from competing at Rio.
"Any potential participant in the Olympic games caught using doping in previous years cannot be a member of Russia's national team at Rio," the federation said.
It said it had submitted this amendment to its selection criteria on May 20 "so that clean athletes can take part in the 2016 Olympic Games."
Mutko, speaking shortly before the announcement, said Russia was working on changing its selection criteria for the Olympic team to bar "athletes who committed gross violations of anti-doping rules".
"I hope that the international (athletics) federation will take Russia's efforts into consideration," Mutko said.
He stressed: "The punishment for doping should be individual. An athlete who violated anti-doping regulations must be punished."
The latest doping revelations came as Russia is reeling from damning accusations by the former head of the Moscow anti-doping laboratory, Grigory Rodchenkov.
He told the New York Times of a systematic state-organised scheme to get round anti-doping rules, including at least 15 medallists at the 2014 Sochi Olympics and involving the sports ministry and the FSB security service.
The Russian athletics doping scandal was earlier brought to light by whistleblowers, including runner Yulia Stepanova and her husband Vitaly Stepanov, a former employee of Russian anti-doping agency RUSADA, who prompted WADA to investigate their shocking allegations about the prevalence of doping in Russian athletics.
The world athletics governing body IAAF next month is set to rule whether to lift Russia's provisional suspension from Rio over evidence of state-sponsoring doping in Russian athletics.
A delegation from the IAAF is set to make its last visit to Russia on Wednesday ahead of the decision on its participation in the Olympics, the Russian athletics federation president Shlyakhtin told AFP this week.