'Can't believe metro rail journey was so smooth, fast'
Says 12-yr-old passenger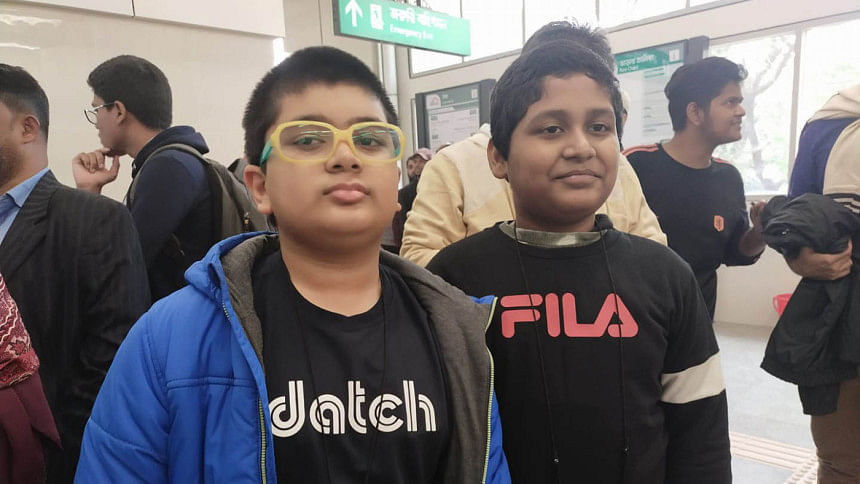 Twelve-year-old Imam Hasan Eyaad was over the moon after taking his first-ever ride on the metro rail this morning.
"It's very exciting. (I) can't believe that the journey was so smooth and fast," Eyaad exclaimed after reaching Agargaon station at 10:15am. "It was my first metro trip," he added.
A resident of Uttara Sector-15, Eyaad along with his grandfather and cousin started from home around 7:45am. After waiting for 55 minutes in the queue at Uttata North Station, they got inside the platform. There too, they had to wait for an hour for tickets before boarding the train around 10:00am.
"My grandfather planned our metro ride last night after seeing the inauguration (of the metro rail) on television," said Eyaad, a fourth grader of Milestone School.
Eyaad's cousin Mohammad Imam Hossain was also very happy to take the ride, although it was not his first time.
"I had my first metro ride in Dubai six years ago, but it was underground. Today's experience was enthralling," said a jubilant Imam, a class five student of the same school.
"The trains are brand new and the station is slick," he said.
Their grandfather, Rafiqul Islam, said it was indeed a good experience barring the long wait in and outside the station.
"What is most important right now is maintenance. It's the nation's asset and we all have roles to play here," he said.