Top 5 Stories to know today
Give us 5 mins and we'll catch you up with all the buzz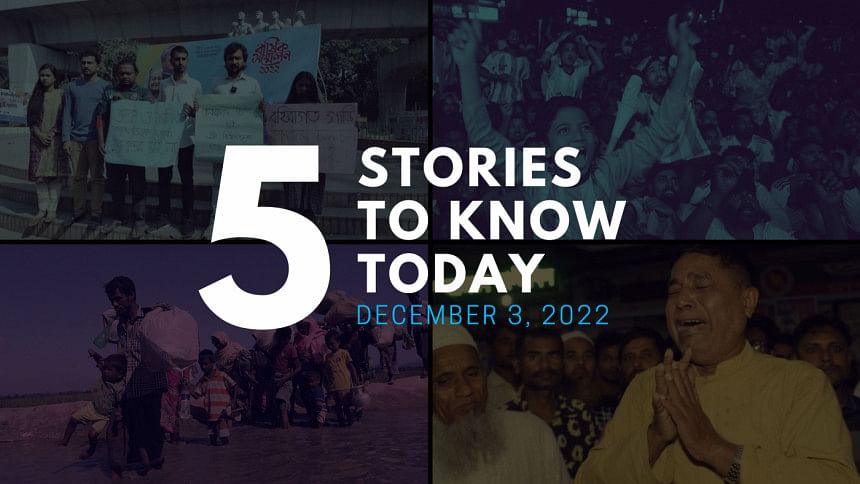 It's been a pretty packed weekend. Brazil fans were left disappointed yesterday night as the tournament favorites 1-0 lost to Cameroon. Supporters of underdogs — those who root for those teams that never really win — are really the ones to celebrate as every big team goes to the last 16, with one defeat. (Japan, South Korea, we love to see it)
The mood is a bit more glum in Lalmonirhat and Kurigram as the sale of essential items from open market shops at subsidised prices has been halted since Thursday. Here's everything else you need to know to get you up to speed. 
1. BNP Rajshahi Rally 
The BNP vs Awami League political saga 2022 edition is gathering steam. Leaders and activists headed to the northern city today defying transport strikes. During the rally, Secretary General Mirza Fakhrul Islam Alamgir reiterated BNP's stance on their upcoming rally in the nation's capital: that they will stage the programme at Nayapaltan, where they've previously held peaceful rallies. He accused the government of staging various incident and accusing BNP workers in false cases. BNP also received some criticism from local journalists today for forcing them to put on press cards with photos of Khaleda Zia and Tarique Rahman. 
On the other hand, General Secretary Obaidul Quader gave an ominous warning to BNP today in Awami League's Mymensingh Conference. "The streets may belong to them, but the highways belong to us. We didn't fall from the sky. We belong to the people," he said, and a lot more which you can read here. 
2. DU students protest after woman dragged by car through campus dies 
A woman was dragged around for several hundred yards on Dhaka University (DU) campus yesterday by ex-DU professor, Azhar Zafar. The inhumane accident has shook the university to its core. DU students have come out with a non-violent demonstration, and three-point demand: DU roads be put under the control of DU officials; all types of vehicles on the campus be subject to speed limit; and checkpoints be installed at all entrance gates. The victim, Rubina Akhter's brother filed a case today at Shahbagh Police Station and the ex-DU teacher has been taken into custody. Read more 
3. Rohingya Refugee Crisis: US to discuss a pilot scheme for resettlement 
The US Assistant Secretary of the US Bureau of Population, Refugees and Migration, Julieta Valls Noyes is in Bangladesh to discuss a pilot scheme for a resettlement of a small group of Rohingyas to the US and humanitarian assistance for the Rohingya. Meanwhile, UNHCR reported yesterday, that some 1,920 people, mostly Rohingya, travelled by sea from January to November 2022, from Myanmar and Bangladesh, compared to only 287 in 2021, a more than sixfold increase. 
4. Bangladesh-India ODI series to start tomorrow 
The Indian team has arrived in Bangladesh for a three-day ODI series with the Tigers and two Tests in a month-long visit. India skipper Rohit Sharma said on Saturday his side's tour of Bangladesh will be "no cakewalk" as the Bangladesh have evolved into a "different team" since 2015. Bangladesh's Liton wore an optimistic spirit — despite the absence of two of the team's best cricketers in the series. "Obviously, India are a big team but we are also a good team at home," Liton said. Read more 
5. World Cup 
Lots of drama after Brazil lost to Cameroon yesterday. Though Brazil is through as Group champions, they'll now continue without two key players: striker Gabriel Jesus and full-back Alex Telles have been ruled out of the World Cup after the duo picked up knocks during the Selecao's 1-0 defeat to Cameroon in their last World Cup Group G game. Argentina's coach Scaloni, on the other hand, thanked Bangladeshi fans for their support. Argentina fans will be up late tonight, watching Messi & Co take on the underdogs Australia in the second match of the round of 16 at 1:00am Bangladesh time today. Tune into our live updates here during the match. 
For an interesting read before: here's why Maradona fans struggle to love Messi the same way.