Poor families suffer as OMS sale halted in 2 dists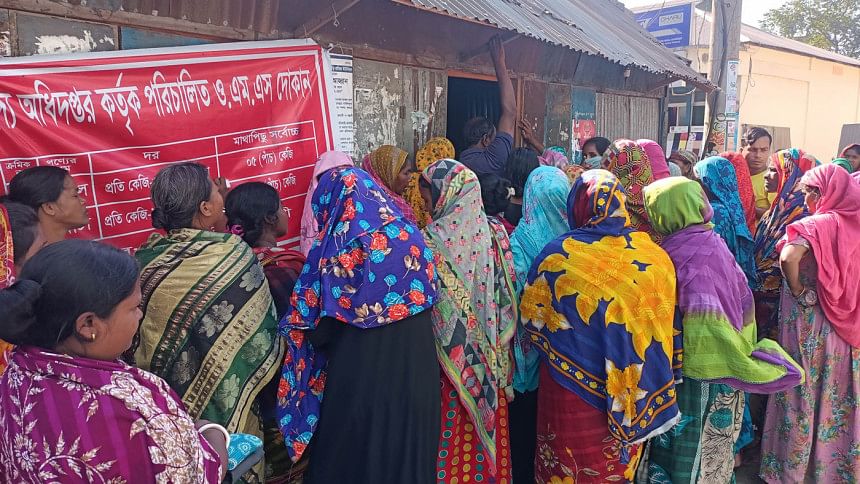 The sale of essentials at subsidised prices under the OMS programme has been halted in Lalmonirhat and Kurigram since Thursday, putting several thousand poor families in distress.
All OMS (open market sale) shops in the two districts stopped selling essentials following the directives from the district administration.
Officials concerned said the move was taken as per instructions from higher authorities and that it was temporary. They, however, could not give any reason behind the decision.
According to the food department, 21 OMS dealers in Lalmonirhat sell 15 tonnes of rice and five tonnes of flour every day, while 28 OMS dealers sell 28 tonnes of rice and nine tonnes of flour in Kurigram. Flour is priced at Tk 24 a kg and rice at Tk 30 a kg.
Every day, around 14,000 families used to buy rice and flour at subsidised rates from these OMS shops in the two districts.
Nurul Islam, 48, a rickshaw-puller from Shaheed Shahjahan Colony in Lalmonirhat municipality, said he relied solely on subsidised commodities, including rice and flour, to feed his family.
"If open market sales stop, we will have to starve...," he said.
Dilara Begum, 44, a day labourer from the Lichubagan Colony area in Lalmonirhat town, said she was extremely disappointed to find the OMS shops closed without any notice on Thursday.
"I couldn't even buy three kilograms of rice from the market with the money, which was enough to get five kgs of rice from any OMS shop," she added.
Contacted, Rafiqul Islam, district food controller in Lalmonirhat, said higher authorities had directed them to halt the OMS sale.
"The programme will resume on Monday," he added.