India's second mission to moon rescheduled to July 22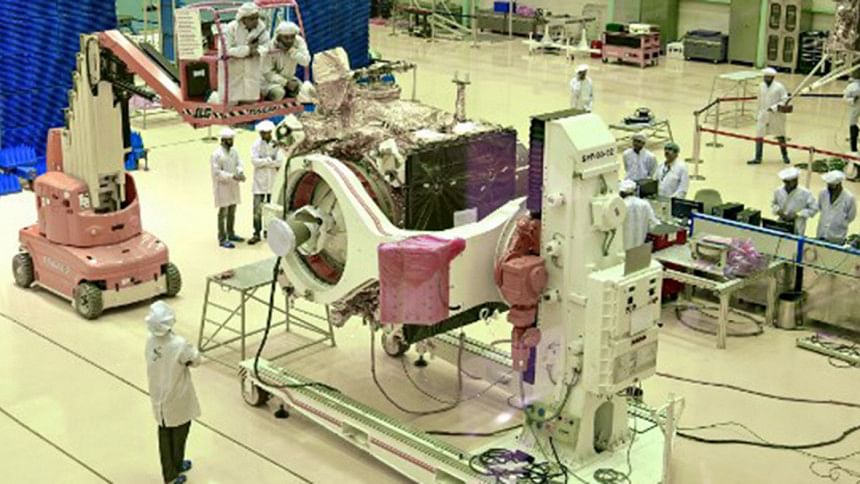 India's second unmanned mission to the moon, which was halted from launch three days ago due to a technical snag, will now take off on July 22, the Indian Space Research Organization said today.
"Chandrayan 2, which was called off due to a technical snag on July 15, 2019, is now rescheduled at 2:43 pm IST on Monday, July 22, 2019," the ISRO said in a twitter post this morning announcing the new date for the launch of India's most ambitious space mission.
The second moon mission will embark on a journey across 384,000km in 52 days and the spacecraft is expected to land on the moon on September 6, our New Delhi correspondent reports quoting ISRO.
The 140-million dollar mission, which can make India the fourth country after the US, Russia and China to successfully do a soft-landing on the moon, was stopped about an hour before its launch on Monday last after a technical snag was found in the rocket that was to carry the spacecraft.
In its announcement of the mission being aborted, the space agency had said that the step to delay the launch was taken "as a measure of abundant precaution".
ISRO sources the snag was in the cryogenic stage, the last such stage space vehicles enter just before they are about to launch.
Highly flammable liquid hydrogen and oxygen used in the cryogenic stage were removed from the rocket and the problem was then sorted out with the "tightening" of an errant component, the sources said.
After lift-off, India's heaviest rocket GSLV Mark III rocket will launch into space an orbiter, a lander 'Vikram' (named after ISRO founder and eminent Indian scientist Vikram Sarabhai) and a moon rover 'Pragyaan'.
While the orbiter will circle over the moon at a distance of 100km taking pictures, the lander will then attempt a soft landing on the moon's South Pole where none has gone before after which the rover will undertake experiments including a study of the lunar surface looking for water and minerals and taking high-resolution photos.