There's no shortcut to heaven
Naquib Khan is one of the precursors of a totally different genre of Bangladeshi music. He is a founding member of the band 'Renaissance' which introduced our listeners to the melody-based pop songs. In 2018, Naquib Khan was elected as the vice president of 'Bangladesh Sangeet Parishad'. In this interview, he opens up about his life and musical journey.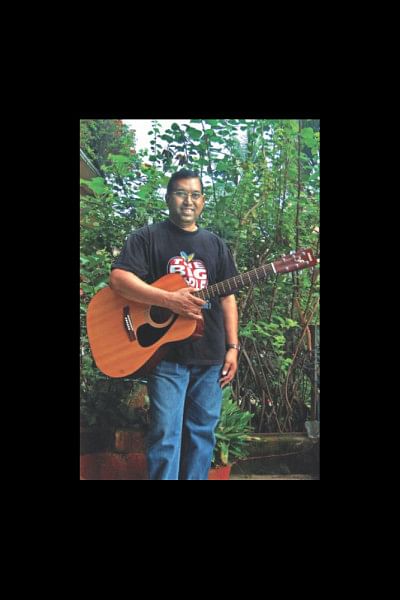 A Spontaneous artist
I was born in a musical family that had offered me the surrounding of absolute melody and music. My grandfather Badrul Kabir Khan Siddique was a Calcutta based qawwali artist. My father, who happened to be the principal of a high school in Chittagong, had an inclination for music as well. My elder brother Jalal Uddin Khan Jillu was already an acclaimed name in this fraternity. As for myself, music was somewhat heaped on me hence despite not having gone through any sort of institutional grounding, I always had the sense of music and it happened to me very spontaneously. I studied in Chittagong Model School, then in Chittagong Government Junior High School and then in Kazem Ali High School of which my father was the headmaster. Since my school days, I yielded to music and the journey still continues. Succinctly, I must say, I inherited this natural artistry in music from my ancestors.
The Dignified Scramble
In 1972, when I was a mere stripling of class 7, I became a member of Balark. On a relevant note, Balark is a Bangla word which means 'the sun of a new dawn'. In the first instance with Balark, I played the piano and accordion and my younger brother Pilu played the drums. Balark used to cover western songs for the most part and we had made a few original songs too. In 1973, Balark seized up; on account of combat with subsistence and livelihood. I enrolled in Souls in 1974. Souls made the purchase of all the exorbitant and polished instruments of Balark and inasmuch as even my keyboard was sold and I had a genuine affinity for it, I joined Souls as a keyboardist. At the outset, Souls was not at all into making original songs. It began to make songs of its own almost coupled with my surfacing in the group. Dorgay Mom Jele Ki Hobe was one of those. My elder brother composed this song. Back then, there was no significantly remarkable band in Chittagong. Lightenings was probably the only Chittagong-based band that could go head to head and try to beat the bands of Dhaka. Souls bought some instruments from them as well. In the year of 1976, we, as a whole, partook in the All Bangladesh Pop Music Competition which took place in Dhaka. We were still quite an unheard-of band from Chittagong that had never taken part in any big competition before. Azam Khan, Firoz bhai and all the legendary pop singers were present in that competition and Souls, being an obscure, unfounded, small town band won the champion; that too performing all of our original tracks among which Mone Koro Ekhon Onek Raat was one. That was an incredible achievement for us and our credence in the kind of music we were pursuing was consolidated. A few days after that, Souls came by another room to prove their worthiness in an open-air concert at Shilpakala Academy premises which turned out to be another mammoth success. The road to the heart of the audience since has never been too zigzag. We released our first album Super Souls in 1981- Mukhorito Jibone, Torey Putuler Moto Kore, Bhule Gecho Tumi, Nodi Eshe Poth and many other songs simply warmed the people's hearts and brought them a whole other level of musical taste that was unmatched in that epoch of pop music in Bangladesh. I went along with Souls for ten long years. After my father's sudden demise in 1982, our whole family shifted to Dhaka from Chittagong and hence it was nearly impossible for me to persist with Souls any longer.
Towards a new dawn
I, along with my family moved to Dhaka in 1983. My brother Pilu and I were always in good terms with many of our associates of different other bands of Dhaka. Fazle Rabbi bhai was the lead guitarist of a band and he often called us over his place for practice. Moto, Mamun, Rabbi bhai, Pilu and I often wallowed in practice together and this practice soon turned into our wont. Faisal Siddique Bogi bhai was still out of country. After his rise in the group, we decided to inaugurate a new band and thus Renaissance was formed and founded. The year was 1985. Our first rendezvous with our listeners was at Sonargaon Hotel. We had yet no official name for the band and we did the show without any name. In 1988, our first album Renaissance got released and it had metamorphosed the succession and traditional trend of band music overnight. Bhalo Lage Jochna Rate and a number of other melody-based songs of that album made the whole country sing in the same croon and get engrossed in the melody. Initially we were quite sceptical about the success of our album because people commonly drew a conclusion about band groups that they would indulge either in heavy metal or jaaz and their music would be very western-prone. Five years after Renaissance, we released Tritiyo Bishwo and then Ekattorer Renaissance – five more years later which was a tribute to all the agitative songs of Swadhin Bangla Betar Kendra. Renaissance has clearly different sections to practice different genres of music. We are simultaneously into Jazz, 60's rock music, Heavy Metals, Rock And Roll songs and also the imperishable, beautiful and sonorous romantic songs. We have many songs written, tuned and created; but being fastidious when it comes to musical creations and extremely occupied by our job life, we stumble to have enough time together to have those songs recorded.
Attuned to music
Apart from the albums with bands, I have two solo albums into the bargain – Swapno Jorano and Brishtir Raat. Swapno Jorano was my first solo album, it was released in 1989. In my musical career, I have made several songs for a number of artists. I tuned and composed the songs of the first solo album of both Samina Chowdhury and Fahmida Nabi. Oi Jhinukphota Sagorbela – the mesmerizing song that makes Samina spark till date, is my composition. I collaborated Tapan Chowdhury, Kumar Bishwajit and many other gifted artists and gave them some lifetime songs that they could take delight in. During my struggling days, I played instruments in multiple films. Through that phase, I have been bound together with venerable musicians like Ahmed Imtiaz Bulbul, Satya Saha, Alauddin Ali among other by musical contiguity.
Homespun Philosophy
My perpetual present exists in my solemn identity and the root of my culture. Each of our albums has a new and original song written in Chittagongian dialect and we never let anything interfere with that. Aaror Deshot Zaiyo, Nonaiya Nonaiya Hota Hoi, Maijja Beyan are some of my folksy, beloved-of-all songs in Chittagongian dialect. Renaissance has many undone, unfinished Chatgaiyya songs in its record room and yet again, we haven't been able to have them completed amply because of the brutal nature of time and living.
A restless river
I am currently working in the Nestle Bangladesh; in my overlong job life, I have experience of working in the Philips Bangladesh and Bangladesh Oxygen Ltd. I wouldn't say that I do not enjoy my day job, but I would not lie either that this can effectively ensoul my height of interest and bring me the whole other level of satisfaction which I find in music. The pitiful part of our art and culture fraternity is, we have plenty of laws and rules but little to no implementation of them. Mon Shudhu Mon Chuyeche long surpassed a decade and still magically occupies many hearts. If it earned the honour of royalty, I would not have had to worry about the patronization of my musical works and fritter my time and money away. In the middle of 2018, I was elected as the vice president of Bangladesh Sangeet Parishad. Although, I am already preoccupied with a multitude of responsibilities, I took this one on my shoulder too as many of my fellow artists constantly insisted me to take up this certain responsibility. I am usually not greatly enthusiastic about accepting obligations, but now I'm getting somewhat accustomed to my duties and thinking of it as a part of my life.
Home, heart, family
My life is surrounded by my family. My wife is a housewife and manages all of my household matters. My daughter is the elder one; she completed her BBA and currently doing a job. My son is a special child, goes to a specialized school for special children. I really do not get much time to slack off and recharge my batteries for a while, but during leisure hours, I make sure that I invest it in interaction with my family. Also, I have a tameless knack for cricket and I love watching cricket matches.
My Musical Majesty
There are two basic leverages to nurture Bangla music – lyrics and melody. Bangla music will be flattened out in the blink of an eye unless and until there is the actual essence of our music – sonorous melody and comprehensive lyrics. Our descendants are immensely brilliant but they probably lack the proclivity for hard work. The subordination of self-proclaimed musicians to technological expediency is threatening for the future of our music. Also, in our country, we are standing in dire need of patronization and recognition. We neither have great instruments nor decent number of studios in the country where we could cultivate our music. Music is the optimum devoutness; there is no shortcut to it.