Gifted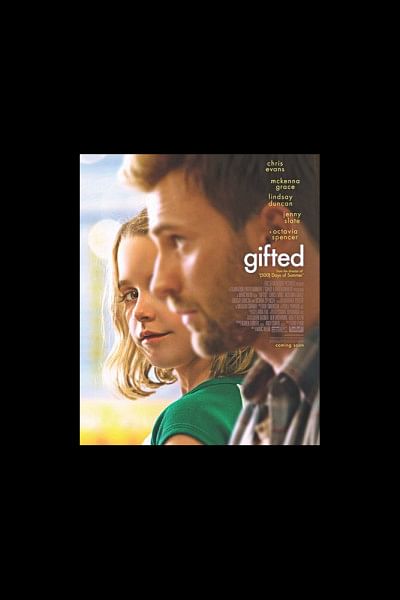 Director: Marc Webb
Producers: KarenLunder, Andy Cohen
Cast: Chris Evans, Mckenna Grace, Lindsay Duncan, Jenny Slate, Octavia Spencer
Strength: Acting, Cinematography
Runtime: 96min
Rating: 8.5/10
PLOT: Mary Adler (Grace) lives with her Uncle Frank (Evans), in a small Florida town. On her first day at school she impresses her teacher, Bonnie Stevenson (Slate), with her amazing math skills. The school wants to give Mary a scholarship, to a special private school for gifted children like her. But Frank thinks it's a bad idea. Mary's mother, Frank's sister, was also very skilled in math, and she had committed suicide because of the pressures of her isolated social life. She had told Frank that she just wanted Mary to have a normal childhood, and Frank wants to honor his sister's wishes. However, Frank's mother, Evelyn (Duncan), seeks to utilize Mary's potential and fights to gain custody, resulting in Frank attempting to save Mary from a life of solitude and despair.
REVIEW: "Gifted" is a story of love, understanding and humanity. This movie will win the audience's hearts over with its powerful asseveration and beautiful acting. Chris Evans did great in the role of Frank. His brilliant chemistry with Mckenna Grace is perhaps the reason the movie was so enjoyable. Mckenna Grace had a tough role playing a gifted child, but she was still able to project the naughtiness of a child of her age. Octavia Spencer performed well too, making her presence strongly felt even with two other leading ladies more intently linked.
Overall, the movie had some very good performances to watch out for. Marc Webb exalted a moderate story into an excellent movie. His prolongation of the artistic side of a math genius was great. The humor kept the movie lustrous and fun to watch. The relationship between Frank and Mary was projected beautifully. Some of the scenes, like the hospital one, were beautifully conceptualized and carried out. "Gifted" was definitely a very good watch, and anyone should enjoy it, especially for the acting and the direction the movie utilized.
Reviewed by Sheikh Sayem Ahmed