ABOVE & BEYOND
Kumar Bishwajit's contribution to the growth of the Bangladeshi music industry, has sculpted his career as a music maestro. His strong, intuitive personality and everlasting popularity have created a special place for him in the hearts of the music lovers. In this interview with Rafi Hossain, Kumar Bishwajit shares his thoughts and opinions about the past, present and future of the Bangladeshi music scene.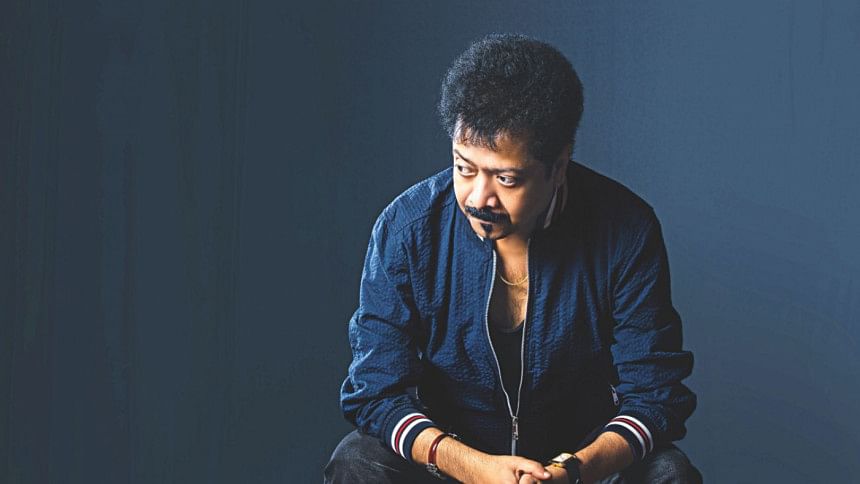 Rafi Hossain: Welcome to Uncensored with Rafi Hossain. Today we have our favorite Kumar Bishwajit with us. Bishwa Da! Thank you so much for giving us your time.
Kumar Bishwajit: Thank you for having me. This is the first time I am having a conversation at The Daily Star Online platform and also with you.
Rafi: If we look back to your time, we see a batch of vibrant and promising artists together, leading the music industry and still are. After that decade, we have not seen that many artists rising together. What do you think?
Kumar: Actually, in every part of the world, there have been times where we witnessed a group of talents prospering side by side in the industry. For instance, if we look at West Bengal, we see Hemanta Mukhopadhyay, Manna Dey, Salil Chowdhury, Pintoo Bhattacharya, Shyamal Mitra; all these creative and iconic personalities. Each came with their own individuality and uniqueness. I feel like the 80s and 90s were the prime time for our industry. Many talents were affiliated to music during that period. Not everyone is born creative. I don't know if I am talented or not, but during that time, musicians had unique identities and depth within their soul. Dedication was pursued back then. I feel like musicians nowadays lack this.
Rafi: Did a lot of new faces come from Chittagong along with you?
Kumar: The ones that came to the music scene from Chittagong, came because of their love for music. They all approached with the mentality to create music straight from the heart. We did not make music just to make money. If money was the only concern, you had to run behind the audiences, but if you made music straight from your soul, audiences would naturally be attracted to you. Now, I feel like in this age of globalization, people are losing their Bangladeshi roots, heritage and culture, while trying to establish their careers. We seem to be moving away from the emotions that defined Bangladeshi music. For example, people used to buy music in the past. Now, music is free and artists also make a video for the song. Artists are doing publicity for their songs, they are boosting their songs with money, but still, the entire industry is facing a shortage.
Rafi: Where is our music industry headed?
Kumar: People have basic necessities; food, shelter, clothing, health, education. Once they have all of this, only then can they seek entertainment. Nowadays, due to many social and economic problems, many people cannot afford entertainment. They can't find the time to listen to music. They have to work multiple jobs, as the cost of living is extremely high now. People send their children to better schools, so that they can compete with the rest of the world. Those schools cost a lot. For many, earnings are less than their total spending. But, the artists whose fanbases consisted of elderly people, are suffering because most elderly people do not know how to listen to music online. My mother asked me a few days back, "Why don't you release cassettes anymore?" I told her that she has to go online and look up songs on YouTube. Upon hearing that, she asked me what YouTube was. After I explained everything to her, she just said, "I cannot do all of these things, just bring me a cassette." (Laughter)  My sister does not listen to music anymore because she used to put on a cassette and play music while doing household chores. But now, she has to go online, connect her device to the speaker. It seems like too much of a hassle for her.
Rafi: You have been working as the judge for talent hunt shows for quite a long time. You see talented musicians who start off great, but cannot seem to stay in the industry for long. Why is that?
Kumar: I feel that they are very confused when they start. Will they do what their contemporary artists are doing? What kind of music do people want to hear from them? Many of them make songs with more melody and lyric based, while some go to the studios and record the song and mix it themselves. And not every new artist knows about the technical side of music. These artists get peoples' appreciation for singing in reality shows. But, many of them do not know how to make their own songs. In maximum cases, everything is like a one man show now. Artists compose their own songs; they record them in their own studios, and mix and master it themselves. Not everyone is capable of doing all these technical things. All these artists coming from reality shows cover others' songs to get votes from people. But, if they are to make it in music, they need to create their own songs. Making anything creative requires a lot of patience. If these artists can remain patient, they can do something good.
Rafi: This is a rather tough question, but can you tell me out of all the songs you made, which are your favorites?
Kumar: The thing is, all my songs are like my children. Picking favorites is hard. There are songs that were not massively successful. The feelgood songs I made that people liked are probably ones I really like. For example, Tore Putuler Moto, Tumi Roj Bikele, Jekhane Simanto Tomar, etc. From the folk music side, I really like Ektara Bajaio Na, Jonmile Morite Hobe, Dorodiya, etc.
Rafi: What songs do you think become popular? Songs like 'Tumi Roj Bikele' became very popular, while many others did not. Why is that?
Kumar: Lyrics are very important for songs. The lyrics need to have a deeper meaning. The song Ami Nirbashone Jabo Na was especially liked by people who experienced heartbreak, because they could relate to it. But songs like Ekhon Onek Raat were liked by all types of people. At first, most songs I made were about a broken heart. The feeling of heartbreak causes a lot of hatred and anger. I made a lot of songs about that. Kichui Naki Deini Tomay was meant for people feeling that anger. I have made many different types of songs. I feel that the songs I made, almost everyone could relate to them.
Rafi: In our industry, we are facing a crisis. What do you think our industry follows at this moment?
Kumar: It depends on a lot of factors. In today's industry, musicians only focus on money and fame. Those who solely focus on the money aren't artists, but businessmen. As a result, it is difficult for artists to make music they enjoy. If artists cannot make music they love, then it would not be authentic. Everyone has their own musical roots. If you don't stay true to your roots, then you lose a part of yourself. Should an artist try to make business only, or should they try and stick to their heritage? Most of our roots lie in the village. That's why you will see most people go to the village during times like Eid. We should keep our heritage same, but only take a little influence from Western countries. I can make my mother wear jewellery, but I cannot make her wear Western outfits. It just isn't in her culture. I cannot make her ultra-modern. Everyone has an individual identity in this world. Culture is a country's identity. 30 lac people gave their lives for our country, for our culture and our land. In all this, we are held captive by these greedy business minded people. If we continue heading down this path, our future seems dire.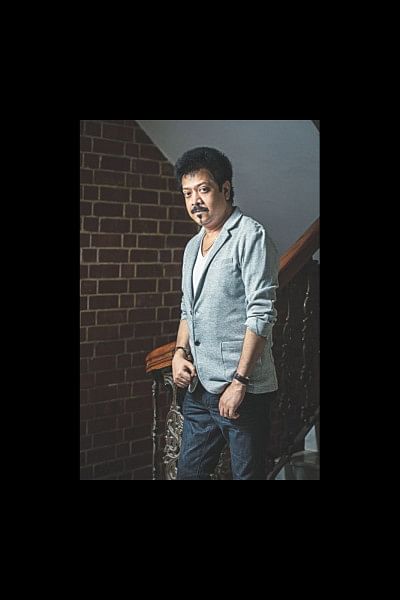 Rafi: From the artists of this generation, who do you think is the most promising?
Kumar: Many are working, and I see a lot of potential among them. Their journey in this industry just began; give them time and they can achieve a lot. Time will tell where their future lies. Amongst the new artists, Imran, Habib, Kishor and Aditya are doing well. I have done songs composed by Muhin. I am very lucky to have worked with Satya Saha, and I am also working with his son Emon Saha. People say that old is gold; there is a big reason behind that. Our lifestyle has completely changed. In the past, I used to live in a village. The entire community was like a close-knit family. Now, we live in apartments, where we have no idea who our neighbours are. We have distanced ourselves from everyone. In my childhood, I used to go out and play after school. My vision was upheld before, but now people see the world in their phones, with their heads bowed down. People should stop relying on technology so much, and look up and see the sky instead.
Rafi: How can we overcome this?
Kumar: I feel like everything will be fixed soon. Since everything happened so rapidly, we are trying to cope up with the pace. But, I believe that we can overcome these hurdles very soon. All of a sudden, the world is within your fingertips, and to adjust yourself to this will take some time. Then, we will come to a place where everything will seem relaxed.
Rafi: Do you have any parting messages for the readers?
Kumar: Whatever I have done till date, it has always been for your entertainment. There are times when everyone has to leave the world behind, but their work should be patronised. Listen to good music and inspire people, because this will bring glory to your culture and tradition. I think heritage is the only identity of a country. Always try to keep your culture above you.
Transcribed by Ridwan Intisaar Mahbub