Thank god it's FrIday
CODE OF CONDUCT, ART EXHIBITION BY MOHAMMAD HASANUR RAHMAN REAZ
Date: Tuesday, 19 December, 2017 to Tuesday, 02 January, 2018
Venue: La Galerie, Alliance Francaise
Reaz's art is a personal statement of his own experience, and he believes, as an artist, it is his response to the life around him. In his journey he found that his art represents a mark, a little sign of his existence per se, so Reaz feels a powerful impetus and a rational underpinning to create his work.
According to the artist, 'Code of Conduct' refers to the nature of the term and how a state can misemploy that for their citizenry. The leaders have their hearts set on being businessmen, pushing through a dystopian reality that will have no scope for humanity in it. Some nations are eager to concoct plots with religious bigotry sitting trigger-happy on a stockpile of nuclear weapons, rather than working on subjects like sustainable development, humanity or climate change. 'Code of Conduct' imparts sensitivity about emotion and empathy that we need in order to establish".
THE LINE, THE WASH AND THE WISDOM: A SOLO ART EXHIBITION OF TANVIR AHMED
Date: Wednesday, 20 December – Sunday, 24 December
Time: 3 PM to 5 PM
Venue: Jatra Biroti, 60 Kemal Ataturk Avenue, Banani, Dhaka
It has been an interesting year to say the least, and what better way to end it but to share some love through a collection of pieces carelessly brainpicked!
Ahmed says 'carelessly brainpicked', because the theme of these works was accidentally delightful in their revelation. One of the last events of the year, but definitively one that will see it end with a bang.
DHAKA COMICON 2017 "TIMESPIRITS"
Date: Thursday, 21 December – Saturday, 23 December
Time: 11 AM - 8:30 PM
Venue: 5th floor, Jamuna Future Park
IFLIX presents DHAKA COMICON 2017 "TimeSpirits" Powered by RONO
With over 50,000 square feet of space spread across three different halls, Jamuna Future Park is the way to go this year. The entire 5th floor main atrium along with 5th floor north hall, along with the east and the south halls will be hosts to DCC'17.
Dhaka Comicon "TimeSpirits" will take you back in time, back when things were more retro. This time they are going old school! Get to meet cosplayers, fans and distributors from different parts of the world.
Cosplay Competition — come dressed as your favourite character and bring them to life. Get a chance to win cash as well as other prizes. Registration will take place at the venue on the event days.
Stay tuned for the Star Wars Exhibition from Dhaka Museum of Toys and Saadi's Collectibles to celebrate Star Wars Episode 8 'The Last Jedi'.
Submit your artwork — this year's theme will be related to pop-culture from the '80s. Mail your artwork to [email protected]
Artist's Corner — get illustrations drawn to-order by talented artists, Collectors' Exhibitions, Themed Corners — Anime, Batman, Lego, Star Wars, etc.
Tickets will be available for purchase at the venue.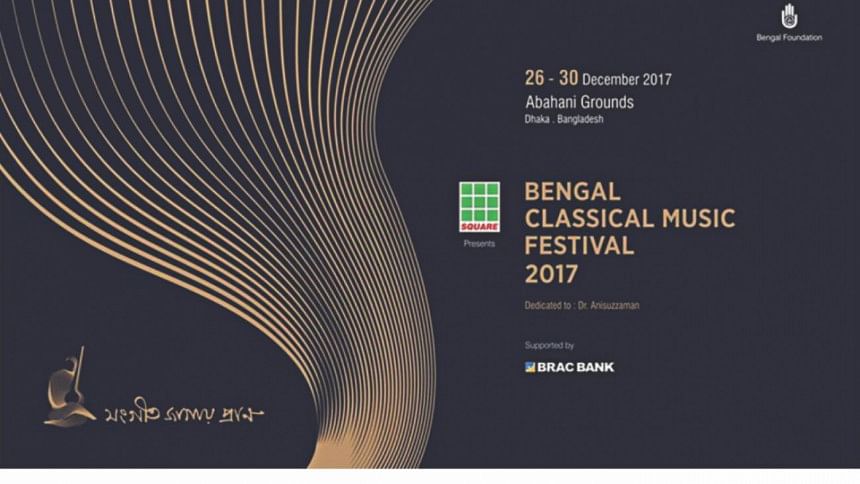 BENGAL CLASSICAL MUSIC FESTIVAL 2017
Date: Tuesday, 26 December– Saturday, 30 December
Time: 7 PM onwards
Venue: Abahoni Matth, Dhanmondi
Bengal Foundation presents the sixth edition of the Bengal Classical Music Festival. This year's event will feature some of the most iconic classical musicians including Pandit Hariprasad Chaurasia, Pandit Jasraj, Pandit Shivkumar Sharma, Ustad Rashid Khan, amongst others.
Bangladeshi recitals will include performances by distinguished artists as well as students of the Government Music College and Bengal Parampara Sangeetalay. For the first time in Bangladesh, Bengal Classical Music Festival 2017 will feature a performance by Astana Philharmonic Orchestra from Kazakhstan, collaborating with Dr L Subramaniam on stage.
Online registration will begin from Monday, 18 December, 2017.
To get your free pass, register at www.bengalclassicalmusicfest.com. Please note, the free pass is non-transferable and selling of this pass is a criminal offence. For more details visit: bengalclassicalmusicfest.com/audience-information/security-information