Miss World Bangladesh 2017: Behind The Curtains
Jannatul Ferdoush Peya
Peya was crowned Miss Bangladesh in 2007. However, her ascension to the crown was organic and acclaimed, unlike the scandalous events of this year. Since then, Peya has represented Bangladesh in many international fronts, which includes being the first Bangladeshi to be on the cover of Vogue. She has also been named the brand ambassador of the international brand TRESemmé. In this exclusive interview, Peya talks about the controversy surrounding 'Miss World Bangladesh 2017', and tells us what really happens behind the curtains.
What have you been up to lately?

I am done with studying law, and I am giving my exams for the license. I would ideally want to be a Barrister, as well as continue my media work. 
As a model, you have represented Bangladesh overseas regularly. How do you see this incident, both as a professional model and a woman? 

When I became Miss Bangladesh in 2007, we still didn't have the official license to participate in Miss World. This year, they got the license, and that is a very positive thing. Our girls can now go and represent Bangladesh in Miss World. However, it is unfortunate that the event organization was so poor. When the top ten contestants of the events were selected, the organizers should have thoroughly inspected them to verify their backgrounds. 
Many people have shown sympathy for Jannatul Nayeem 'Avril' over social media. What is your take on that?

Yes, I've noticed that too. Many are even asking what the problem is if she is married. However, we need to realize that there are certain rules for these competitions. In an exam hall, you cannot break the rules, you will get disqualified otherwise and it's the same for this competition. The rules explicitly state that you cannot be married and public sympathy cannot change that. There are separate competitions for married people. Moreover, Jannatul Nayeem claimed that she was only 16 when she got married, and that was 'child marriage' and not legitimate. I understand her not being able to suppress the huge opportunity that was Miss World Bangladesh, but this was a flat out lie. She was 23 when she got married according to legal documents, and is 27 now. Moreover, her wedding video was leaked on social media, which show that there were no signs that she was forced into that marriage. 
At this point, after all that happened, do you think beauty contests as such are necessary for us?

I would say that we definitely need beauty contests. There is a lot of demand from media outlets for good and well-trained models, but ultimately few new faces step up. There is a lot of talent in the country, and they need this exposure to fulfill their dreams of becoming actors or models.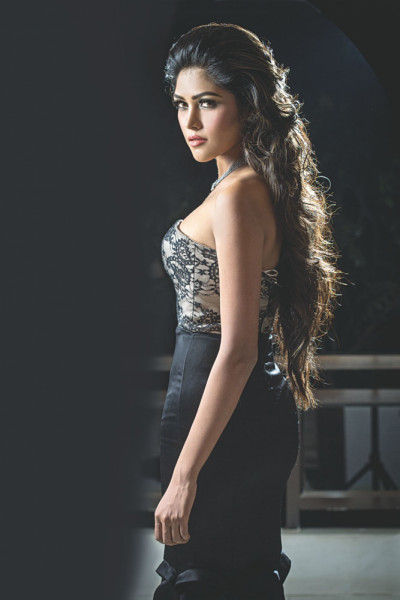 But the way this particular competition was exposed, don't you think people will think twice before going to such events? 

What happened this year was because of a lack of experience and transparency on behalf of the organizers, and this is unfortunate. However, this has not always been the case. When I participated back in 2007, it was organic and not a single trace of dishonesty or controversy was there. I still think that these competitions will reap benefits if properly organized. 
But beauty is a really subjective matter. What is beautiful to one person might not be to another. How do you really judge beauty?

I have to clarify that in beauty pageants, physical beauty is not the only thing that is judged. We bring into factor the talent, intelligence and many other things when judging a contestant. The overall competence of a person is judged. 
Don't you think these competitions help to objectify women as 'products'?

Why don't you see it this way: as a model, our job is to make whatever we are wearing/advertising look good. In that sense we often see ourselves as 'hangers'. I used that term because the products that we highlight are more important than we are, and that helps to sell the product. I don't see anything negative with this. 
What do you think is the solution to this controversy, especially to ensure that it doesn't happen again?

First of all, the event organization should fall into capable hands. The people who are providing the license to host them should be more aware and competent enough to ensure fair competition. There should also be an extensive background check on the contestants, at least within the top 20. Since this was the first time that we had a licensed Miss World Bangladesh, I am hopeful that the next iterations will be fair. I urge all the future participants and organizers to lay off the dishonesty, as it not only shames the competition, but our country itself. 
Interviewed by Rafi Hossain