25 years of Shurer Dhara - Living the ideals of Tagore
2018 marks 25 years of Shurer Dhara, the music school founded by the renowned Rabindra Sangeet exponent Rezwana Choudhury Bannya, based on the teachings, philosophy and practices of Rabindranath Tagore himself. Elaborate programs had been arranged in April by Shurer Dhara in collaboration with Channel i to celebrate the silver jubilee of the revered music school. The events from April 11 to 13 included celebration of Chaitra Sangkranti, unveiling of "Shruti Geetobitan", musical performances, dance performances, discussions and photo exhibitions. Hon'ble Prime Minister Sheikh Hasina inaugurated the event and also unveiled the "Shruti Geetobitan". Star Showbiz had an exclusive interview with the Tagore luminary Rezwana Choudhury Bannya, where she shared her thoughts on the silver jubilee of Shurer Dhara, her love for Tagore songs and her future plans.
Could you tell us how Shurer Dhara came into being?
I founded Shurer Dhara in 1992, inspired by my Guru, the gifted Rabindra Sangeet singer Kanika Bandyopadhyay. She has always taught me to sing in my own style and encouraged me to teach my students Tagore songs in my way. She used to say that the style of others will not suit me. Thus, I started Shurer Dhara, with the aim to teach Rabindra Sangeet in my own style.
What would you say has been your major achievement?
My major achievement in this journey of 25 years is my Music for Development project. This project aims at providing a cultural platform to the underprivileged children of our society by bringing them under the umbrella of Shurer Dhara. We encourage these children to learn Rabindra Sangeet and spread the joy of music in the lives of others. Apart from these, we have taught and nurtured many talented Rabindra Sangeet singers at Shurer Dhara. Today, Shurer Dhara is an established music institution, with a dedicated team of teachers and staff and a good number of promising students. I strongly believe that talented and successful singers will emerge in the days to come and significantly contribute to the flourishing of Rabindra Sangeet in our country. One cannot become an artist overnight. It is a time-consuming process and we must give the singers the time and support they need to make their mark as artists: The promising singers of today are the gifted artists of tomorrow.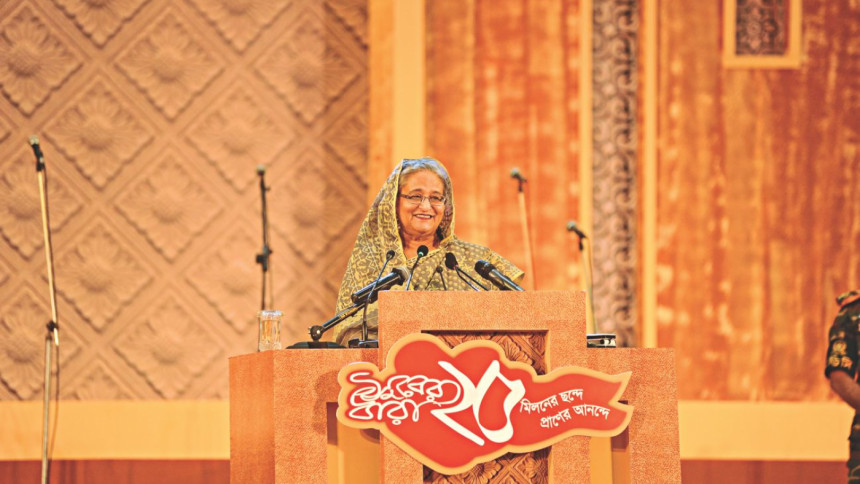 Where do you see Shurer Dhara in the coming years?
We have major expansion plans. We are planning to set up a Tagore research centre, which will facilitate research on the works of Tagore; we are planning to establish a college with special emphasis on music; and most importantly, we want to set up a school for the Music for Development students inside the same premises – we want to provide these underprivileged children access to education as well as access to music. The plans are big and with the government grant of land, it is time we get down to work to make this vision come true.
Often, we see organizations falling into disarray in the absence of the founder. How do you intend to prepare Shurer Dhara for such a situation?
No one is immortal and someday in the future I will not be there to take care of Shurer Dhara. Therefore, I am preparing a team of dedicated staff who will be responsible for the proper functioning of Shurer Dhara in my absence. My team will ensure that the traditions and activities of Shurer Dhara are carried on with perfection even when I am not there.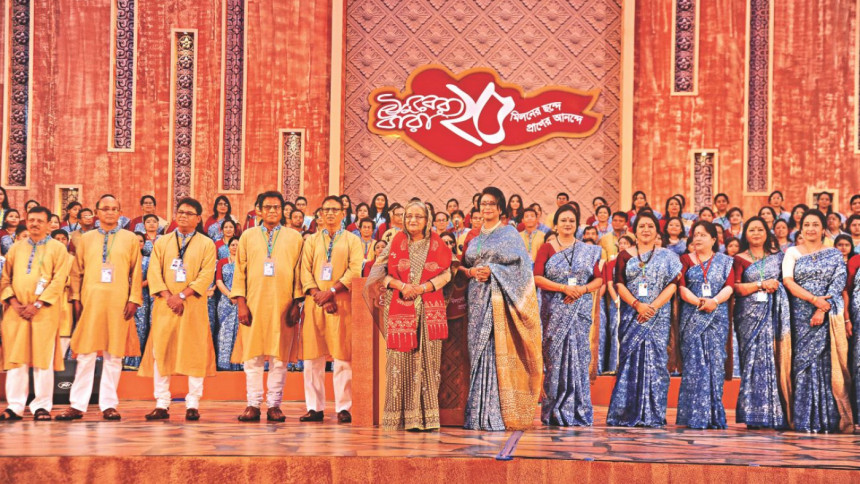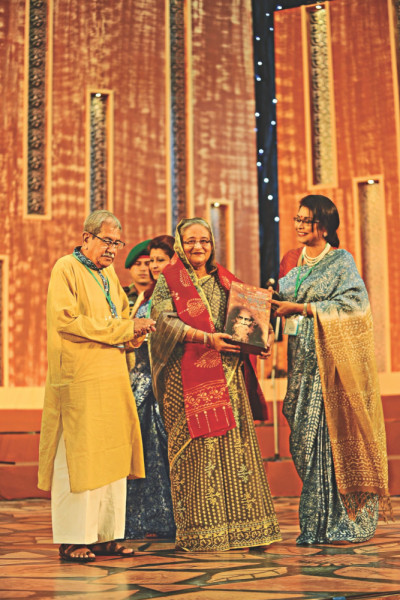 What would you like to say to the readers of Star Showbiz on the occasion of the silver jubilee of Shurer Dhara?
At Shurer Dhara, we want to spread not just the music or songs composed by Rabindranath, but the underlying messages that the songs carry. We want our singers to embody the messages of Tagore in their lives and understand Tagore's emotions and intellectual realizations that are imbued in the songs and pass on these messages to the listeners through their performances.
Some people hold a very conservative and protective view of Tagore's works and are opposed to any kind of modern influence. What would you like to say about that?
Tagore himself was a very liberal minded and progressive individual. Music needs to evolve with time and we should not hold such conservative views. It is essential to be liberal and open-minded in order to let music flourish with time.
Are you aware that our Hon'ble Prime Minister is a fan of yours?
The Hon'ble Prime Minister is aware of our Music for Development initiative and she appreciates our efforts to transform the lives of the underprivileged children for the better. The Prime Minister is a very culture conscious individual and she has been kind enough to offer support for our MfD project so that we can bring in more children under this initiative. The land grant has been especially helpful for us. It is important we put in more effort now to make Shurer Dhara a proponent for positive change in our society by spreading Tagore's messages.
Interviewed by Rafi Hossain