Tagore's birth anniversary today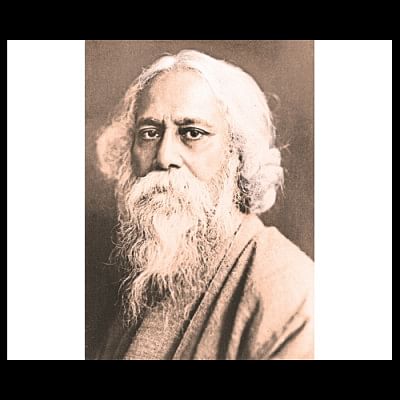 Today is 25th Baishakh.
This is the day when Bangalees all over the world celebrate the birth anniversary of Kobi Guru Rabindranath Tagore, the polymath who etched a place of honour and recognition on the literary stage of the world.
Born in 1861 in West Bengal's Kolkata, Tagore's work reshaped the Bangla literature and music in such a way that academic pursuits on these fields remain incomplete without studying his work.
For Bangladeshis and Indians, their first introduction to Tagore comes through the national anthems of the two countries.
"Amar Sonar Bangla", the song written by Tagore in 1905, became the national anthem of Bangladesh after its independence in 1971. "Jana Gana Mana", written by the bard in 1911, was adopted in its Hindi version by the Constituent Assembly of India as the national anthem of India in 1950.
He was the first non-European to win the Nobel Prize for Literature for "Gitanjali" in 1913.
Tagore, in fact, means more than a poet or litterateur for Bangladeshis. His presence in the Bangalee culture threatened the Pakistani military rulers who tried in vain to impose a ban on Tagore's songs in 1960.
Rather, the bard became the Bangalee's weapon to protest against the oppression of the Pakistani regime.
Seventy-five years after his death in August 1941, Tagore still remains very much relevant to our contemporary cultural, social and literary issues.
To celebrate the poet's birth anniversary, cultural organisations, music schools and the mass media organise different programmes, including music soirees, theatre performances, airing special programmes based on his works which touched almost all fields of literature and art, including poems, short stories, plays, novels, essays, songs, painting and sketching.
Special programmes will be held today in Kushtia's Shelaidah, Sirajganj's Shahzadpur, Naogaon's Potishor, Khulna's Dakkhindihi and Pithabhog -- places where the poet had spent time in his life.
This year's theme of the 155th birth anniversary of Tagore is: "The relevance of Rabindranath in the 21st century". President Abdul Hamid will inaugurate the state-level programme at the capital's Osmani Memorial Auditorium this afternoon.
Besides, Shilpakala Academy and Bangla Academy will organise various programmes on the occasion. All educational institutions, including Dhaka University, will also observe the day.