The poet's last abode
Celebrating 50 years of Nazrul's arrival in an independent Bangladesh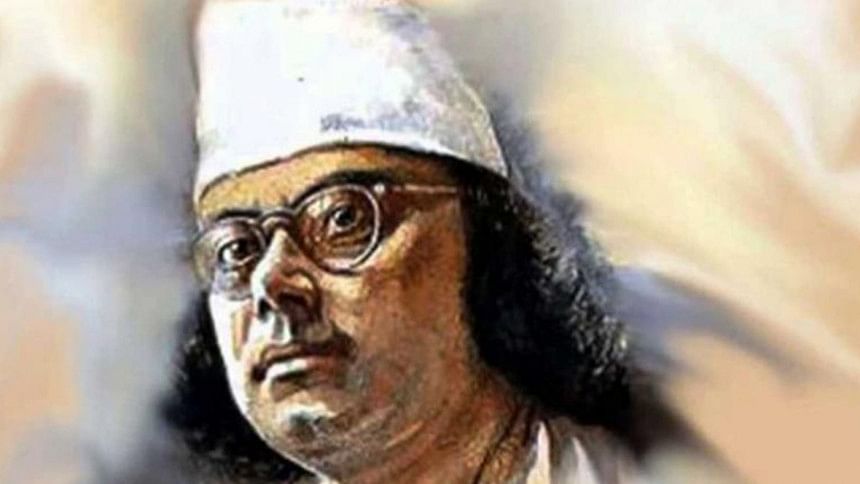 It has been 50 years today since an independent Bangladesh got its national poet.
On this day in 1972, Kazi Nazrul Islam, having just turned 73, was declared the national poet by Bangabandhu Sheikh Mujibur Rahman. Nazrul was brought back to Bangladesh from India the day before – within six months of the country's independence.
Known to have portrayed love, freedom, revolution and opposed religious bigotry through his works, Nazrul stayed in the country till his last breath.
Today, Bangladesh is celebrating his 123rd birth anniversary through various programmes across the country.
"Bangabandhu brought Nazrul back to Bangladesh on his own will and declared him the national poet while celebrating his 73rd birthday," Mohammad Nurul Huda, Nazrul researcher, poet, and director general of Bangla Academy, told The Daily Star.
Researchers say the poet was invited to a newly independent Bangladesh on December 2, 1971, by the then prime minister Tajuddin Ahmad.
His family confirmed he would visit Bangladesh soon.
In February 1972, Bangabandhu Sheikh Mujibur Rahman sent bouquets to the poet, who by then had begun losing his voice and memory due to old age, and invited him to visit.
While the literary genius was recognised as the national poet from the day after his return on May 24, 1972, no government gazette with regards to this recognition was ever issued.
Mohammad Zakir Hossain, executive director of the government-run Kabi Nazrul Institute, said, "It is true that there has never been an official gazette in this regard. But there are at least two laws that were passed in parliament -- Kabi Nazrul Institute Act 2018 and Jatiya Kabi Kazi Nazrul Islam University Act 2006 -- that recognise him as the National Poet."
In recognition of Nazrul's contribution to Bangla literature and culture, Dhaka University awarded the poet with the honorary Doctrine de Letter (D.Litt) degree on December 9, 1974.
In January 1976, the Bangladesh government granted him Bangladeshi citizenship and on February 21, he was awarded the Ekushey Padak.
Nazrul, a poet, lyricist, musician, revolutionary and philosopher, was born 11th Joishttha in Bengali calendar-year 1306 (May 25 in the Gregorian calendar). He has gifted the nation with at least 2,400 songs, popularly known as Nazrul Sangeet.
Although known for his criticism of imperialism, social and religious taboos, Nazrul also delved deeply into the themes of love, romance and devotion.