An Abominable Mess
The Sherlock Christmas Special Sabotages Itself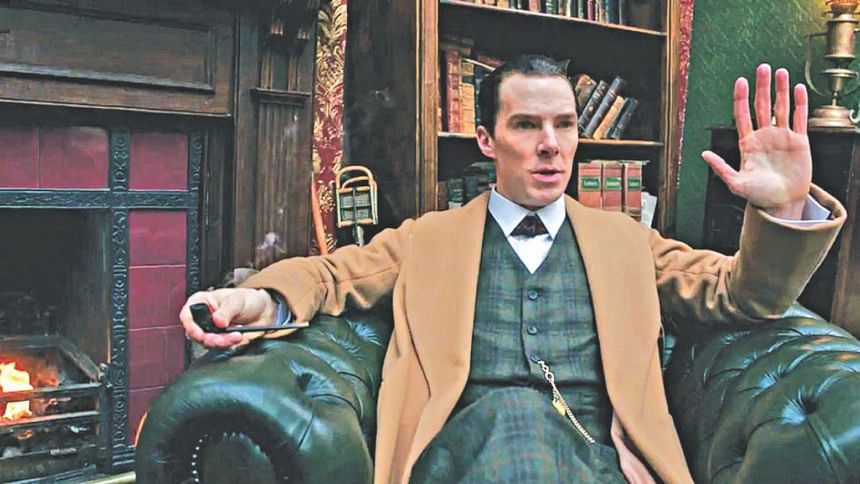 If you haven't yet seen the special episode of Sherlock that came out on January 1, don't read past this paragraph. What will follow is a spoiler-heavy analysis, so all you need to know for now is this: it is underwhelming but mandatory viewing if you want to watch Series 4 next year. Tough luck.
It's hard to know what to expect of a Christmas special, especially when the TV show is as unpredictable and confident as this one. Consider the boldness needed to take a show whose entire shtick is cleverly modernizing a 19th century saga, and to then throw this reinterpretation back into Conan Doyle's timeline. Episode titles for Sherlock traditionally are a play on the name of a Doyle original, allowing the show to set up and subvert audience expectations with a degree of cleverness, yet "The Abominable Bride" is a reference to a mere throwaway line in the books.
It would have been a pleasure to watch the series spin that cursory title into a full-blown, original case, with show-writers Gatiss and Moffat trying to man up to Conan Doyle on his own turf. A casual romp to start the year and keep us fans happy until 2017. And for a while the episode delivers just that. 
With a characteristic flair for visual storytelling, "The Abominable Bride" does a 19th century spin on the first few minutes of the very first episode from way back in 2010, shot-for-shot, down to the last comma. Sherlock the show is as smug as Sherlock the man, and the episode treats us to at least two other sequences as impressive as this, with the presentation of Lestrade's account of the titular Bride's ghostly rampage being the highlight. Also well done is Freeman's take on Watson the Victorian author, and as always he is the heart and soul of the story. In contrast, Cumberbatch's Sherlock is the inhuman plot device that he has regrettably developed into, and his curious resistance to a change in setting is explained by the moment that just tears this promising episode to pieces.
It is all a dream. A chemical dream induced by a cocktail of drugs Sherlock has imbibed on the plane, for this episode really takes place mere minutes after the finale of Series 3, instead of a hundred-odd years before it. The case of the Bride is a sort of mental exercise in figuring out Moriarty's apparent resurrection, a plotting decision that is so unbelievably bad. Moffat and Gatiss create a perfectly good plot, then render it irrelevant. It seems silly to care about the resolution of the 19th century plotline when it's just a clumsy vehicle for explaining something we could have waited to learn in Series 4. 
Fitting, then, that The Abominable Bride was a passing reference in the books for she's just as disposable to Sherlock the series. Ill-timed and unnecessary jumps in and out of realities all for what? What do we learn about Moriarty's resurrection that was so important it needed to be told a year in advance, hijacking the plot? Only the confirmation that he's dead. Excellent! I mean, I did see him die, but thanks all the same.
The show does wrap up the Bride's murder, but in a way that just leaves a bad taste in the mouth. I do not think the lesson the episode attempts to impart is best served by Sherlock pontificating about women's place in Victorian society, while in a room surrounded by silent, hooded women. Women are a secret cult who conspire to murder men (which is good) is the clumsy message.
I love this show and enjoyed Series 3's turn to fanservice and gif-able moments because the writing was just as tight as ever. The latter quality is absent from "The Abominable Bride", wasting an opportunity to please fans of the show and the books. Molly Hooper in drag doesn't cut it.