Toilet cleaner salesman refuses to come out of the bathroom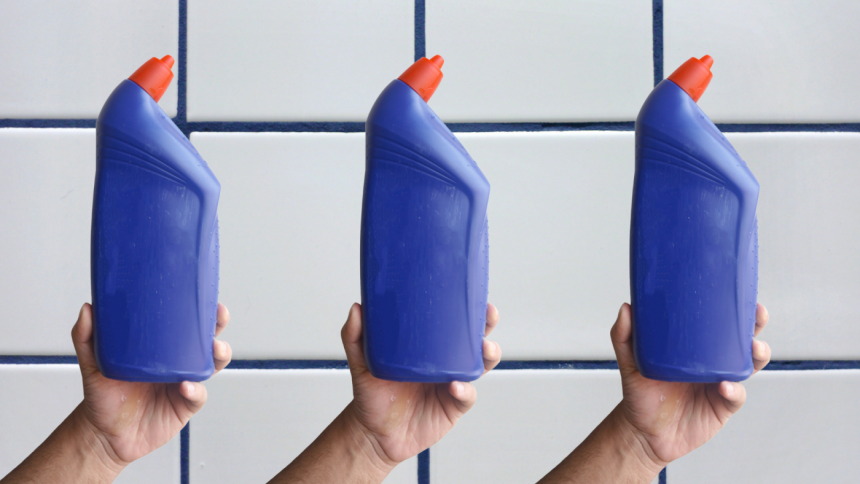 Imagine waking up one morning, and suddenly hearing your doorbell. You open the door to see a mysterious cap-wearing man, bright blue bottle in hand, flashing a toothy grin at you.
"Are you a Mr.Pic family?" he asks, and you're confused. Is he asking if you're made out of Mr.Pic toilet cleaners? Before you can even answer, he barges into your house without saying a word along with an entire camera crew.
Such was the plight of Fariha last Wednesday.
"First, it was all those toothpaste guys invading the whole neighbourhood, going around asking us if we had salt in our toothpaste," said Fariha. "Because that's just what we do. In our spare time, we sit alone in our rooms, analysing the amount of salt in dental products."
"We thought that was as bad as it would get, but now it's a whole another game," added Fariha. According to her, once the salesman had entered the place, he refused to come out.
Our team found the man clutching his cap and sitting in a corner of the master bathroom. He seemed to be having some sort of a crisis. After multiple attempts from our end, he finally agreed to talk to us.
"I went to Yale," he said, in a state of utter agony. "Yet, here I am, barging into people's bathrooms. You think I enjoy doing this? They'll… they'll take away my bonus if I don't." The salesman went on, "You think you're going to be a movie star, but the next thing you know you're signing a contract agreeing to smile like a maniac, going door to door asking people what kind of toilet cleaner they use."
Fariha's 11-year-old son, Fahim, also had something to say about the incident.
"I guess it was a bit of a surprise," reported Fahim. "You don't go into your bathroom expecting to see a weird stranger wail and tell you not to grow up and how the job market is a curse. I offered him some juice to cheer him up, but he just ended up pouring it all over himself."
We also got to have a word with one of the camera crew.
"To be honest, we saw this coming," said the cinematographer, "The guy was slowly losing his sanity. Sometimes, he'd talk about how Mr.Pic is better than ordinary toilet cleaners in his sleep." The cinematographer then proceeded to show us the haunting footage.
"If you'll excuse me, I'm going to hang out with the .01% germs Mr.Pic can't kill," said the salesman at the end of the interview. "Good luck getting me out of here."
The man still sits there to this day. His eyes were full of tears and heart filled with dread. The family is already planning on evacuating the house. Boy, if you thought stains on the bathroom wall were hard to remove.
Maliha Momtaz Oishi is a critically acclaimed writer, if you count full marks in 5th grade English tests. Motivate her at malihamomtazoishi@gmail.com