Chyna: The 9th Wonder of the World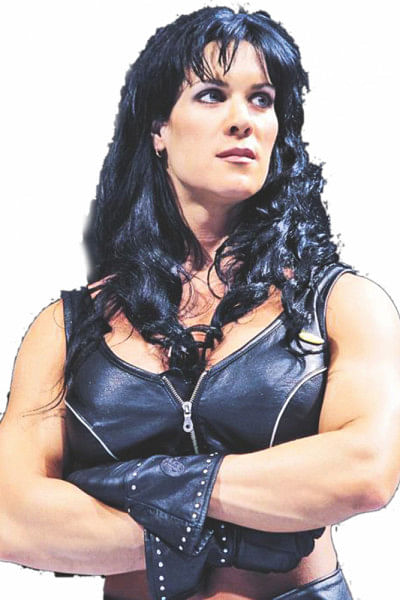 Joanie Laurer aka "Chyna" made her debut at a time when pro wrestling was going through its most iconic change. To compete with WCW, Vince McMahon's WWE (erstwhile WWF) introduced edgier content, creating storylines with more violent and adult plots. Chyna fit into it from day one, creating a niche for herself in a male dominated world. She was not the meek ring-side valet, nor was she a damsel in distress – Chyna was a star in her own right, rubbing shoulders with all the big boys. The term "breaking barriers" is used a lot in tributes but what Chyna did was truly the embodiment of that.
She was born on December 27, 1969.  She rose to prominence in independent body building circuits and as a glamour model but finally found her place in the WWF where she was termed the "9th Wonder of the World". 
Chyna made her breakthrough in 1997, initially being cast as Triple H's bodyguard. Triple H and Shawn Michaels had found her in the indie scene and, impressed by her physique, urged Vince McMahon to bring her in. McMahon himself was initially sceptical, thinking that such a "masculine" woman would never win over the crowd. But Michaels and Triple H remained incessant and finally got their way.
Chyna was an instant hit. Her presence, miles apart from anything the fans had seen with female wrestlers up to that point, sent shockwaves through the pro wrestling world. As D-Generation X (or DX) gained steam and Attitude Era took off, the sight of Chyna taking on male wrestlers and interfering in Triple H's matches became a novelty. Her signature "hit to the groin" became a staple of the Attitude Era.  
After Shawn Michael's back injury, the new DX spearheaded by Triple H put her into a more prominent role and she stepped out of her bodyguard persona to become more of a central character. During that time, she became the first female to appear in the Royal Rumble match in 1999 and even held the Intercontinental Title. At a time when female wrestlers were constantly objectified and used as eye candy, Chyna created a different image of what a female wrestler can be. 
After DX, she enjoyed a small stint in an on-screen romance with Eddie Guerrero that also became popular. But her time in the industry would end soon after.
Her career afterwards was marred by controversy. People within the WWE objected to her choice of careers after leaving and she went through several well documented episodes of drug problems. She also had a very public row with Stephanie McMahon, daughter of Vince McMahon, and more importantly, wife of her former boyfriend Triple H. All of this seemed to get in the way of Chyna's (extremely well deserved) Hall of Fame induction.
Yet all of those things are ultimately inconsequential given the impact that she had in the world of pro wrestling. It was nearly 16 years after her retirement that a new generation of female wrestlers would revive the "Divas Division" as something other than eye candy. That's how important Chyna was. She was integral to the "attitude" of the Attitude Era. 
The 9th Wonder of the World will truly never be replaced. 
Rayaan Ibtesham Chowdhury is a business student who spends his nights trying to write a fantasy novel. Mail him at r[email protected] if you want to talk about dragons in suits.