Your Best Friend's Wedding (Not Starring Julia Roberts)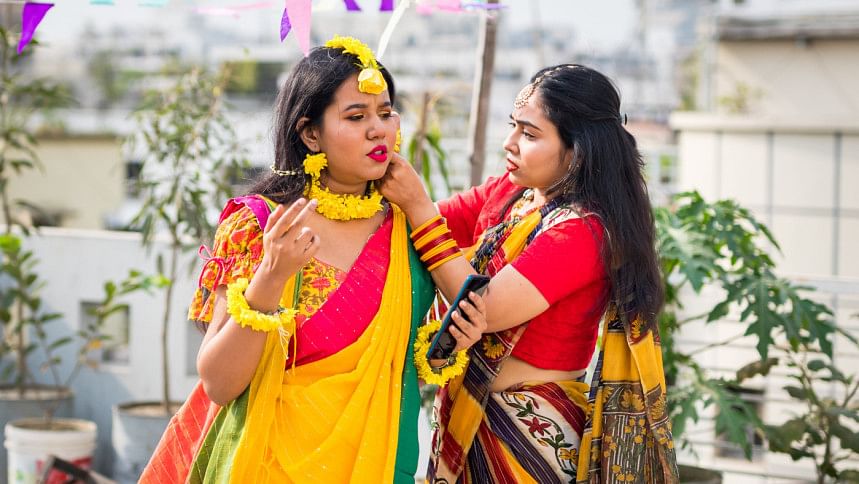 There's loud music being blasted from massive speakers, the smell of fresh kacchi in the air, and elaborate floral displays left and right.
Your best friend is getting married.
Disclaimer: This is not Julianne Potter's story.
The thing about your best friend's wedding is that the reality of it doesn't sink in right away. Not when they show you the engagement ring, or hand you the wedding invite card, or when you're three weeks into dance rehearsals for the holud ceremony. Even as you're helping your best friend sort through the logistics of a deshi wedding, you can't help but wonder about how it was just yesterday that you two copied from each other's Math homework and exchanged rants while munching on fuchka by the sidewalk. Your concept of time grows increasingly blurry by the minute as nostalgia takes over you.
Wedding preparations are always hectic. There are dance rehearsals to plan, venues to be booked ahead, caterers to be consulted, festive attire to be selected, and wedding invites to be sent out. You gradually find your excitement beginning to mirror that of your friend's. After all, it is a new phase in life much like high school graduation, completion of undergrad degrees, job promotions, et cetera.
As you lend some of your assistance in planning your friend's wedding, you become even more acquainted with the action behind the scenes, and in time, recognise your role as your bestie's go-to emotional support system at such a time. Having gotten over your initial sense of disbelief towards the whole event, you stand by your friend as they take their time to clear their head or look for the occasional breather amid all the wedding frenzy.
You've had conflicted thoughts about your friend's wedding this whole time. There's been ample fun and excitement throughout the festivities, but they ultimately did little to dissipate the insecurity creeping up at the back of your mind: "Will our friendship ever be the same again?" Now you're well and truly anxious about the status of your friendship with your oldest friend.
There have always been ups and downs with all the struggles in preserving the friendship over a long distance and being there for each other through thick and thin. Demanding your friend's constant attention in your matters at all times will only introduce toxicity to the bond… and you and your friend deserve better.
It's the day of, and you get just a little teary-eyed seeing your friend next to their significant other. Happy tears, laughs, and giggles are exchanged over stories of the couple's courtship and successive plates of kacchi. As the wedding event draws to a close, both you and your best friend already know that your friendship is no longer what it used to be in high school or college, but that's the best part. It's been growing and maturing through changes, the different phases of both of your lives.
You can see your wedding festivities unfold from your best friend's perspective already.
Rasha Jameel's calendar begins at 'Deadline 001' and ends at 'Deadline 7634872354'. Help her locate the month of July in all this mess at [email protected]