Curating a wedding dala for anime fans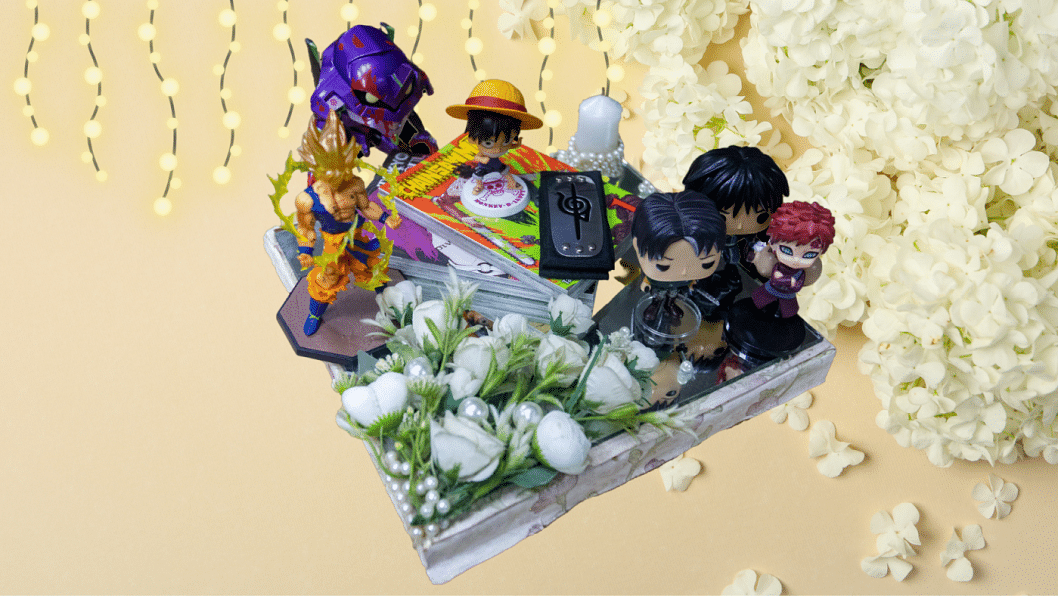 Exchanging dalas between the families is one of the most popular pre-wedding customs in Bangladesh. As the years pass, these decorated goodie baskets have become more ornate, thought-out, and variegated. While the gifts usually include traditional items such as clothing accessories, cosmetics, jewellery, and the likes, you might want to take a different approach if your soulmate is an anime fan.
Now, one might argue that it's impossible for a die-hard otaku to tie the knot in the first place. But to celebrate the fabled few who break free from societal expectations and eventually settle down, you might want to go the extra mile and plan out their gifts carefully. That being said, here's a list of surprise items that you can sneak into a wedding dala for anime fans to lighten up their special day.
Anime figures
There are few things that speak to an otaku's heart like a good anime figure. Depending on the size of your heart and the depth of your wallet, you can give them anything from a simple figma figure to a full-sized Gundam model. And for moe enthusiasts, a figurine of Rem or Nezuko will undoubtedly overwhelm them with joy.
Original manga volumes
Anyone who has been involved in the anime community for some time knows how difficult it is to get hold of original manga volumes in Bangladesh. Since they're not directly printed in or supplied to our country, collectors have to break the bank to get them imported from foreign countries, costing them more than twice the original price.
Under these circumstances, gifting authentic manga copies for an otaku's wedding would speak volumes in favour of your love. For an extra touch, you could also eye a deluxe edition.
Plushies
Regardless of how strong, cold-hearted, or resilient they may be, no one can resist the temptation of hugging a soft plushie against their face. In accordance with their softie of choice, get them a little Pochita or a bloated Tanjiro. Either way, you can't go wrong with adorable plushies.
Slight disclaimer though, be prepared to get your hugs stolen by inanimate cartoon dolls for an indefinite period of time.
Ilish maach in kimonos
To keep in line with our rich traditions, you can still include a couple of hilsha fish in the dala. However, instead of wrapping them in traditional Bangladeshi clothing, consider adorning them with kimonos to stand out from the crowd. And if you want to leave a long-lasting impact, sprinkle on a handful of cherry blossoms around the aquatic duo.
Cosplay accessories
Behind every responsible and functioning member of society is a little child who once dreamt of dressing up as their heroes. Whether it be Guts from Berserk or Zero Two from Darling in the Franxx, you can do your part in making sure that an anime fan can fulfil their childhood dreams by gifting them awesome cosplay accessories!
Anything from wigs and katanas to full body outfits will tick the box without question, and you might even introduce cosplaying dreams that your partner was unaware of themself.
Ayaan is obsessed with organising spreadsheets. Send him well-formatted emails with bullet points at [email protected]