Why We Cook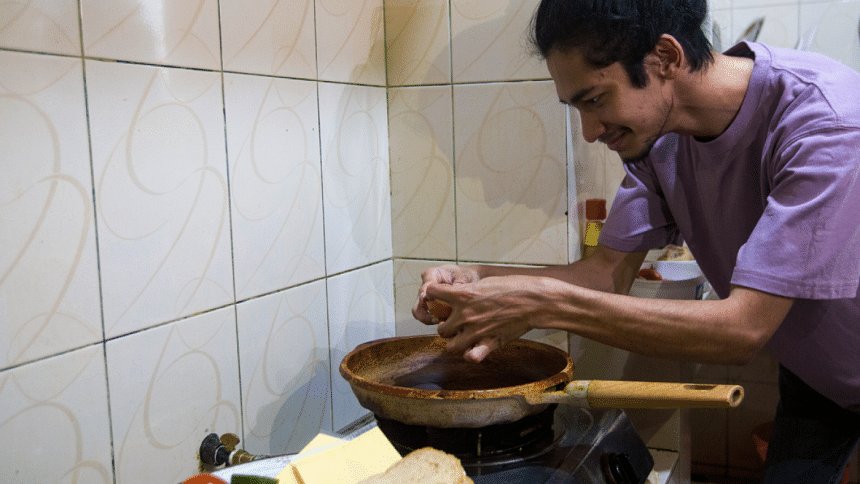 Home is where the heart is, and the heart is definitely where the food is. By that logic, the heart probably plays hopscotch around the kitchen a lot.
Cooking is not always a prerequisite to having food, and yet people cook for reasons more than just sustaining themselves. While explaining how he learned to cook, Muaz Al Abrar, 27, a part-time artist and full-time merchandiser, says, "I learned while I lived in a hostel. The meals were terrible, so we refried them with onions, oil, and some basic spices."
Muaz went from someone trying to make food consumable to creating a plethora of versatile, delicious dishes. Meanwhile, Apun Sarkar, currently a student of IBA-JU, says, "I learned cooking by observing my mother. I learned to make emergency dishes from my father, several tricky Bengali dishes like sweets or pickles from my maternal aunts, and native dishes from the rural areas of the country from my paternal aunts."
Apun does agree that cooking alongside family members has strengthened her relationship with them, though there are occasional struggles about having to share kitchen space. But hey, who in a Bangladeshi household hasn't had the urge to chase that annoying relative with a spatula?
Besides, to have generational knowledge in the form of family recipes passed down to you feels very humbling and is no less than a blessing, albeit in the form of cumin, coriander and a whole lot of other spice mixes.
When we asked some of our primary, intermediate, and advanced level of "cook" friends the reason behind their culinary journeys, we received a wide range of responses.
"What inspired me to learn cooking? I love eating. Why do I cook? I love eating!" Shafin Mahmud, an undergraduate student from Brac University simplifies. For all of us who cook, we relate hard.
Ishrat Nova, currently studying at North South University, says, "I cook mainly to meet my cravings, which are too intricate for my other family members to recreate."
"Cooking works as an outlet for my negative emotions and works as a form of therapy," says Adib An-Nur, an undergraduate engineering student, who does an alarming amount of cooking.
"I like to cook because it's cheaper than buying cooked food, and I love baking because I adore the smell of freshly baked cake and cookies," explains Dr. Moomtahina Fatima, intern doctor at Mymensingh Medical College Hospital.
"You could buy scented candles though?" one of our writers asked and barely survived getting pelted by a cupcake. And finally…
"I just like to watch things burn," confesses Tawsif Jawad Promit, a student in his twenties, barbeque-enthusiast, and suspected pyromaniac.
Irrespective of why one chooses to cook, it is undeniably true that food does so much more than sustain the human body and provide nutrients. The way to a person's heart is through their stomach, but it is not always about the calibre of the food or the number of ingredients used.
Food can convey complex human emotions like no other, which is exactly why the love found in home cooking cannot often compare to the richest of dishes. Md. Abrar Hossain says, "I thought I could make do with instant ramen and noodles when I went abroad to study, but I eventually took up cooking instead. Ever since I came back, I have a renewed appreciation for the simpler dishes I now find around easily."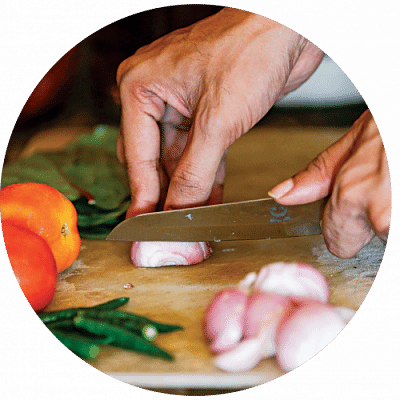 From picnics to potlucks, food plays a crucial role in bringing people together. Be it the activity of peeling peas and plucking spinach from the same bowl or having food from the same platter, there is a solidarity that food induces in us.
Like onions, cooking also has many layers. It's not just putting everything in a pot and hoping for the best but rather, each sizzle, each whiff of the permeating spices, and each splatter of oil and curry on your shirt is no less than the work of master craftspeople.
Knowing your ingredients and giving them life is a sensory experience that cannot be done without leaving out the rest. Cooking enthusiast Afia Ibnat agrees that cooking is an immersive adventure. "Letting my thoughts wander while I become lost in the process is truly therapeutic for me," she adds.
Culinary creativity, for most, is a result of constraint-based action. Most creative cooking pairings arise from not having access to certain ingredients or having dietary restrictions. Eighteen-year-old Mubassira Mahboob's cooking endeavours follow a similar path.
"Sometimes when I create foreign recipes, some items are unavailable or too expensive, so I try to find substitutes," she says. "Coming up with replacements, I feel, necessitates a certain level of inventiveness."
Cooking is a great method to unwind since it allows you to express yourself creatively. Not only that, but learning new techniques, combining them into various forms, and gaining expertise along the way is a creative and skilful endeavour in and of itself.
When asked how their cooking compares to that of their family, the majority of our respondents were an act in humility.
"I think I cook very well," says Tamjeed-ul-Islam, an undergraduate student. "But it will take some time for me to catch up to my mother's level."
Ayra Areeba Abid, 19, on the other hand, believes her mother's culinary techniques have inspired her own. "I'd say my dishes are quite similar to my mother's, although it sounds strange to admit. However, I'm nowhere near my family's cooking and I still have a lot to learn and a lot of confidence to gain," she remarked.
Many like Ayra find comfort in their mother or grandmother's cooking, but for Ishtiak Kabir and Samia Khan – self-taught cooks – breaking off from their family's cooking style is what makes theirs adventurous. "I like to experiment by adjusting classic recipes with different spices," Samia says. "However, my family isn't big on improvisation and always sticks to the essentials."
Our perception of food differs widely from our ancestors. When it comes to food, the generation gap can be the greatest. Millennials these days are more acceptable to other cultures and interested in trying out newer cuisines. We see fusions of different local and international cuisines changing how we look at food.
Nowadays, cooking is more than just a matter of putting things together in a certain order. The modest tea has evolved into other varieties; doodh cha is no longer the staple, malta cha has made an appearance. Porota mangsho has been stylised into tacos de Carne Mexicana. The millennial trend of eating quick and easy dinner has completely transformed the cooking game.
Cooking can be gratifying. However, in this age of instantaneous delivery of freshly prepared meals to our doorsteps, the art of cooking is frequently overlooked. We have the luxury of having someone prepare our meals for us. They are, in the words of one of our friends, "missing out big time."
"I love the feeling that I can cook something good for myself and devour that without having to feel someone else did the hard work for me. I really enjoy it when my loved ones admire my cooking; it's a wonderful feeling for cooks to be able to spread love and happiness through food."
Food is a love language and people who don't cook are indeed missing out.
Upoma Aziz is a slouching, crouching, grouchy Goblin with a hoarding problem. Tell her to declutter her desk and her mind at [email protected]
Farnaz Fawad Hasan is a disintegrating pool noodle wanting to stay afloat. Reach her at [email protected]