A Cook's Kitchen
My mornings usually start by preparing a warm, steaming cup of tea for myself — it has become a morning ritual. While some may prefer to have their morning tea or coffee already prepared for them, I seem to enjoy the process.
The aroma of tea leaves when they hit the bubbling water, the beautiful change of colour to a rich shade of brown, and the puffs of steam rising above the pot — it all seems therapeutic to me, much like a relaxation exercise, and it all happens in my abode, my kitchen.
The kitchen is easily my favourite corner of the house, and I love spending time in there. It is not just about cooking in the kitchen — we have all had our bad days in there too, through failures and cooking mishaps, but it is also the place where gastronomical magic is concocted through experimentation.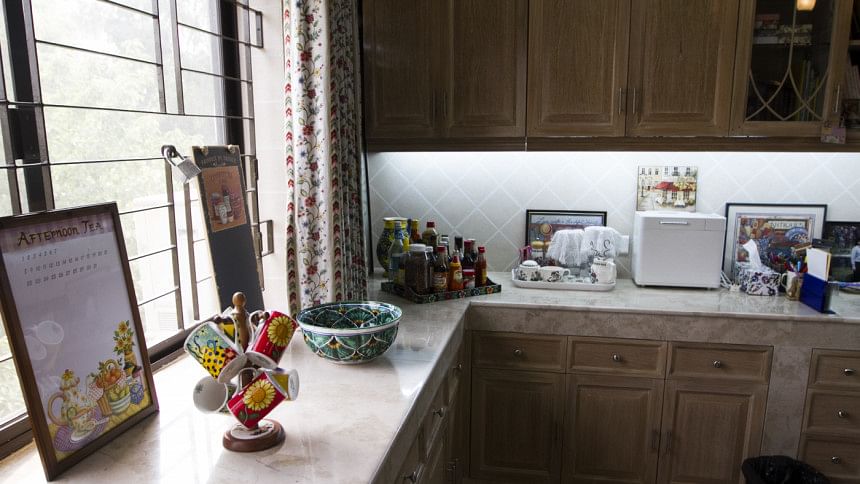 Decorating my kitchen is another activity I absolutely love, and I am sure many cooks can relate. This tends to make me constantly hunt for the best possible products to place inside my kitchen – be it a cute set of salt and pepper pots just for aesthetics or a cool kitchen gadget I recently discovered (but which I don't really need).
Speaking of gadgets, I do believe there are some essential tools every cook must have to make life easier. Rice cooker is one, which is not only useful to cook rice but a multitude of other items. Toaster is another, not very much used yet handy to keep. And for caffeine addicts like me, a little coffee maker would not hurt (currently saving up to get mine)!
The little pantry inside my kitchen is a showcase of my prized possessions, and I will show it off to anyone who is even slightly interested. Being someone who loves to try out different cuisines, it represents a medley of global ingredients. Whether it is Malaysian laksa I am craving, or Thai spring rolls at any time of the day, I warrant that the ingredients required are always fully stocked.  
My neatly organised spice rack is not just an ordinary spice cabinet, but rather a treasure chest that stores rich history and culture. Za'atar from the levant regions, turmeric from the Indian subcontinent, herbes de provence to heighten the flavours of my French dishes and that bottle of Chinese five spice which I regard as my secret ingredient in every South Asian dish — one can find a synopsis of universal spices in it!  
It is safe to say that I treat my kitchen as a temple, so maintaining organisation and top-notch hygiene is mandatory. Coupled with my obsession towards cleanliness, I ensure my kitchen remains in a spotless condition for as long as possible, of course other than those inevitable oil and coffee spills. 
Other than constantly looking out for the best utensils or spices to store in the kitchen, putting effort towards making it aesthetically pleasing is another task where cooks everywhere spend an ample amount of time. Deciding on the colour palette, placing elements to attain that perfect look, and creating a lush, green corner for fresh herbs are all kitchen paraphernalia that we enjoy accumulating.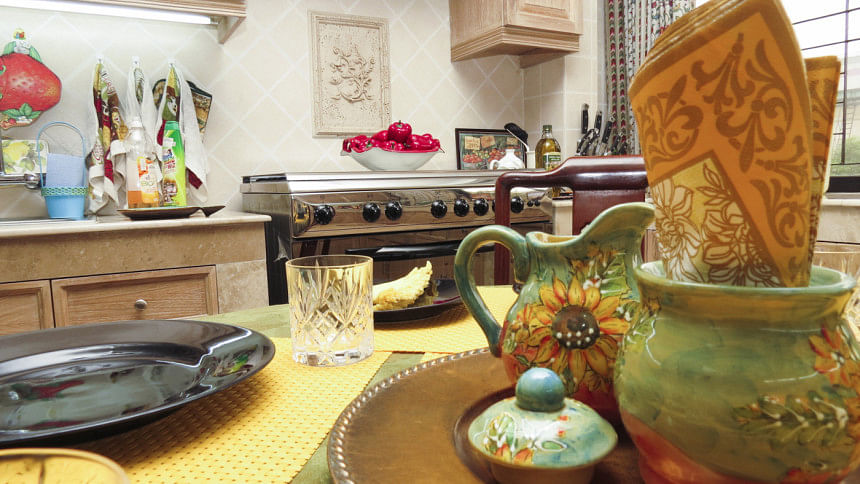 To me, a kitchen is not just a place to cook, rather it is a place where memories are created. It can be a place of joy and celebration, or where one seeks to relieve pent up frustration and agony through the enchanted process of cooking. A cook's kitchen is more than just stoves and utensils, it is an escape.