ANIME
Where Makoto Shinkai's Films Fall Short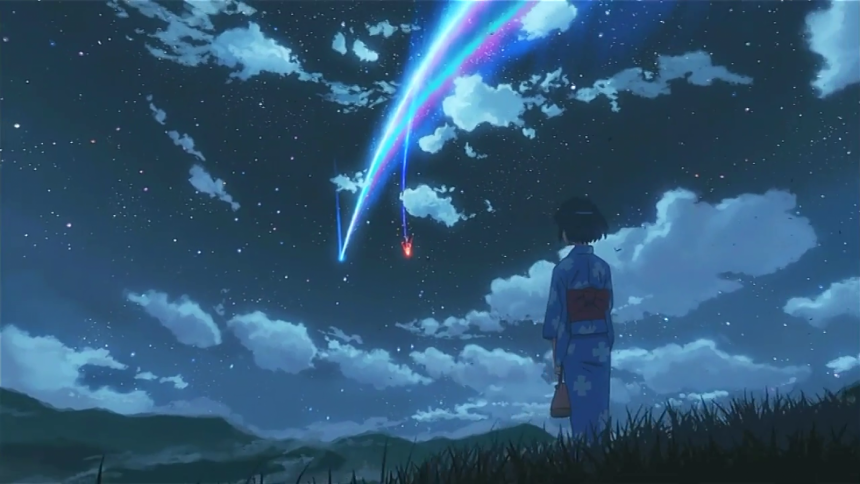 Over the last decade, Makoto Shinkai has become one of the most revered anime directors in the industry. Several of his films like Your Name, Weathering with You, Garden of Words, have made him a household name within the otaku community.
Shinkai's accolades are well-earned to an extent, considering that his films are on a level of their own in terms of production quality. His close attention to details of mundane settings, accompanied by the fantastical and vibrant colours, manages to enhance the beauty of every scene. Additionally, the musical scores are also well incorporated, making the viewing experience feel more immersive, satisfying, and memorable.
While such craftsmanship has brought Shinkai to the apex of commercial success and popularity, his works are far from perfect. Rather, most of his popular films follow the same, somewhat lacklustre narrative pattern, with the barebones of each film seemingly belonging to that of the same species.
The most noticeable and prevalent reason behind such a bold claim lies in the way he handles the various themes in his stories. 
Take Shinkai's 2016 blockbuster Your Name, for example. The first half of the movie was pleasant to watch, playing out like a well-made slice of life with a modicum of fantasy elements. However, the latter half is riddled with messy plot points that almost rush to bring the previously slow-burning narrative to an abrupt conclusion. As a result, the climatic moments barely feel impactful and the overall themes end up having squandered potential.
The same can be said for one of Shinkai's earlier works, Children Who Chase Lost Voices (2011). The movie suffers from lack of a proper vision, as it plays out like a misplaced adventure covered in a philosophical blanket. Its themes don't fit its narrative, and the experience of viewing the film raises a serious question regarding Shinkai's ability to tell a coherent and conclusive story.
Another reason behind Shinkai's ability for narrative work being debatable lies in how he treats his characters, especially the protagonists.
In Weathering with You (2019), the free-spirited and independent female lead, Hina, possesses supernatural abilities to save Tokyo from sinking. Yet, as her meeting and subsequent relationship with the male lead, Hodaka, plays out, her role in the story is watered down into a foil for the latter's insecurities and feelings. Meanwhile, Hodaka himself feels like an uncharismatic empty shell throughout the movie, with an annoying trait of obsessively trying to profit off of Hina's abilities.
Makoto Shinkai has a long and decorated past of doing introspective romance dramas in a high school setting. And like any other movie that uses similar settings, his works also rely on being relatable to his audience. But in his pursuit of creating feel-good films, Shinkai has, time and time again, failed to establish a consequential narrative and interesting characters and then tie them together. In fact, he has a particular habit of sacrificing the potential of interesting characters in order to move forward his narrative or develop the protagonist.
As Shinkai's latest film, Suzume's Door Locking, is set to release later this year, it will be interesting to see if he is able to circumvent his past mistakes or ends up recycling the same themes and tropes yet again.
Ayaan loves to read dinosaur comics and poorly-written manga. Reach him at ayaan.shams@gmail.com