All Quiet on the Western Front is everything a perfect film should be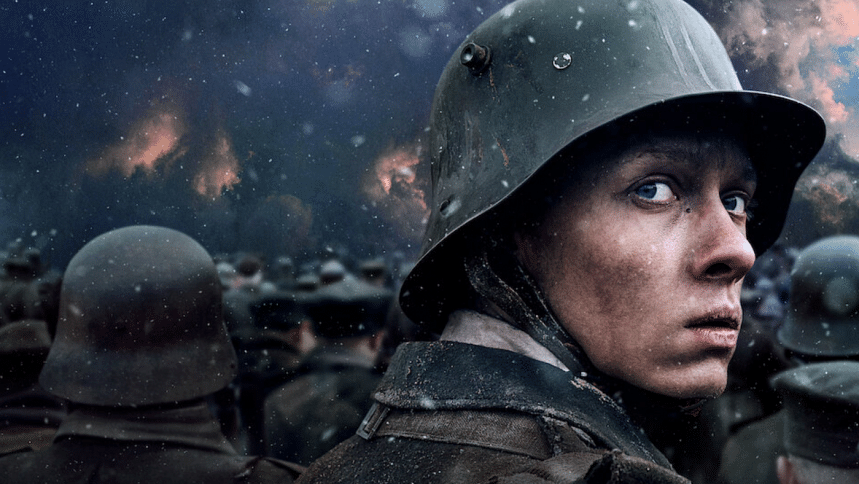 Contains spoilers.
As a World War fanatic, I have been left disappointed one way or another over the years, till I watched All Quiet on the Western Front. For me, it is cinema at its finest.
One thing that deserves a lot of credit is this movie's portrayal of German propaganda. What impressed me the most is how the film indirectly depicted the Kindermord (massacre of the innocents) simultaneously.
As college students Paul Baumer, Franz Muller, Ludwig Behm, and Albert Kropp enthusiastically signed up for service, their innocent fervour told the story of a propaganda machine brainwashing a generation to death. The promises of marching into Paris within three weeks were nothing more than fool's gold.
The film presented the horrors of the Western Front in harrowing detail. The presence of muddy battlefields in Northern France, stinking of death and desolation, was a prevalent theme of the movie. Even the inhumane conditions of the trenches were depicted in their ghastly glory.
Additionally, viewers were able to understand just why soldiers lost their dignity. Stuck in the cold trenches, with no food or medicine, and watching their comrades die, it's no wonder why these men became hollow shells. The circumstances in which Baumer lost his college friends are truly tragic. The battle sequences only fuelled the heart-breaking nature of the story.
Despite this, one scene perfectly encapsulated the fickle nature of humans. As the Germans retreated following a failed attack, Baumer was cornered by a Frenchman. Fortunately for Baumer, a shell knocked the Frenchman out, allowing Baumer to stab him. But in a twist of fate, Baumer decided to save him but failed. Rummaging through his papers, Baumer found out he had a family, making Baumer remorseful, and causing him to break down. 
All Quiet on the Western Front's ability to show contrasts makes it unique. This movie encapsulated friendship and enmity, love and hate, and spirit and disillusionment at once. It was stark in Baumer's evolution. His dynamic with Kat is an exceptional social commentary of its own.
They should, in no way, have been friends, with the scholarly Baumer more suited with professors than shoe-makers. Yet, they became beacons of light to each other. From stealing turkeys to sharing bread, there should be no doubt as to why Baumer became devasted by Kat's unfortunate death.
For this, the actors Felix Kammerer and Albrecht Schuch deserve special credit. It was evident that both of them understood and lived their character's emotional beats. Kammerer, in his first big-screen role, delivered the performance of a lifetime. If this is anything to go by, a bright cinematic future awaits the Austrian stage actor.
The movie also painted the era's grim social picture. The portrayal of Tjaden's death makes a mockery of the established order, where war heroes found death more acceptable than living maimed, with no job or social safety network to support them.
The aristocrat's lavish lifestyles shown during the Armistice negotiations, while the soldiers ate mouldy bread crumbs and drank urine-polluted water from the mud, only showed the class differences that plagued Germany in that era.
Director Edward Berger did his homework while adapting the 1929 novel of the same title. Complemented by the cast's brilliant performance, there is no doubt that this German anti-war epic deserved its Oscars.
Inqiad is the CEO of Rashford FC. Contact him at [email protected]