Where are our public spaces?
With a growing population and the ever-increasing pollution, Dhaka has evolved to be an extremely chaotic place to live. It has constantly been ranked as one of the top ten least liveable cities for the past few years – an "achievement" most of us would not be very proud of.
Amidst all of the negative aspects making the lives of the city-dwellers nothing less than the nine circles of Dante's Inferno, the lack of public spaces in the city also contributes to making the city unliveable. In various cities across the globe, outdoor recreational public spaces provide the citizens with the opportunity to engage in various activities for amusement. Such activities allow them to better cope with issues such as mental health, as the refreshing and soothing environment outdoors – a break from the fast-paced city life – allows them to gather themselves and function better.
But what qualifies as a public space? Or the lack thereof?
"Any place where people from all walks of life have open access is a public space in my opinion. In that sense, public transportation can also be called public space. So are roadside shops and restaurants, footpaths, playgrounds and parks," says Fahad Al Mahmood, a young professional and recent graduate from Dhaka University. 
"However, public spaces, in the most conventional sense, are quite insufficient in the capital to say the very least. Those that qualify suffer from a gross lack of security for the common citizens," he adds.
Echoing Fahad, Radiah Tasnim Khan, a Viqarunnisa Noon School and College student, comments that the very few public spaces which exist in the status quo are particularly unsafe for women due to the harassment and moral policing they often have to face.
"When there are not enough safe public spaces, people eventually start going to restaurants. But, then again, the mental peace and mental development which happens in outdoor public spaces, such as parks, cannot possibly be emulated in small cafes and restaurants. I think everyone deserves to live in a city where they can breathe," Radiah says.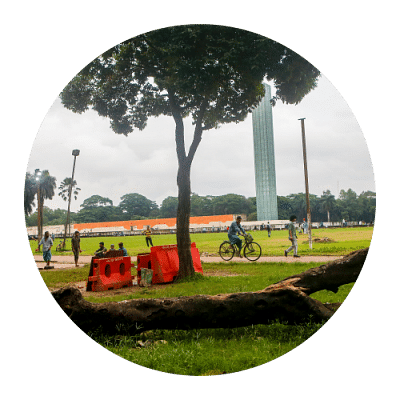 A lack of safe public spaces in Dhaka has aggravated a lot of issues, especially among the youth. From inadequate socialising opportunities to the development of detrimental habits such as consuming unhealthy foods at restaurants, and to even exacerbating class differences to the point of social alienation – the inadequacy of public spaces has taken a cancerous form at this point.
"When we go to a restaurant, we do not go from one table to another just to get to know strangers. But, when you go to a public space such as a lake or a park, you meet lots of new people and you get the opportunity to talk and interact with them. Therefore, public spaces are great socialising spots, especially because there are no distractions in terms of interacting with people – something which you would face if you went to somewhere like a restaurant or shopping mall," explains Maliha Rahman, A Level student at Maple Leaf International School.
When asked about what he and his friends choose for recreation, Tajrian Khan, a grade 12 student of Mangrove School shares, "What we can afford to eat is usually junk food, just for the sake of having a place to sit for an hour. A park and a few benches in your neighbourhood are the least you can expect from a nation's capital."
However, being able to go to restaurants or cafes or amusement parks is something which can only be afforded by people from a higher socio-economic background. This often leaves out the ones at the bottom of the social order due to the unavailability or inaccessibility of public spaces.
South Breeze School student Mahir Mohammad Tazwar illustrates, "The typical hangout spots in our country are restaurants, and everyone is not financially capable of affording a meal whenever someone asks for it. As it is not always possible for people to meet in restaurants, if there were more public spaces, you could stay in touch with people better."
This crisis has put the city planners and authorities into quite a fix as well. Opening up more public spaces is an issue that is becoming increasingly hard for them as well, due to the capital being one of the most densely populated in the world.
"We currently have 12 playgrounds and 26 parks under our jurisdiction in Dhaka South City Corporation (DSCC), of which, some are still under construction. We have tried our best to meet international standards while constructing them, with the right amount of greeneries accompanying these spaces," says Mohammad Sirajul Islam, DSCC chief urban planner.
According to DSCC's master plan spanning till 2050, the city corporation will be identifying a space for a playground in every ward. This is a great challenge due to the city's dense population.
"Statistically speaking, 2000 people move to Dhaka every day due to climate-related displacement and other issues. Old Dhaka is one of the major crisis points when it comes to implementing the plan due to its shortage of open spaces," Sirajul Islam elaborates.
"If we come across any such piece of land that can accommodate the purpose but is not under our jurisdiction, we are ready to apply to the government to be able to include that in our plans following necessary legal procedures. RAJUK has made detailed area plans of the capital, following which they make recommendations for opening up such spaces. Proper implementation of these recommendations can prove effective in solving this crisis as well," he suggests.
The law to conserve playgrounds, open spaces, parks and water bodies suggests that no one can change the characteristics of any such space. Proper implementation of this existing law and coordination among all stakeholders can improve the situation in near future, hopes the DSCC chief planner.
Nahaly Nafisa Khan is a sub-editor at the Metro desk of The Daily Star.
Hrishik Roy is a contributor at the SHOUT of The Daily Star. Reach out to him at [email protected]