Tourism is harming St. Martin Island's natural environment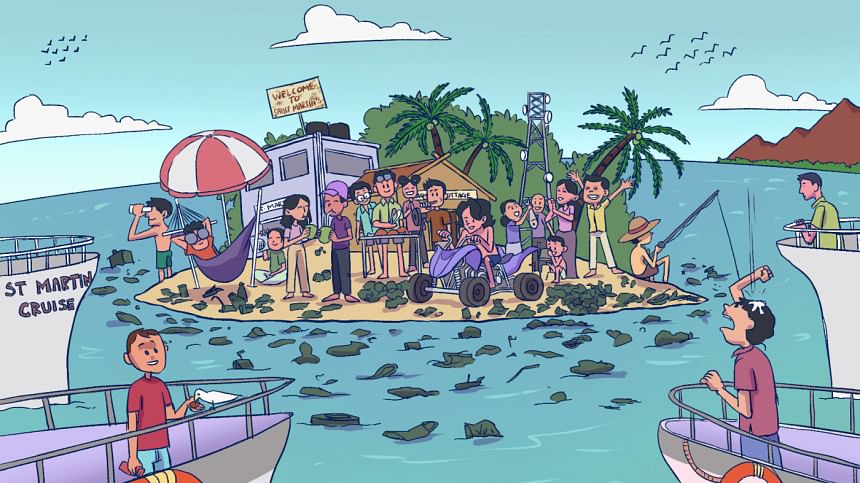 St. Martin's Islands, also known as Daruchini Dwip and Narikel Jinjira by the locals has emerged as a popular tourist spot in the last two decades due to the travel to the island being made easier. The peak season for visiting St. Martin's is November to February, and the locals spend the rest of the year preparing for the surge of tourists during these months.
Before embarking on a tour to St. Martin's, there's obviously a lot of pros and cons to weigh. You might be wondering about the cumbersome and extremely risky journey, the exaggerated prices of food and commodities during peak season, or the availability of proper accommodation. One question that we should add to the list is, "What can we do to be respectful towards the natural environment of St. Martin's during our stay?"
Preserving natural resources has always been important, but the need is greater now than ever when it comes to St. Martin's. When I imagined St. Martin's Island before, I envisioned expanses of coral reefs, coconut trees lining the beach, and clear blue water. Unfortunately, I was let down when I set foot on the island and realised the natural environment of St. Martin's has been largely compromised by human intervention.
Littering
If you've visited St. Martin's recently, you've definitely noticed this problem. The local authority has taken steps to set up trash bins around the beach within walking distance of one another, but you'll still find plastic bottles and packaging right where the waves hit the shore. The damage is exacerbated by floating shops popping up here and there.
Not only does it put a blemish on the aesthetic aspect, but the waves also carry the plastics into the sea. I'll spare you the textbook explanation of how harmful plastic is to marine wildlife and the soil. While it's difficult to stop the use of plastic altogether, not littering on the beach is the least tourists can do.
Vehicles on the shore
The seashore is home to various living creatures including a number of micro-organisms. As such, vehicles like bicycles, motorcycles, and auto rickshaws are strictly prohibited on the beaches. Yet, this is very lightly regulated. You won't find all-terrain vehicles (ATVs) like on the beaches of Cox's Bazar, but it's easy to rent a bicycle on an hourly basis, which can trample the organisms living in the sand, such as crabs.
This rule is so loosely enforced that most tourists aren't even aware that bicycles shouldn't be ridden on the beach. Many even take bicycles or auto rickshaws to go to Chhera Dwip to avoid the trawler journey. The authorities are more vigilant about auto rickshaws as they produce more sound than bicycles.
Feeding the seagulls
While journeying to St Martin's Island by ship, you might chance upon squabbles of seagulls. Seagulls are naturally inclined to hunting for fish in the sea, as well as scavenging for insects and rodents. Tourists enjoy feeding the seagulls by throwing dry foods like chips and biscuits at them. Unfortunately, such foods have little nutritional value to seagulls, and they end up getting accustomed to being fed by humans within the span of the three or four months that tourists visit St. Martin's every year.
Consequently, when tourism season is over, they are left to fend for themselves but are unable to do so. This leads to them starving, which is a fact most tourists are unaware of. So as beautiful and fast as they are, one might want to refrain from feeding them for their own good.
Crowding
Considering that tourism contributes greatly to the economy of St. Martin's, we can't really blame locals for trying to profit as much as possible from the tourists. Floating stalls and vendors on the beaches are thereby almost inevitable. Crowding on the beaches is also inevitable since for the four months between November and February, it is the biggest natural attraction anywhere in Bangladesh.
The sounds produced by tourists, vehicles give way to noise pollution, which is harmful for fishes and other marine animals. Sound production is inevitable in places where there's a high concentration of people, but for the sake of the ecosystem, noise pollution should be managed.
Stray Dogs
As cute and fluffy as the dogs in St. Martin's island are, they pose a threat to both the tourists and the ecosystem.
Tourists, unaware of the impact, often feed the stray dogs, which causes more of them to come down to the beaches. Stray dogs tend to attack mother turtles when they lay eggs on the beaches. As such, it's wiser to not feed them if spotted on the beaches so they do not congregate there. The rise in the number of dogs in the island causes multiple other problems too. The limited amount of resources in the island mean that stray dogs have to fight amongst themselves for food and territory, making them more hostile towards tourists, many of whom are unaware of how to treat stray animals. Different organisations have been working hard to neuter and vaccinate dogs on St. Martin's Island in the recent past but more needs to be done in this regard.
Aside from these, picking up corals and sea-shells is also another seemingly harmless tourist activity that actually has grave consequences. Sea-shells are admittedly gorgeous to look at and for decoration, but they're home to tiny organisms. Picking them up for collection causes these organisms to die, as they're taken out of their natural habitat.
All of this doesn't mean you should check St. Martin's off your destination for a trip. Despite the damage it has suffered recently, the island is still beautiful with plenty to offer. St. Martin's Island has a delicate ecosystem, and tourism is bound to bring some level of imbalance. Preserving such a gorgeous tourist location is on us – the tourists, so we should do what we can to minimise damage to its environment.
Zabin Tazrin Nashita is trying her best to gain the affection of the cats on her campus. Help her win them over at: [email protected]