The ironic genius of One Punch Man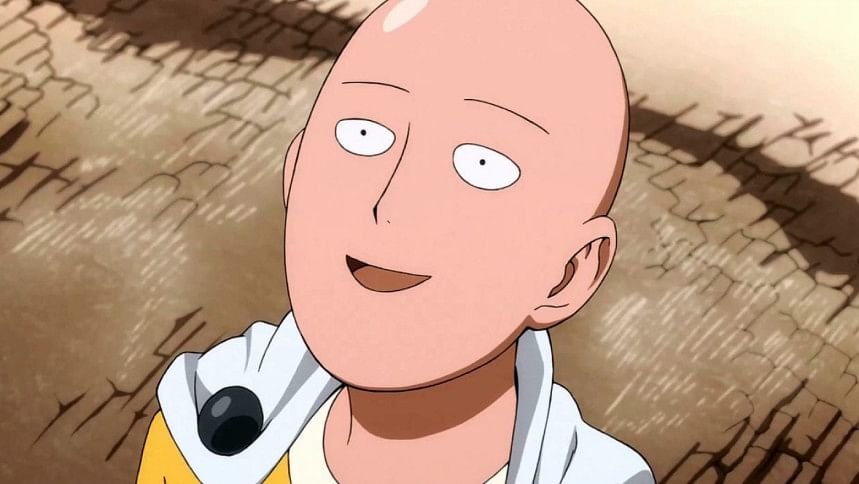 In a time when the hackneyed concept of an undefeatable, morally rigid, and self-righteous protagonist dominated the action manga genre, the mysterious manga writer known only as "ONE" emerged. In an act of providence, they delivered to us the subversive masterpiece that is One Punch Man. 
Our story is set in a world where an agency of heroes comprising of brainiacs, superhumans, and deities battles a seemingly never-ending army of villains and monsters. Amidst this eternal tug of war between dark and light, the narrative follows the journey of a man called Saitama. To escape a life of corporate slavery, he ceases his job-hunting expeditions and pursues life as a hero for fun. He begins training strenuously, albeit not to a supernatural or abnormal extent, to achieve his goals. Push-ups, sit-ups, ten-mile runs, the works. 
However, his training yields disproportionate results, as his everyday workout routine transforms him into a god of physical strength. Evidence of the comedic and ironic genius of ONE lies in the fact that during his training, Saitama tragically loses all his hair. 
The premise begs the question – what happens when an average man with no ambition is granted the power of a million nuclear warheads at the tips of his fingers? Will his newfound abilities madden him? Will he realise some higher purpose, transforming the world to fit his image?
According to ONE, nothing of the like. Aside from being able to obliterate impossibly powerful and colossal monsters with ease, strangely enough, Saitama's life remains normal.  
What gives One Punch Man its distinctiveness is not just the unique plot and over-the-top humour but the inner conflict of the protagonist. He strives to find an opponent who can offer him a worthy challenge. Unfortunately, he ultimately finds none he cannot destroy with a single punch, or at least with relative ease. This deteriorates his psyche to the point where he loses all drive and enthusiasm in life. 
Much of the manga's success is credited to the treatment of the titular character as a side character in his own story, something that is unprecedented. Additionally, it makes room for the development of other characters in the periphery. 
Despite not taking itself too seriously, One Punch Man creates fascinating characters. What makes the series so charming is how these characters interact with the downright absurd protagonist and how he impacts their lives, views, and ideals.
Our protagonist's lackey, Genos, is just the sort of admirable, heroic person you would expect to be the main character. And yet, he acts as a sidekick. This contrast between Saitama and Genos gives a perfect idea of what people think a hero should be and how ridiculous that would be in reality. 
One Punch Man is something of a mockery of overused shounen anime tropes such as heroes who accumulate god-like power at impossible rates, but the battles contain excessive dialogue that is dramatic to the point of being comical. These act as the butt of the joke in One Punch Man and not as main plot devices. 
The ludicrous genius of ONE's storytelling has done justice to the anime adaptation. With stellar animation, a soundtrack perfectly encapsulating each atmosphere, and flawless voice-acting, One Punch Man is a must-watch for any anime lover.