The 6 Stages of Falling in Love with BTS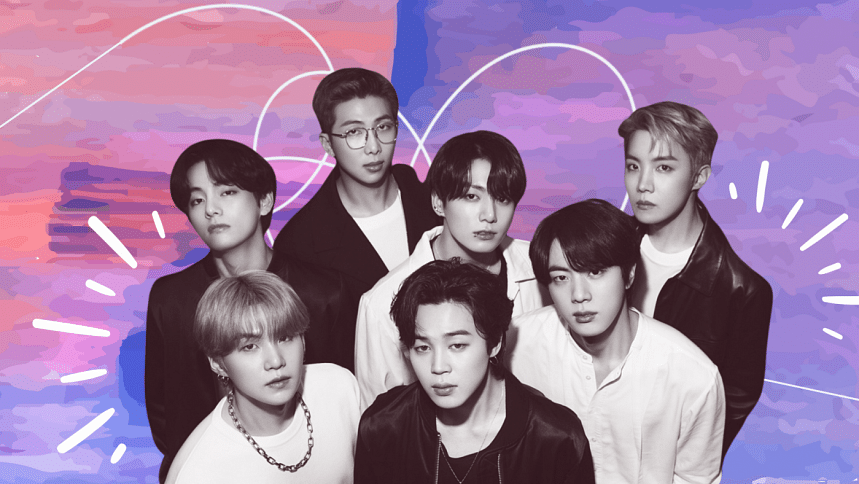 Maybe you loved BTS from the start. But chances are… you totally did not. Let's walk through the stages of your hate-to-love journey with our favourite boy band.
Indifference regarding BTS
You have heard of BTS, but you don't get the hype around them. Maybe your ARMY friends have recommended you several popular songs by them, but you liked none of them. You prefer English or Japanese songs and wished your favourite artists would get more recognition than some overrated Korean boy band.
Curiosity about the group
Then, one day, the YouTube algorithm recommends you a song. The thumbnail shows seven guys, who all seem to fit into the Korean standards of beauty for men. Despite your better judgement, you click on the video. The beat is kind of catchy and you seem to like their voices, too. The song ends after a few minutes but you find yourself wanting to listen to it again. But K-pop is SO overrated, so why should you add one more digit to the views?
Denial about liking their songs
You end up caving and go back to listen to that song. It's probably "Black Swan."
You can't get it out of your head. You almost start singing in Korean (despite the fact you don't even KNOW Korean) before you catch yourself — can't have your siblings suspecting you're a BTS fan!
You start watching BTS interviews (in secret). You have trouble remembering all the members' names and face difficulties in keeping up with their changing looks.
You slowly start developing a crush on one of the guys (it's probably the one who keeps claiming he's World Wide Handsome). Your family members randomly find you smiling, seemingly for no reason, while you're staring at your phone and suspect the worst.
Watching "Try Not to Fall In Love with *insert bias name*" challenges
YouTube recommends you more BTS content. You start to find badly edited BTS memes to be hilarious. You even find Jin saying he's World Wide Handsome for the 1223rd time in a row hilarious.
One day you stumble upon a video titled, "Try Not to Fall in Love with…" challenge. The rebel inside you says you can win it After all, you're not in love with people you have never met (and don't yet have the money to attend their concerts).
But then you watch the video and fail with flying colours.
Acceptance of becoming a fan
You come to terms with the fact that you have fallen in love with BTS. You confess to your best friend that you have become a BTS fan but you don't want to call yourself an "ARMY" yet.
All your embarrassing high-school crushes are suddenly erased by the members of BTS. You can't like anyone else because "no one is as gorgeous as Taehyung" and "no one is as perfect as Namjoon."
Becoming an ARMY
At this stage, you have watched so many BTS interviews you may as well have memorised the transcripts. You proudly call yourself an ARMY, your social media bios have purple hearts on them, and you opened a K-pop spam account, which generally posts really terrible memes.
You know exactly what "bias" and "bias wrecker" mean and, in most cases, the latter will mean Jin. You follow BTS on all their social media accounts. You even opened a Twitter account to add one more follower to the count, despite not wanting to be on the platform initially. You heart, reshare and scream over every new post.
All your closest friends are ARMYs and your other friends readily accept your fangirling over their releases. You think BTS is underrated even though they regularly top charts.
And with that, your enemies-to-lovers arc with BTS is completed.
Let Zaheen know who your bias is at instagram.com/tasfiazuhair/