Take a bow, Argentina!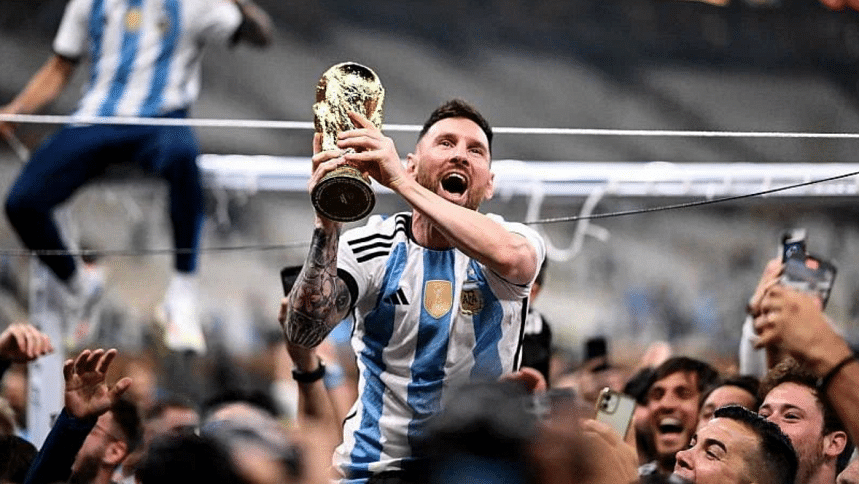 "And when you want something, all the universe conspires in helping you achieve it" – Paulo Coelho, The Alchemist.
34 years later, the Argentina national football team proved this is precisely the case.
Argentina's Qatar 2022 campaign was one for the ages. Even if we ignore all the pre-tournament hype, you could still feel the mystic energy surrounding this brilliant team. And although Diego Maradona is sadly not among us anymore, it won't be a stretch to say that he was a constant presence throughout the World Cup.
For a team with precious little experience of playing against European opponents, Argentina's tactical prowess was incredible. The defeat to Saudi Arabia might have actually helped Argentina as Herve Renard's sophisticated tactics outsmarted the gung-ho approach of Lionel Scaloni. 
Safe to say, Scaloni learnt from his mistakes. His team became unpredictable from Mexico onwards, in a good way. Be it a centre-back pair or back three, Argentina proved to be equally adept in both formations.
For a coach with little experience, outsmarting Louis Van Gaal, Zlatko Dalic, and Didier Deschamps in three consecutive rounds shows just how talented Scaloni is as a coach. I loved that he didn't bank on Messi alone for success. Every player stepped up whenever called upon.
The performances against Croatia and France were two of Argentina's finest. Those were the ultimate team performances, with the perfect blend of youthful energy and experience, where the players knew their roles and delivered adeptly.
Their dominance in the final can be gauged by one simple fact. It took France 70 minutes to get their first attempt after the Albiceleste's blitzkrieg in the first half. Argentina had the World Champions play like amateurs for large parts of the game. Their intense pressing was impressive throughout the game, especially in extra time, when all seemed lost for Argentina after the Kylian Mbappe show.
The strength of character of Argentina's class of 22 was stark. More than once, Argentina's charge appeared to be on the brink of collapse, not least so after their disastrous start against Saudi Arabia.
Like a true captain, Leo Messi jumped to the protection of his troops, assuring the team was more united than ever and assuring fans that they won't be let down. 
November 22 proved to be the watershed in Argentina's World Cup campaign. From the Mexico game onwards, we saw the true Argentina, fighting for glory not just for themselves, but for Leo, their nation and millions around the world. 
Alexis Mac Allister deserves a special mention. The 23-year-old filled Giovani Lo Celso's shoes adeptly, scoring the crucial opener in the pivotal group game against Poland. Julian Alvarez cemented his credentials as the successor of Kun Aguero for both club and country with his performance as a striker. 
Emi Martinez played like a falcon. His last-ditch one-on-one save from Kolo Muani is one of the best saves in World Cup history. His namesake Lisandro is already drawing parallels with Javier Mascherano for his match-saving tackle against Australia in the round of 16. 
Enzo Fernandez, the 2022 World Cup's Best Young Player, has announced himself to the world with his mature marshalling of the Argentine midfield and brilliant, steely performances. Rodrigo de Paul, Nahuel Molina, Leandro Paredes, and Nicolas Otamendi also deserve credit for their consistent displays. 
But this World Cup belonged to Leo Messi and Angel di Maria. The fact that Qatar 2022 was their last made Argentina's campaign poetic. 
Leo was perhaps Maradonian this World Cup, mixing South American flair with European tactical nous to produce stellar performances. 
Di Maria, for his part, proved to be an angel sent from above for Argentina. Injured for much of the tournament, he came clutch in a final, again. If the final was his last international game, Angel bows out with his head held high. 
The Argentine players' collective efforts have resulted in this magnum opus. And the best part is that many of them will be back for the FIFA World Cup 2026 to be held in the USA.   
Nature had indeed conspired for Messi to break Argentina's 36-year World Cup drought and usher in a new era of dominance. 
Inqiad is a passionate Bucks fan and a certified Giannis stan. Contact him at [email protected]