Paper Drifters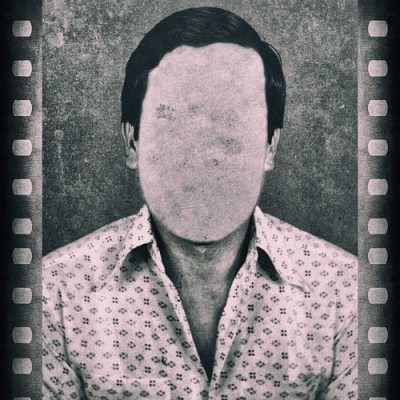 I'm not sure if I should call this waking up, or unveiling, or anything, for that matter. It's something I don't have a name for, a sudden feeling of just… existing, being present somewhere I can't quite fathom.
Where am I? What am I?
The answers dawn upon me slowly, as if waiting for it to sink into this sudden, strange existence.
I am a photo of a person, printed in black and white, in a newspaper.
The fact that I am just a picture which can have functional thoughts and feelings, doesn't take me off guard. I read the words below my picture as if I am a human being reading the newspaper while having a cup of tea.
The words are brief and stoic, like they've been bleached and stripped off emotions and colours. Just some black ink-creatures over white.
The words read that I had died from an accident yesterday. The signal was red and I was crossing the road, but a bus sped through and ran me over. End of story.
There were some other trivial details which I can't remember a thing about. Not much about the driver. Not much about my life.
I try to remember how it felt to die, how much pain I endured, how my life was before a bus ran me over. Would knowing that explain my newfound existence? But no matter how much I try, it feels like I am reaching out from underneath a black cloak that's persistent in its position. I give up eventually and focus on the newspaper.
Here, there are uncountable words that might seem like they are just innocently black, but they're dripping with the blood of death, corruption, evil, and suffering. It's unimaginable how so many deaths are casually depicted in this world of black and white, how the cries and anguish of so many people are written in muted words. There's a fair share of good news here too, and some that are neutral but they are like fleeting specks of light lost in an abyss of darkness.
I skim through the stories every day, from one print to another. Some linger for a while; some can merely hold out for only a day. With each passing day, my quality of being unbothered falls apart slowly. Fraction by fraction, I long to recall my human life. I also try to picture what I've left behind. I don't know how I can see myself but that's all I can do. The picture of me has me wearing a formal shirt, and a synthetic smile. Past this picture, I can't know anything of my existence even though I want to know beyond it.
Slowly, I feel more disturbed than ever. The world I left behind starts brimming with more deaths. The newspaper has more pictures like mine. The multitude of reasons they die for sometimes makes me think of my death as a comparatively easy one. I keep wondering who's reading about me. In newer prints, I still exist so there must be people who still care for me. There is some more information now under my same old picture. Some people are protesting for me, a trial is going on. However, bit by bit the information starts to disappear. I see my neighbouring pictures slowly recede, until they are no longer there in the newest print.
I try more than ever now, to make myself undo that smile, to strain my muscles in this canvas of paper to form a sound. It's all futile. A picture can't talk, scream, cry on its own accord but I try all the same. I feel like this would give me leverage, make me stay here. Strangely, I didn't want to let go of this existence.
But if you can't survive as a human, can you survive as a small picture? That, too, in a newspaper?
So, with time, I start to wane. I can feel the newspaper getting discarded, people throwing it away, someone using it to wrap boxes and gifts. The words start to dwindle, they bid farewell to me to leave for some new guests. My space starts to get smaller until a kid makes a paper plane out of it. I feel my picture through the folds and creases those little hands make.
The smile has been deformed, finally.
Maisha Nazifa Kamal has lost track of time and is living in a world where she never existed. Break her reverie at [email protected]