There Is Only "One Tree Hill" and We Are Going Back There
Even though physically, I grew up in the traffic-packed streets of Dhaka, emotionally, I was living in the drama-packed town of Tree Hill. Unlike most shows which span the course of almost a decade, One Tree Hill wrapped up its course pretty neatly and hence I was never too keen on any reunion episodes. But that does not mean I never wanted to revisit the magic of the show. And, what better way to revisit your favourite show, than with the three leading ladies of OTH dissecting each of the episodes for you as you rewatch them?
Drama Queens is a rewatch podcast where Bethany Joy Lenz, Hilarie Burton, and Sophia Bush sit together to rewatch each of the episodes while letting us in on all the inside stories. At the time of writing this piece, only the first episode of the podcast is out which explored the lives of the drama queens before they became drama queens of OTH and the paths which led them there. Within the span of about an hour, the stars joked, laughed, and even let out their vulnerable sides by shedding light to all the insecurities each of them experienced while shooting the show.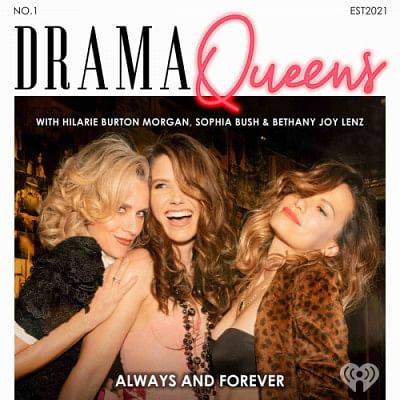 The one hour spent listening to the three amazing ladies felt less like a podcast and more as if we were peeking through a candid conversation taking place right in their hotel room. It wasn't a rehearsed conversation; they genuinely talked to each other and talked over one another as one does when they talk to their closest friends.
After the stars spoke out about certain improper behaviour on the sets, they decided that they wanted to take charge of this show which they love so much and which occupied such a huge portion of their lives. Hence, they became executive producers of this podcast and can now finally do things their own way.
What I am most excited about is the social commentary we might be receiving from the podcast. We all understand how problematic some of the television content was in those days and to go back and look at them with a fresh perspective is definitely going to be worth a rewatch.
As much as I cherish Brooke, Peyton, and Haley, the leading actresses themselves have grown up to become strong advocates for social causes. Having these women whom I have come to admire so much provide their own views on a lot of the issues which seem to be poking out from shows created during that time period is the best way to revisit Tree Hill in my opinion. And, if that is not enough, the three ladies also discussed the appearance of potential guest stars with the likes of Chad Michael Murray and James Lafferty and many of the other favourites from the show. 
In the meantime, I shall go and download old episodes of OTH while listening to Peyton Sawyer's playlist.
Tasnim Odrika has only one personality trait and that is cats. Share ideas for new personality traits with her at [email protected]