SATIRE
Millionaire's son buys electric car following closure of local petrol pumps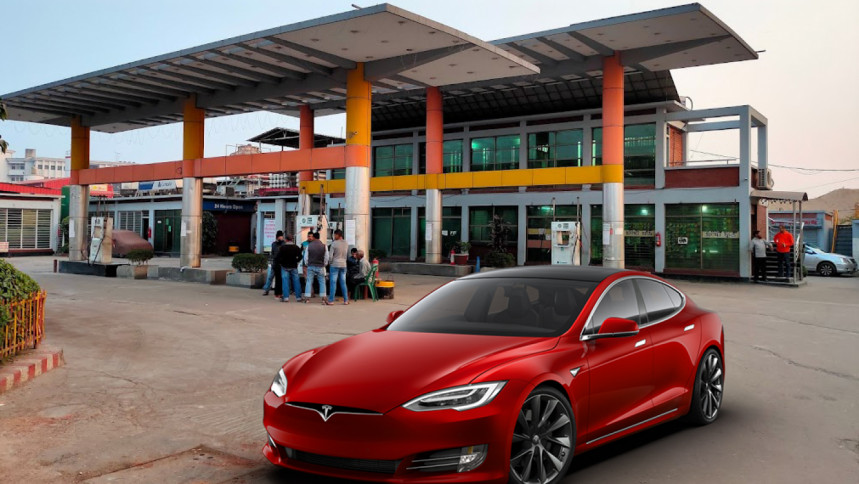 Blaring through the streets, swerving left and right, and contributing to the tri-state area's growing noise pollution used to be just another day in the life of Tashfiq.
"Driving for me has always been a form of escape. Of course, I have had people hurl foul profanities at me. I never really understood why," said Tashfiq. "Anyways, with my muffler roaring, it soon came to my attention that I needed to go pick up some fuel, and so there I was, at the local station, as empty and hollow as all the friendships I have managed to make over the past few years." 
With no sign of life, Tashfiq appeared bewildered. According to him, this was unacceptable because the same station failed to give him an adequate amount of fuel the day before.
"They went off on this tangent about a shortage or something. I couldn't make head or tail out of it. After all, I was late to my economics class but without just the right amount in my fuel tank, there was no way I could make it," Tashfiq continued.
He wondered when the station would be back open. However, with dreams in his heart and a mission to dent every other vehicle in his way, he simply could not just sit around.
"Energy can neither be created nor destroyed but if I spend one more second not driving, I will break the laws of physics," he asserted. He looked up at the poster of Elon Musk and took strides, with what appeared to be great intent.
"Elon Musk is a self-made man, much like myself. To support his vision and to curb my lack of driving, there was only one solution," he said as he marched into his father's study. Tashfiq advised the reporters to be vigilant. They were, in his words, about to witness "a master negotiator" but instead caught sight of him pathetically begging first, for some attention and then, the funds to secure his dream car. 
"I am willing to do anything for him to not barge in here, and occupy my precious time. If that means handing him a credit card and getting the most hideous-looking car to ever exist, then so be it," said Mr Tahsin.
Tashfiq left the room with a smirk, doing well to cover up his tear-smeared face from just minutes ago. Days passed, and Tashfiq waited patiently in his room until it arrived. What was more exciting was that he no longer had to wait for the local station to open up.
Just as he lined up to take it on a stroll, the car wouldn't budge. "Low Battery," said the car, painting the interior in neon red and lighting up Tashfiq's face. As he plugged the charger in, a shocking reality was unveiled before his eyes. He had never witnessed such a thing: a power outage.
The excitement that Tashfiq had was condensed to defeat.
"A 400 PERCENT TAX!" he exclaimed "All that for nothing."
Turns out, that years of tax evasion and negligence from your own other father have the same side effects. There is just no winning.
Abir Hossain is a failed SoundCloud Rapper. Tell him you too can't find anything to rhyme oranges with at abir.hossain2002@gmail.com