Korean Psychological Thrillers that will mess with your brain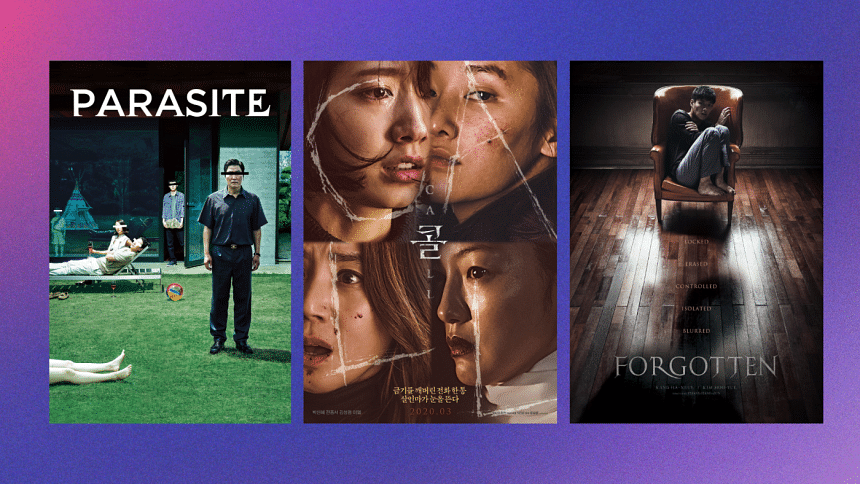 Korean psychological thrillers are known for their intricate plots, unexpected twists, and thought-provoking themes. These films often delve into darker aspects of the human psyche, blurring the lines between reality and imagination, making for a truly engaging and mind-bending experience. These films not only entertain but also leave a lasting impact on viewers, making them a valuable addition to any film lover's collection.
Here are some Korean psychological thrillers known for their unexpected twists and turns, which will keep you guessing until the very end.
Parasite (2019)
The Bong Joon-ho directed film tells the story of a poor family who, through deception, manages to get employed by a wealthy family, but as their lies are uncovered, their newfound prosperity is put in jeopardy.
In this film, class division and the disputation and ambiguity between rich and poor is expertly explored. It's a well-crafted and emotionally charged film with unexpected twists and turns, intense suspense, and powerful performances from the cast. Parasite is a must-watch film that leaves a lasting impact on viewers and has received critical acclaim and multiple awards worldwide, including four honours out of a total of six nominations at the 92nd Academy Awards. 
The Call (2020)
The Call, based on the 2011 British and Puerto Rican film The Caller, revolves around the story of two women named Seo-yeon and Young-sook, who share the same home but 20 years apart. Through a mysterious phone call, their fates become intertwined in unexpected ways. Fate and power of connection brings the perplexing plot into action in this film. It has been praised for its chilling performances by its lead actors Park Shin-hye and Jeon Jong-seo and for its unique and compelling storyline.
Forgotten (2017)
Forgotten begins with the story of a young man named Jin-seok who moves to a new house with his family and elder brother, Yoo-seok. Things soon start to feel off to Jin-seok in their new home as mysterious events begin to occur. The movie explores themes of memory, identity, and family with stellar performances by the cast, especially by the lead actor, Kang Ha-neul, who portrays the character's emotional turmoil as he tries to piece together his past and present. This Jang Hang-jun directed film is a well-crafted thriller that will keep you engaged and emotionally invested in the story.
Recalled (2021)
The Korean title of the film is Naeileui Gieok (Memories of Tomorrow) and it follows the story of a woman named Kim Soo-jin, who is left bedridden and suffering from amnesia as a result of a severe accident. As she begins to experience vivid and seemingly real visions of the future, she begins to question the actions and intentions of her doting and caring husband, Lee Ji-hoon, portrayed by actor Kim Kang-woo. Needless to say, the character of Kim Soo-jin has been brilliantly portrayed by actress Seo Yea-ji. The intriguing and suspenseful plot of the film will keep you engaged and guessing until the very end.
The Witch: Part 1. The Subversion (2018) and The Witch: Part 2. The Other One (2022)
The Witch: Part 1. The Subversion and The Witch: Part 2 star Kim Da-mi as a high school student named Goo Ja-yoon, who discovers that she has supernatural powers and becomes embroiled in a government conspiracy. The movie received overall positive reviews from critics and viewers, praised for its well-crafted story, action sequences, and cinematography, and Kim Da-mi's gripping acting in Part 1. Both the films have a strong female lead with a well-written script, and a good mix of action, suspense, and fantasy elements. Cameos by Choi Woo-shik in Part 1 and Lee Jong-suk in Part 2 are one of the many reasons which helped to cement the film's reputation as one of the best Korean psychological thrillers.
Purna is struggling to strike a balance between striving for perfection and falling into the trap of  procrastination. Reach out to her at [email protected]