June hasn't been kind to Bangladesh so far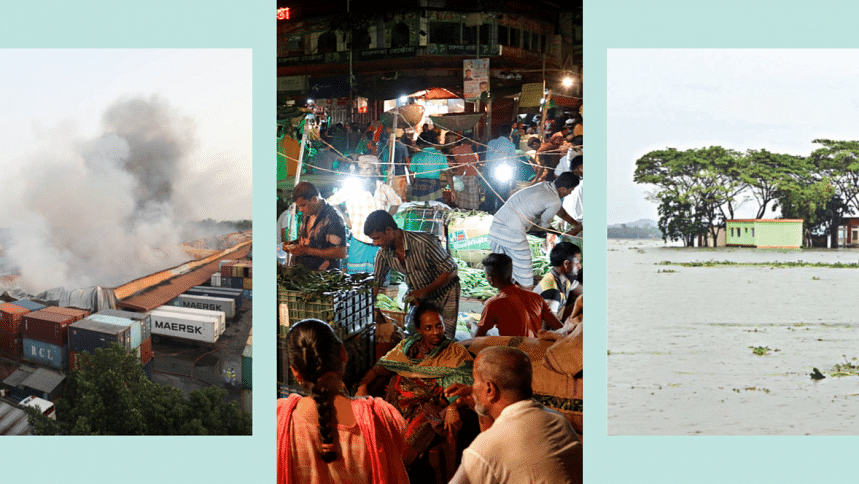 Not even a week into June, the fire at the BM Container Depot in Chittagong shook the country to its core. The tragic incident led to the death of more than 40 while injuring hundreds of others. 
Among the dead in Chittagong were firefighters who didn't know what they were getting themselves into when they entered the depot to douse the fire. The country lost some of its bravest frontliners who were always the first to respond whenever there was a crisis of such a magnitude.
Then came the price hike. As our currency grew weaker against the US dollar, prices of daily commodities continued to rise. The National Budget for the 2022-23 fiscal year, set at the start of the month, also started taking a toll on the economy. 
June was already looking bad as it was. Sadly, there was more to come.
By late June, almost the entirety of Sylhet was underwater. Monsoon had just begun in Bangladesh, and floods were already sweeping away homes, lives, and livelihoods of the millions who call the Northeast their home.
Right now, hundreds and thousands of people in Sylhet are struggling to find food and clean drinking water. Even rescue workers are failing to reach people in need of those things and provide them with necessary relief materials. The frequent and long power outages are only making the situation more unbearable. 
The worst part in all this is that some people aren't hesitating in making a profit out of the misery of others. Whether it is charging more than three times the regular fare for a boat ride or looting the helpless and defenceless, these people are doing whatever they can to turn the worsening condition in Sylhet into a money-grabbing opportunity.
As we near the end of June, we're starting to see a rise in Covid-19 infection rates. Who knows how this new wave will impact our lives. One thing is for certain – given the country's economic condition, we can't afford another lockdown. So, whatever the situation with Covid this time, I doubt that people will stop going about their usual lives.
We do have the Padma Bridge inauguration to look forward to, however. That is perhaps the only good thing Bangladeshis are getting to experience in June. The bridge is no doubt one of the country's biggest achievements. Yet, whatever else has happened in June so far has overshadowed the joy and excitement that was supposed to come with the inauguration of the bridge. 
Despite that, we can only look forward to the bridge's inauguration as a way to bid farewell to this pain-stricken month and hope for the best in the coming days. However, June will not be forgotten, for it has taught us several lessons in just 20 odd days; lessons that we can't forget for that will only bring us more losses in the years to come.
And I was writing this piece, I came across news from Afghanistan where more than 900 people are believed to be dead due to a 6.1 magnitude earthquake in the region. 
Apparently, intense seismic activity in the Indian tectonic plate is pushing north into the Eurasian plate. Large parts of south Asia are seismically active because of this. Given Bangladesh's geography and its earthquake prone nature, I can't help but wonder how long till we have to deal with a similar situation.