Influence over quality: Who are the bestselling authors at the Boi Mela?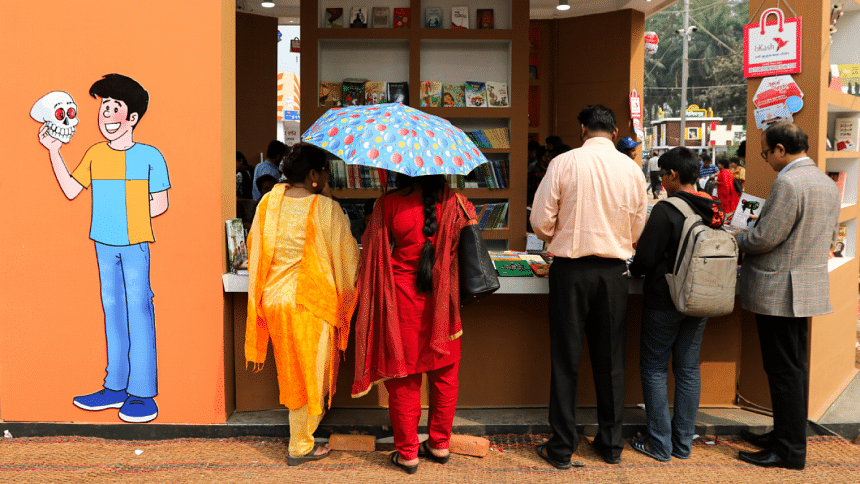 In 2019, when a Bangladeshi female comedian published a book, she immediately captured people's attention with memorable lines like "My sister's best friend Anusha is like a sister. Her family and my family are like family."
Some readers were offended by the book's overall quality of writing and expression. Others outspokenly defended the young woman's right to express herself; an article even compared her to Jane Austen. In recent years, books by comedians, influencers, YouTubers and other internet personalities have dominated sales at the Ekushey Boi Mela.
If younger, creative individuals are gravitating towards the traditional written medium, when online platforms for self-expression are abundant, that must surely be indicative of a flourishing local publishing scene or perhaps of an audience that really wants to read?
It's difficult to find conviction in either answer. Firstly, criticism of the quality of these books by readers and critics alike is abundant. When it comes to fiction, criticism can of course be subjective. Yet, because a book bends genres or breaks traditionally upheld conventions of writing, it doesn't earn its right to be lauded for its originality, especially when the quality of writing is below par at best.
The least readers can expect is for these authors to work on their craft and hone their quality of writing, but perhaps many aren't intending to establish their career or identity around writing in the first place, with their authorship coming like a deal later in their established careers, the way celebrities endorse brands.
A large portion of the non-fiction titles are also self-help and motivational books. In the age of hustle culture when young people feel suffocated in the rat race and it seems every other person on social media is more successful than you are, the appeal of self-help and motivational books isn't difficult to comprehend.
Words of enthusiasm can do wonders for young people who need the inspiration but don't hear it in their own surroundings. It, however, becomes a problem when these words tread into the territory of dangerously asking young people to expect success if they "grind", and extend oversimplified, vague platitudes as their guidance.
These books also ignore many realities – as much as we want to believe hard work guarantees success and that every one of our business idols are self-made, many have benefited from privilege, networks, or other intangible benefits which we cannot count on for ourselves. 
Finally, we have to ask if these books by popular figures are bestsellers because of their genuine quality as a publication, or because of the influence of the author? If it is the latter, then is the way to secure one's position as a bestselling author to establish oneself online as a popular personality first?
Authorship doesn't come easy for most. Aspiring young authors often struggle to launch their career, with royalties of book sales, striking a deal with a publisher and even finding an audience all being difficult parts of the road to publication.
Clearly, I'm asking more questions than I have answers to. I just hope as a reader, authors and publishing houses reward me for picking up their work.   
Mrittika is a Sub-editor at SHOUT. You can reach her at [email protected]