Pandit Boi Mela enriches the Brahmaputra river bank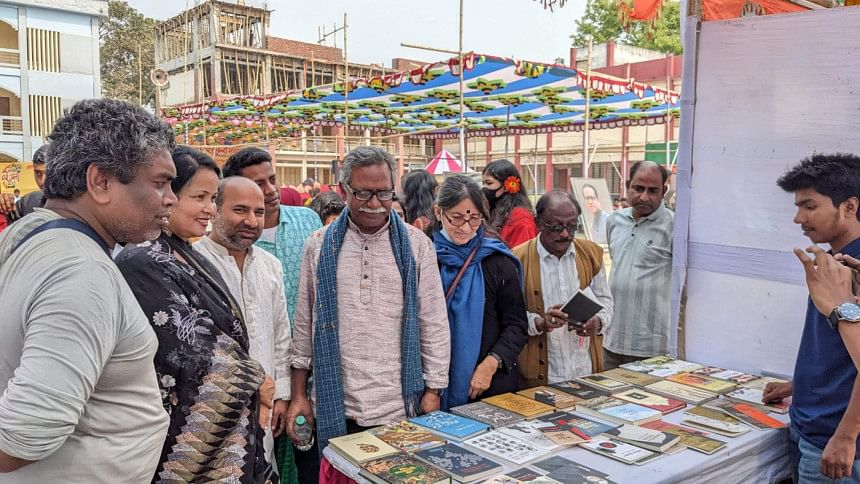 The Pandit Boi Mela, which started in the Chilmari upazila of Kurigram, launched its 5th edition at the Thanahat AU Pilot Government High School ground in Chilmari on Wednesday.
Spanning the riverbank of Brahmaputra river, Chilmari is rich with history and tradition, appearing in many Bhawaiya songs. The book fair has turned the location into a lively centre of culture and knowledge. 
Dr. Anu Muhammad, economist, writer, translator and Professor of economics at Jahangirnagar University, inaugurated the Pandit Boi Mela. The fair comes with 24 book stalls alongside Science, Mathematics and Language Olympiads, debate competitions, poetry recitations, quizzes, and dance competitions. Cultural programs are taking place on the fairgrounds everyday. 
"We are organising the Pandit Boi Mela to awaken the spirit of Chilmari history and heritage in people's hearts," said columnist and convener Nahid Hasan. "Readers from different areas, not just Chilmari, are coming to the fair and buying books." 
He added, "The film Santao will be screened in the fair premises on March 5, the last day of the fair. The director of this movie, Khandkar Suman, will be present on that day."
Suman Islam, a college student, told The Daily Star that he looks forward to the Pandit Boi Mela every year. He buys his favourite books from the fair and has prepared to buy books worth BDT 2,500 to 3,000 this year. 
Rukunuzzaman Shahin, chairman of Chilmari Upazila Parishad, told The Daily Star, "Pandit Boi Mela is not just a book fair; it is a gathering of the people of this region, which turns into a centre of culture and knowledge. It helps strengthen social bonds."