I hate online classes, here's why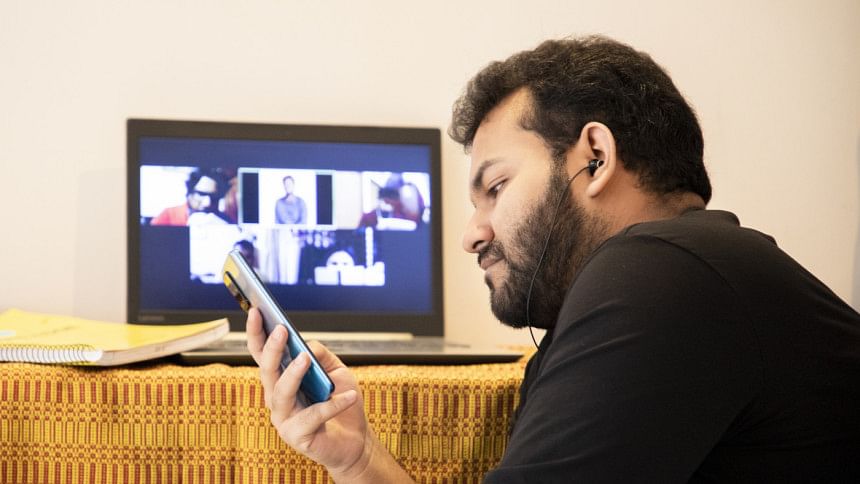 "But online classes let you stay at home!"
This is the usual response I get when I express my distaste for online classes. While it is true that there were no alternatives to online classes during the pandemic, and it even helped students save commute time as well as cut down costs, the drawbacks of online classes trump its advantages.
So, why do I feel this way in the era of Digital Bangladesh? Because technological advancement is not in sync with tech literacy of our teachers. Just because we can do Zoom classes, doesn't mean teachers can leverage the advantages of Zoom.
During one of our online classes, a person impersonating to be a student joined the lecture, and proceeded to play the worst kind of music. The consequences, inevitably, had to be borne by my classmate and not the imposter. The teacher was oblivious to the fact that were two people of the same name in the lecture. The students had to explain the situation to him. It took the teacher ten minutes to kick out the impostor. Ideally, removing a participant should take a few seconds. 
Incidents like these are annoyingly common. A teacher's literacy in tech largely defines the experience of one's online classes. But can we blame teachers for lacking in this regard? Our older teachers may be very good at their jobs, but inefficient with digital learning tools. They may be the best people to facilitate learning, but they have been trained in physical classroom environments. Forcing them to adapt to digital classes impedes on their ability to do their work properly.
These aren't the only factors limiting the efficiency of online classes. During on-campus classes, teachers can read the students' faces and explain topics more thoroughly when needed. Students are also more responsive in physical classrooms. These greatly improve the effectiveness of on-campus classrooms, but digital classes miss out on benefits like this.
The environment of physical classrooms is also important to learning. When you are in a traditional classroom, you are incentivised to focus. After all, your teacher is right in front of you. In addition, your device is tucked away, out of sight.
As for online classes, cat videos are just a few clicks away. Your teacher can't check whether you're focusing or not (even with your camera on). After all, your phone is buzzing with notifications, and your siblings might be arguing in the next room. Your environment discourages deep focus. A lot of your energy is used up just trying to pay attention, and after the ordeal is over, you have little motivation left in you.
There's another problem with digital classrooms we need to talk more about. When you attend classes on campus, you interact with people in real life. Between classes, and even during classes, we sneak in conversations. This is fundamentally good for us because we are social creatures.
Deep conversations have a greater impact in real life, and small talk is good for our sanity. Such interactions fulfil us in a way messaging apps simply cannot replicate. This is the most important reason as to why I am such an ardent advocate for on-campus classes.
Zaheen equates watching productivity videos to actually getting work done. Send help at https://www.instagram.com/tasfiazuhair/