How we romanticise reading books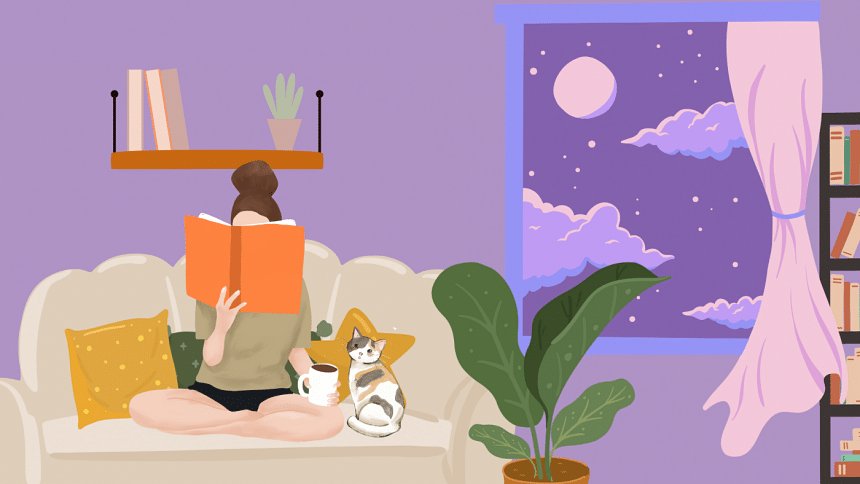 Books, flowers, rain, cafes, and steaming cups of tea – these are some of your go-to subjects if you're trying to capture the essence of visually appealing serenity that's bound to get some attention in social media. We generally associate these elements with leisure or positive distractions, therefore it comes as no surprise that they're so heavily romanticised. 
Unlike other items on the initial list, books can offer a lot more than relaxation and aesthetic pleasure. Knowledge is the most obvious one, but that's generally not a reader's top priority while kicking back with a book. Depending on the types of books, they can be your getaway to far-off lands, a portal to worlds of high fantasy, or maybe even a time machine to a period of your choosing. You can dive into the complex structures of human minds or societies, or fantastical tales to keep you entertained. 
Unfortunately, taking a glance at social media often gives off the impression that these books are merely a prop for getting the perfect click.
Now would be a good place to mention that I'm not about to launch into a pretentious rant about how "real bookworms don't post pics on social media", because that would be an absurd statement. Bookworms reviewing and sharing photos is why we have quality content on bookstagram, booktube, or booktok to begin with. 
A personal observation, however, has led me to conclude that we collectively tend to romanticise books, and not reading. 
For instance, a common scenario you can witness when you visit certain picturesque bookshops or libraries is people posing with a book cracked open. This can and does create disturbances for people who genuinely want to browse the collection, even if you have the sensibility to keep your voice down. That being said, photographs are often reflections of our inner selves so it's not uncommon for a reader to want to take pictures while reading. 
Whether you want a defining memento or just a nice click, I suggest picking the book with some caution unless you want to give out some subliminal messages.
Another testament to the romanticisation of books can be found in fanfictions and young adult novels. A rather popular one is the "not like other girls" trope that has (rightfully) come to be disliked now, where the main character's defining quirk was often her inclination towards reading, rather than the vapid activities others her age were described to be engaged in. In young adult fiction, books are often used as a device to give a character depth and sometimes employed as the chief reason the love interest is drawn to the protagonist or vice versa.
Not to mention that booktok and other platforms generally only focus on easy-to-consume books and often only the aesthetics of it. Regular lines of conversations annotated prettily with colourful highlighters have become a common sight on these platforms. 
However, there are positives to this phenomenon as well. The romanticisation of books has led to higher book sales, which have seen a decline between the years 2020-21. The young adult genre, especially, has seen a 34 percent rise in growth since 2018. As long as people are reading again, we can chalk it up to a good thing.
At the end of the day, the world is your oyster and you can glamourise whatever you want. Just don't be disappointed when Harry Styles doesn't actually fall in love with you because you read Shakespeare at his concert.
Reference:
WordsRated (2023). Book Sales Statistics
Find Zabin at [email protected]