How To Be a Published Author in 2021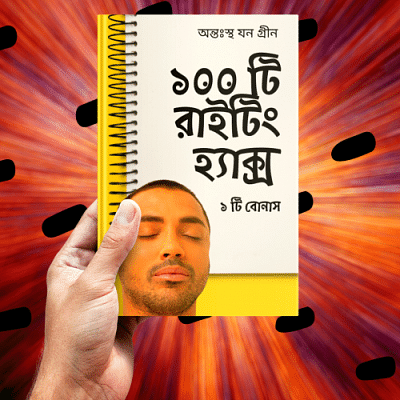 From selling books to thriving on authors' brand value, the publishing industry has come a long way. Books aren't just words on pages anymore. It's a ticket to your favourite online celebrity's meet-and-greet event. Avro intellectuals might judge your dearest YouTu—pardon, "author" for being a sellout, but getting published in 2021 is harder than you might think.
Here are a few tips on how you can get published.
Be an influencer on internet dot com
Try making a list of all the things you're good at. Chances are, three minutes into the process, you'll realise that your miniscule attention span didn't let you invest enough time or effort in anything productive in life, ever.
That's when you're ready to be a social media influencer. Take the most primitive human ability and exploit it till you get famous. Can you eat and also have a questionable palate? Open a food review channel and give 10/10 to everything that is deep-fried and has cheese on it. Motivational speakers, YouTubers, whatever it is that vloggers do -- the options are limitless.
Does this sound like too much work? You can always use Snapchat filters, make a squeaky voice and come up with unoriginal jokes based on Bengali aunt stereotypes.
Get a marketing team
Hire unpaid interns to make you famous for all the wrong reasons. When it comes to controversies, timing and consistency are crucial. Have a few online news media keep you relevant throughout the year so that everyone keeps asking, "Why is this dude famous again?"
Announce your book
Lack of original content should lure the YouTubers right in to make videos about how stupid the idea of someone like you writing a book is. Internet snobs will offer constructive criticism judging the current generation of readership and the role of influencers like you in corrupting them. Free advertisement served on a silver platter. Bon appétit.
Writing your book (Optional)
This shouldn't take long, a week perhaps. Though working on something for a week might be challenging for an ADHD content creator like you, the money should be worth it. Give your readers the most obvious advice on academics and pursuing success, take 200 pages while you're at it and yet miss the point. Maybe write a Chowdhury & Hossain rip-off or an autobiography nobody asked for.
Remember, it's the controversy-per-page ratio that sells. Since writing Bangla in English exists, maybe you can go with English in Bangla. Or keep a few pages blank inside your motivational book and tell the readers to write their precious thoughts. Better yet, keep all 200 blank and say "Nobody can motivate you unless you motivate yourself. Write your own book." Easy money.
Always. Be. Present.
Attend the book fair every day. Take as many selfies as you can. Remember, your selfies are worth 500 bucks (minus 25 percent); your books, nada. It's 2021! Don't bother signing autographs for those who want it, pre-sign all the books in advance. Hey, you'll have to overcompensate for that abomination of a book with something, right?
Once the fair's over, Almari.com will probably have your book on their bestseller list and internet intellectuals will bash you over it. The delusion of your competence and talent should allow you to label them as "haters", ignore further criticism and live the life of a published author.   
Hasib Ur Rashid Ifti reads books, idolizes Osamu Dazai and plans to check his email any day now. Send him book suggestions at: [email protected]