Growing up surrounded by music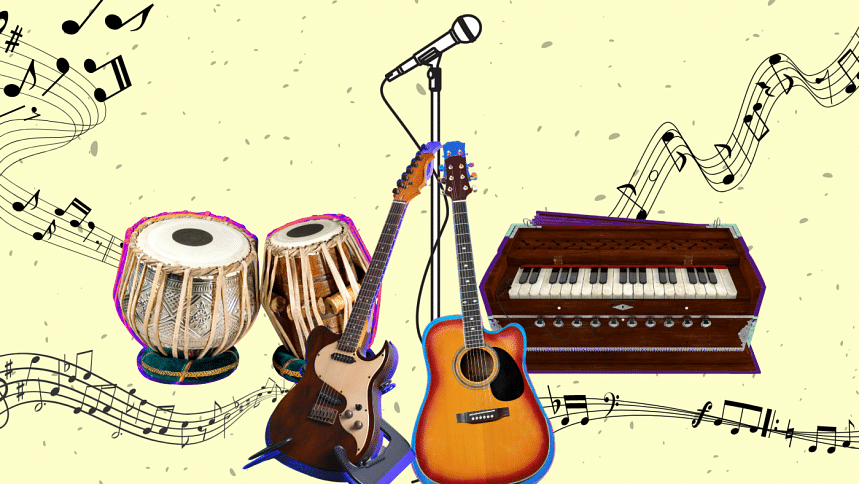 Growing up, while filling out school forms, I'd fill in mother's occupation with "singer". Until pretty late into my school life, I hadn't realised that this wasn't that common.
My family's musical background dates back to my grandfather – Sohrab Hossain. Born on April 9, 1923 in present-day Nadia district, India, where he was raised in a conservative Muslim family. His only exposure to music being the gramophone. He grew up being infatuated by music and, with aid from his brother, would strip down at the banks of the Churni river in the middle of the night to swim across and back to get singing lessons from his ustad. The community had strictly disapproved of his attitude towards music but he did not budge.
While performing at a concert in Ranaghat, his voice was discovered by Abbasuddin Ahmed, who took him to Kolkata to meet with then-prime minister, Husseyn Shahid Suhrawardy, to get him a job as a singer. Nana would go on to sing till his last breath on December 27, 2012.
In my childhood, I got used to seeing my mother and aunt on TV. Often, when getting ready to go to school, I'd turn on the TV and watch, half-asleep, my mother singing on screen. Classmates would come up to me to inform me that my mother had been on TV that morning.
Once a year or so, she'd leave for India to perform on Nazrul Jayanti for a week. Those weeks would be anything but fun for me, but at least I got to eat amshotto when she came back.
An interesting story about my parents – they had gotten married in 1993 but my father had first seen my mother about seven years prior. My grandfather and mother were performing in BUET where my father was a student. Unfortunately, those two events are totally unrelated. 
When COVID hit, my mom and aunt started getting calls from different people to perform in live programmes, which means sitting in front of a laptop, and singing two or three songs. My mother wanted someone to remain standby in case anything went wrong. That meant me and my sister were on duty. Some days, my mother and aunt would have an event together, meaning I sometimes had to run between two flats in case something goes wrong on one side and my sister can't figure it out. But I'd get a huge dinner at my aunt's afterwards so I didn't complain.
All that said, one would assume that I'd be good at singing. But, no. My mother tried to teach me to sing. Every Saturday morning, she'd make me sit with the kids from upstairs in front of the harmonium. Eventually, I stopped showing up and I never ended up learning to sing. Do I regret it? Absolutely.
All in all, music is pretty significant in my life nonetheless. From watching my father learn to sing and play the harmonium to recently celebrating my grandfather's 100th birth anniversary, music has been a recurring theme throughout my life, which really just makes me question why I have such bad taste in music. Maybe, my sister is right and I really am adopted.
Saif Sammi Rahat claims to have bad taste in music but also listens to Lana Del Rey. Reassure him at facebook.com/saif.s.rahat