Dhaka Flow - National Youth Wellness Festival 2023 promotes healthy living and mental well-being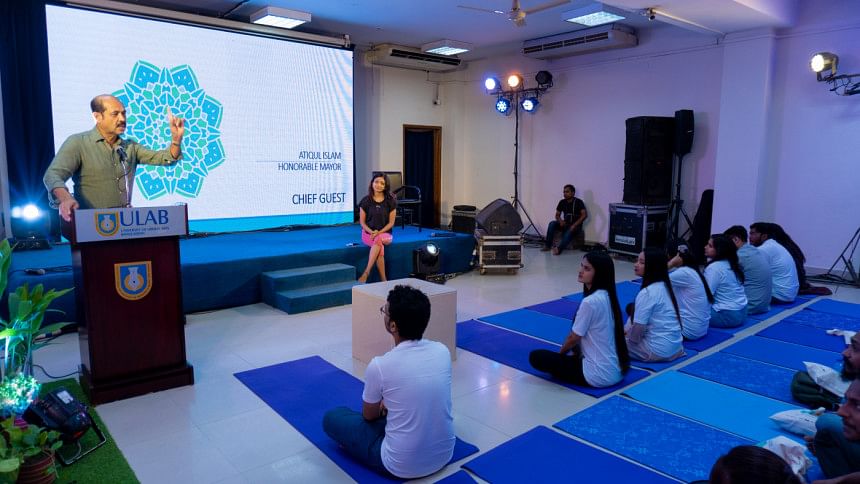 Dhaka Flow, the first National Youth Wellness Festival, took place at University of Liberal Arts Bangladesh (ULAB) on June 3. The initiative aims to provide the youth with the resources they need to live healthy, balanced lives in order to combat mental health disorders.
The opening session of the event featured speeches reiterating the value of youth health and wellbeing, yoga workshops and demonstrations, and talks from health experts on topics like nutrition, discovering passions and purposes, battling mental health issues, understanding consent, setting boundaries, and developing healthy coping mechanisms. The event also launched a photo contest on the theme of SDG 3: Good Health and Well-being, inviting photographers of all levels to share their images symbolising health and wellness on Dhaka Flow's Facebook page.
The Honourable Mayor of North Dhaka, Atiqul Islam, attended the event, as did Professor Imran Rahman, vice chancellor of ULAB, and Mokhlesur Rahman, Senior Operations Officer of the World Bank, among others.
In his speech, Mayor Atiqul Islam praised Dhaka Flow for its efforts to promote health and fitness and emphasised the value of discipline, self-love, and self-worth. He believes that young people, as future world leaders, must find time to pursue their passions every day in order to keep their minds healthy, rejuvenated, and energised.
"Loving yourself will help you love others and your country," he added. "Your physical and mental wellbeing, along with time management and discipline, will enable you to serve your country and the world."
"One cannot be healthy in isolation; it requires a holistic community, as well as physical, mental, psychological, and emotional well-being," said Shazia Omar, co-founder of Dhaka Flow and a yoga instructor. Upon conversation, Shazia revealed that discovering yoga and meditation helped her overcome many mental and physical challenges during her 20s, which inspired her to organise this event and impart the knowledge to others.
Professor Imran Rahman, vice chancellor of ULAB, emphasised the significance of this festival in light of the crucial stage of life that university students are in by iterating that the choices and habits they form now will shape their adult health and wellbeing.
"Mindful and healthy youth are the backbones of a country and the global village, to combat challenges in the future, including climate change and the technological revolution," stated Mokhlesur Rahman, senior operations officer of the World Bank.
In order to promote the wellbeing of Dhaka's youth, prominent business organisations including Prime Bank, Turaag Active, Aarong Earth, and Rise, facilitated the festival and provided participants with goodie bags. These organisations support sports and youth development initiatives while promoting activewear, recycled clothing, organic skincare products, and other items that support healthy lifestyles. Sajida Foundation representatives, who strongly support wellness and mental health, demonstrated how to use their services, including Kaan Pete Roi (a suicide hotline), Shojon (mental health counsellors), and Relaxy (an emotional management app), in partnership with Dhaka Flow.
Dhaka Flow, as a platform, is committed to promoting wellness through blogs, workshops, and insightful information on yoga, meditation, and healthy eating. The young people of Dhaka City greatly value activities like these because they teach them how to effectively manage stress, lessen physical and mental illness, and cultivate compassion and peace both within themselves and in their community. The event takes place over the week at IUB, NSU, AIUB, and Brac University.
Spill the tea with Joyeeta on Instagram.com/nahianjamaljoyeeta