Climate-smart ideas showcased at Ideabuzz 2022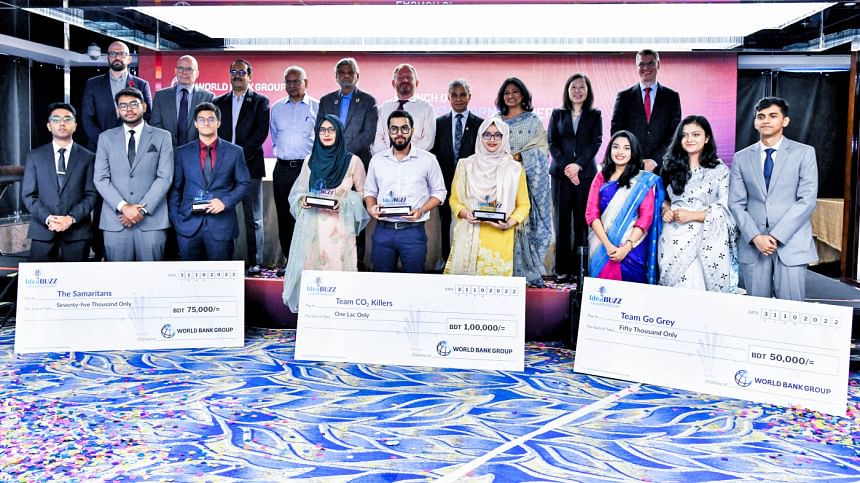 Commemorating 50 years of partnership with Bangladesh, the World Bank recently organised "Ideabuzz Championship", a youth competition for university students. During the competition, these students were asked to come up with inventive solutions to climate change.
The competition called for entries to answer the question: "How can Bangladesh achieve climate-smart growth benefiting all?", and saw an overwhelming response with submissions from 137 teams consisting of 400 students from around 30 universities across Bangladesh. The winning solutions varied from increasing agricultural output to harnessing the Internet of Things (IoT) for climate-smart growth, developing drone structures, and repurposing waste water for irrigation.
The champions, Team CO2 Killers, consisted of Irina Anjum Pranti, Sumaieta Tasnim and Mohammad Ehsanul Haque, from Islamic University of Technology. Their solution focussed on the development of a smart agriculture system in which, after testing and analysing cultivable soil, an app named Agrisheba will notify farmers of soil status and other key factors in order to boost crop yield. It is a smart monitoring system based on the Internet of Things (IoT) that assures the optimal use of agricultural resources such as water, fertilisers, and herbicide to help the soil become more climate resilient. This will also reduce greenhouse gas emissions, water wastage, excessive fertiliser use, crop production expenses, while boosting agricultural efficiency.
"In order to make Agrisheba more useful to our farmers, we would be putting up a comprehensive strategy that includes the necessary technical support, government funding, and research facilitation. To combat climate change, Agrisheba can turn conventional agriculture into resilient and sustainable precision farming," explained Ehsanul, a member of winning team.
"Farmers who are most vulnerable to climate change, lie at the heart of our solution. Furthermore, we would be educating children and youth in rural areas about climate smart farming in order to create meaningful change," he noted.
This winning team is expected to pitch their idea at the World Bank Headquarters in early 2023.
The Samaritans became the first runners up. This team comprised of Rafi Bin Dastagir, Syed Tawsif Islam and Mishfaqur Rahman, from Bangladesh University of Engineering and Technology (BUET). The underlying theme of their solution was to create a sustainable form of healthcare facility that provides instantaneous emergency treatment to patients after and even during natural disasters caused by climate change.
"Our idea, Tatkhonik, was to couple medical boats with autonomous drones that could plan the fastest path towards the patients calling for help avoiding obstacles. The drones would be further equipped with our heat signature detection system to identify stranded individuals requiring immediate help," Rafi explained.
"We planned to boost the accessibility of healthcare among estranged communities. Through Tatkhonik, our goal is to cut down the time it takes for the rescue team to reach the people in need because during emergencies, a minute can be a difference between life and death," Tawsif added.
Finally, Team Go Grey, consisting of Bushra Shakil, Faiyaz Uddin Ayeshik and Justita Musrat from the Institute of Business Administration (IBA), University of Dhaka, ended their journey as the second runners up. Their climate-smart idea involved segregating the water used during ablution in mosques around the country and channelling it for farmland irrigation. Such reuse of water will not only ensure more resources for stakeholders like farmers but also a source of revenue for these mosques who currently solely rely on donations.
"A lot is being done about waste management – starting with segregating different types of waste right where it is created. We decided to replicate the same model to manage, segregate and reuse water," Bushra explained.
"In this case, irrigation canals needed to be dug to create a passage for water to flow from the mosques to the farmland with minor changes in the existing pipeline of the mosque," Faiyaz said.
The participants described their overall experience to be amazing. "We got to know a lot more about the tangible implications of climate change throughout the research and development of our solutions. We are happy to have been even a small part of such much needed change," Justita concluded.