Can lo-fi music actually help you study?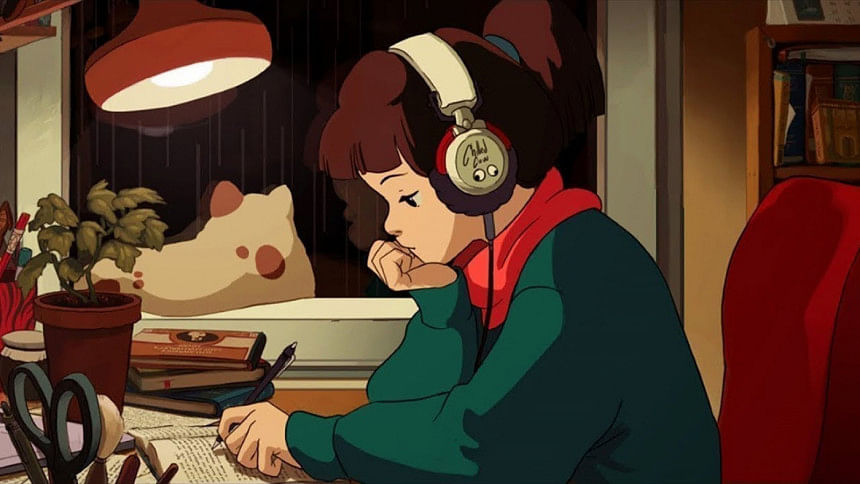 If you're a student, chances are, you probably had those "lo-fi music to study and relax" videos pop up in your YouTube recommendations at least once in your lifetime. They're easy to spot – brandishing the iconic lo-fi girl illustration on their thumbnails, sporting viewing numbers so tremendous that it leaves you wondering if the YouTube app had messed up its number crunching, and almost always having staggering video lengths. These videos claim to have solved a timeless question: how to improve your grades easily, And like a moth to a flame, hordes of students have flocked towards music's holy grail.
Needless to say, this seemingly magical genre has been under countless speculation regarding the validity of its claims, which brings us back to the question, "Does lo-fi music actually help you study?"
The answer? It's complicated, but looking at the science behind the sound helps.
Listening to music can stimulate our brain to form certain chemicals. When you wear that headphone and click play on the track, your brain experiences a surge in the neurotransmitter dopamine, in other words, your brain's "reward center". Listening to music has the same effect as other gratifying activities, such as eating chocolate. Having music in the background also enhances your brain's performance in cognitive tasks and enables the completion of repetitive tasks more easily and efficiently. Music can also improve your brain health, and people who have been exposed to music at young ages report being able to learn better.
Given how listening to music while studying has the aforementioned effects, it means that it can improve your productivity significantly and possibly help you achieve good grades.
Yet another question arises, why has lo-fi music become the go-to music for our academically ambitious demographic? Lo-fi is a relatively niche genre, and surely most people prefer other forms of music to listen in the background rather than a mix of what is seemingly a purposefully shapeless, globalised mishmash of time and place?
Lo-fi music is characterised by several traits: a slow tempo, absence of lyrics, prominent 80's and 90's music inspired jazz tunes, and oftentimes ambient "noise", such as rain sounds. Lo-fi is specifically engineered in this manner, and for good reason. Studies show that lyrical, loud, and emotionally influential songs are distracting and can make you lose focus rather than helping you retain it. Lo-fi music is designed to be the antithesis of that, and its unchaotic, tranquil melody can help you tune out various distractions in your surroundings. It is, essentially, a gateway between you and your focus zone.
Lo-fi music has become an icon in 21st century internet culture, with some mocking it as a deceiving cash grab and some genuinely believing its claimed magic. While science has shown that lo-fi music can, to some extent, help you focus, the topic is still subject to individual preferences and how you feel about it, since not everyone experiences the same productivity frenzy that others do and find it more of a distraction than anything.
In fact, music in general can affect your working memory capacity, which can be detrimental when you're doing a task that needs you to remember many things at a time. But at the end of the day, if you ever see another "relaxing beats to study to" video in your recommended stream, you'll know the origins, science and the reasons for popularity behind this controversial genre.
References:
1. healthline.com (June 22, 2022) Music and Studying, Do They Go Together?
Azneef keeps switching from one incomplete task to another. Remind him to finish his work at [email protected]