Bocchi the Rock!'s representation of social anxiety is mesmerising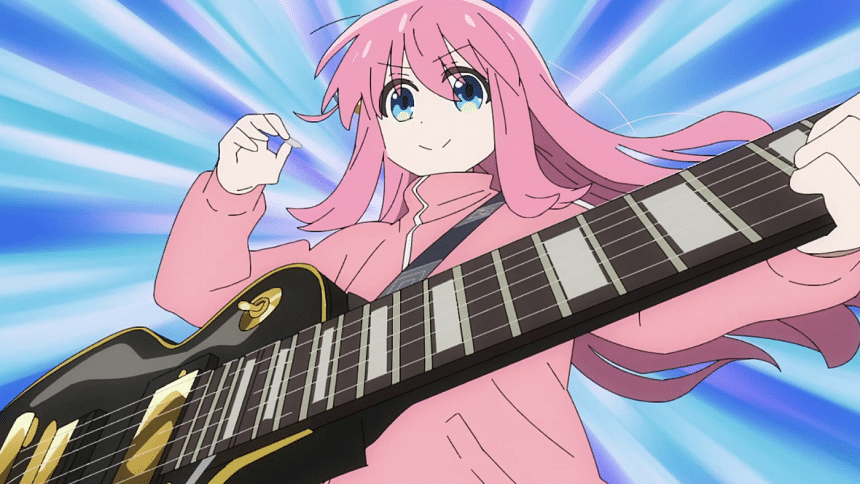 Since time immemorial, socially anxious characters have continued to be misrepresented in the realm of anime. Their struggles have been trivialised to the point where a lot of them seem to exist solely to be made fun of, or as plot devices for the story to develop.
Although positive representation of some degree does exist within shows like WataMote and A Silent Voice, there's barely a handful of shows that portray social anxiety in a mature and sensible light. That being said, the Fall 2022 anime season seems to have graced us with another show that falls under that category, with the absolute bundle of joy that is Bocchi the Rock!
Produced by CloverWorks and adapted from the manga of the same name, Bocchi the Rock! is a phenomenal slice of life and comedy anime that follows a young girl, Hitori Gotoh, with crippling social anxiety. Throughout her life, she's had trouble making friends and fitting in with others, leading her to start avoiding social interactions completely.
However, after becoming inspired by a popular band's frontman/guitarist, who claimed to have found his footing in life through performing, she decides to turn her world upside down. In her pursuits, she decides to learn how to play the guitar, form a band, and use it as a conduit towards forming relationships and growing out of her shell.
Our protagonist's willingness to change and find an avenue to express herself is something that stands out from the preceding shows that have similar characters. Even though she struggles with low self-esteem and constantly worries about projecting her problems onto others, she understands that she must improve herself.
Despite being withdrawn in public, she tries to speak up when the need arises, and forms independent hobbies of her own volition. She also understands that her isolation isn't something to glorify, which motivates her to improve herself without anyone prompting her.
This is another aspect that's appreciable, because anime featuring social anxiety can quickly become pandering in form. But that isn't the case here due to Bocchi's impressive cast of characters. None of the band members look down on Hitori for her reclusive nature. Instead, they formulate plans to work around each other's strengths and weaknesses, ensuring that everyone remains on an equal footing.
Furthermore, the series does not attempt to depict Hitori's struggles as desirable or elegant in any way. Instead, her brutally realistic loner experiences, along with the long-lasting impacts they had on her, are put on full display for what they are.
Some of her day-to-day difficulties – even ordinary tasks like talking with a classmate, entering a cafe on her own – are portrayed by visual sequences and light-hearted gags that enrich the convincing depiction. Even still, the exaggerated wackiness of it contributes to the anime's comedic tone without interfering with the emotional core of each episode.
Beyond its "cute girls doing cute things" hook, Bocchi the Rock! is a thematic journey that overflows with creativity and innovation. By the time the first few episodes finish, you will definitely find yourself cheering for the band as they work behind their dreams and ambitions of making it on the big stage.
Ayaan loves to read dinosaur comics and poorly-written manga. Recommend your least favourite shows at [email protected]