Bengal Tigresses on the verge of making history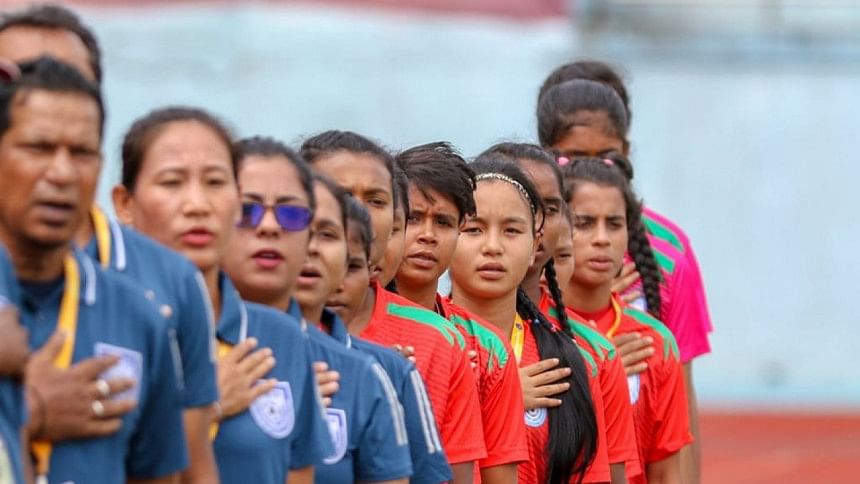 Bangladesh women's national football team has advanced to the final of the 2022 SAFF Women's Championship for the second time in their history. With the dominant performance they have shown so far, it's not unlikely that they might finally bring home the trophy.
Bangladesh started their road to the final by comfortably defeating Maldives 3-0 in their opening game. They then beat Pakistan 6-0 in their second match, with captain Sabina Khatun scoring her first hat trick of the tournament.
However, the most notable win in the group stages for Bangladesh came against India where they won 3-0. Bangladesh previously had never won against India and had lost five and drawn one against them with an aggregate score of 21-2 since 2010.
The Bengal Tigresses then went on to thrash Bhutan 8-0 in the semifinal, with the captain getting her second hat trick in the competition. Bangladesh reached the final by scoring 20 goals without conceding any in the whole tournament.
This incredible growth that our women's football team is seeing right now is a result of the hard work and effort everybody involved has put in over the past decade. 
The start of this journey can be traced back to the creation of the Bangamata Begum Fazilatunnesa Mujib Gold Cup Primary School Football Tournament in 2011. The tournament created awareness about women's football amongst people as more girls from all across the country started playing football. Most of the players in our current team started their careers by playing in this very competition.
An influential figure in the team's journey is their current head coach Golam Rabbani Choton, who has been involved with women's football in the country since 2009. He has continuously contributed to the project for the past ten years and is now coaching the main team.
Of course, our tigresses had to overcome various other obstacles on their way to reach the stage they are in now. Midfielder Sanjida Akhtar mentioned in an interview the lack of support she received. She also stated that it was her father who supported her and her ambitions while others mostly had a negative view regarding her playing football.
Mohammad Mafizuddin, a reputed football coach from Kalshindur village also stated that many were against the idea of girls playing football. He recalled going to people's houses to convince parents to let their daughters play the beautiful game.
Through sheer determination and hard work, while juggling education and their football career, and overcoming all the adversities in their way, these players have managed to make us proud with their on-field performances. As Bangladeshi football fans, it's time we show our support and encourage them to achieve more.
So, don't forget to tune in when Bangladesh faces Nepal in the SAFF Women's Championship final on September 19 at 5:15 pm and support the Bengal Tigresses who are on the verge of making history and bringing home the glory.
References
1. Ekhon TV. An Interview with Sanjida Akhtar and Mohammad Mafizuddin. (July 12,2022)
2. Bangi News. Rise and Rise of Bangladesh Women and football.
3. Dhaka Tribune. Rise of Bangladesh girls. (January 4th, 2018) 
Tamjidul Hoque likes to talk about football and checks his emails from time to time, you can contact him at: [email protected]