Battle of Minds 2019 Creating a global platform for future leaders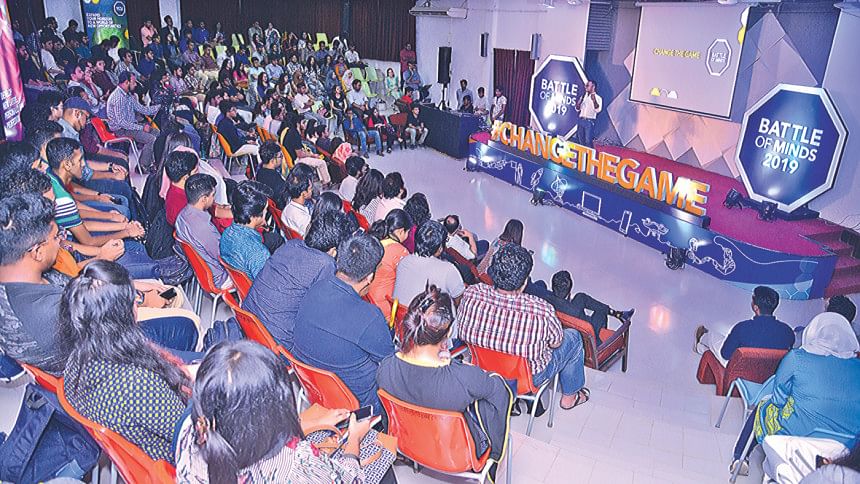 "Ever since its inception, Battle of Minds has been consistently giving students a taste of what it's like to take a step into the real world by giving them the exposure to the corporate world as well as the opportunity to manage real business challenges. This in turn hones their entrepreneurial skills, turning them into true business leaders."
Professor Mohammad Khasro Miah PhD, Director, Career and Placement Center, North South University
"The moment when we lifted the flag as global champions in London was one of the most surreal feelings that I've ever had. The visit to BAT HQ, meeting with inspirational leaders across the world and making friends across borders made for an incredible experience that I will always remember."
Ramim Ahmed, Global Champion of Battle of Minds 2018, from IBA, DU; currently Global Graduate, Human Resources, BATB
"This platform was my first ever exposure to the corporate world – a start of an amazing journey that has challenged and excited me every step of the way ever since."
Nabil Azad Chowdhury, First Runner Up of Battle of Minds 2011, from NSU; currently Brand Manager, Marketing, BATB
One of the most anticipated talent recruitment platforms in the country, Battle of Minds, is stepping into its 16th instalment this year. Following its first ever global launch in 2018, the stakes are higher than ever before this year with the global champions getting an opportunity to do a global internship almost anywhere in the world at a country of their choice.
Participants from universities nationwide apply to this platform each year, with numbers reaching several thousand annually over the recent past. An initiative by British American Tobacco Bangladesh (BATB), Battle of Minds started its journey as the first ever talent recruitment platform back in 2004 with four Bangladeshi universities. The idea was to create a talent engagement platform where the brightest minds in the country could showcase their skills in strategy and presentation and get first-hand exposure of the corporate world by solving real life business simulations. Since its inception, the platform has evolved with participants managing real life businesses to solving complex socio-economic issues affecting the country, lately with an enhanced focus on the implementation of the Sustainable Development Goals in Bangladesh. Over the years, over 5000+ Battle of Minds alumni have gone on to become leaders in business and academia in the nation and beyond. It has served as a key recruitment platform for BATB, with more than 150 of the brightest minds in the country joining highly competitive positions within the company.
After its massive success in Bangladesh, Battle of Minds became the first Bangladeshi talent brand to be exported worldwide as a global talent engagement platform by BATB. This year, a total of 40 countries will be taking part in this global platform. The first round includes a short video pitch on any of the following topics: Automotive Advances, Digital Banking, and Retail Renaissance. From these submissions, the best applicants will be shortlisted to take part in a special boot-camp where the students will be groomed and prepared for the semi-finals and consequently the national grand finale.
Once a team wins the national round of Battle of Minds, they will have to go through the regional round. The regions are divided into four segments: Asia Pacific, Europe and Northern Africa, Americas and Sub-Saharan Africa and the United States. After winning the regional round that will take place in London, UK, the four regional winners will take part in the global finale where the teams will battle it out to win the Battle of Minds global championship. The winning team members will get the opportunity for an exclusive internship at any of the country offices of Battle of Minds participating countries within BAT Group.
Following the launch of Battle of Minds 2019, BATB has already conducted extensive roadshows in 10 different universities all across the country, including University of Dhaka, North South University, Jahangirnagar University, Islamic University of Technology among others. The roadshows drew a massive response from students nationwide, who gathered for an exclusive information and grooming session with top managers from BATB.
The roadshows at each campus offered students a chance to engage with their university alumni, who fondly reminisced about their Battle of Minds experience and their journey so far in BATB. Students also played an interactive app-based quiz where they were competitively tested on how much they knew about Battle of Minds, an exciting digital immersion seen for the first time in a corporate campus engagement session in Bangladesh. With 4000+ applicants registered already, Battle of Minds 2019 is all set to crown a new champion in its legacy of leaders.