Bangladesh wins 1 silver and 5 bronze medals at Open World Astronomy Olympiad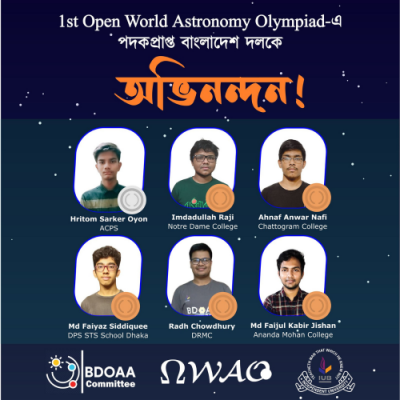 This year, the Open World Astronomy Olympiad (OWAO) was organised for the first time ever and was held in Saransk, Russia from September 26 to October 2. The competition seeks to promote astronomy education, recognise bright students, and build worldwide academic relations. 
Hritom Sarker Oyon, from Adamjee Cantonment Public School, bagged the silver medal at the competition while the bronze winners include Imdadullah Raji from Notre Dame College, Ahnaf Anwar Nafi from Chattogram College, Radh Chowdhury from Dhaka Residential Model College, Faiyaz Siddiquee from DPS STS School, and Md Faijul Kabir Jishan from Ananda Mohan College.
The competition was conducted remotely with the exams being monitored through video surveillance. It consisted of four rounds – theoretical, practical, observational, and test rounds. Participants were required to use computers for data processing and analysis. 
The selection process for the competition was regulated by the Bangladesh Olympiad on Astronomy and Astrophysics (BDOAA). The activities of the organisation include conducting several regional and national olympiads on astronomy and astrophysics (A&A), hosting the A&A camp, and sending students to different international olympiads.
After rigorous training at the camp, a team of six members was selected and led by Md. Arman Hasan, Fahim Rajit Hossain, and Md. Mahmudunnobe, all of whom are academic team members of BDOAA. During the process, the participating members gained in-depth astronomical knowledge by developing various mathematical and observational abilities.
Maisha Islam Monamee is a student of IBA, DU, and a freelance journalist who likes reading, scribbling, and blogging. Write to her at mislammonamee@gmail.com