5 ways to deal with greasy food during the Eid-ul-Azha season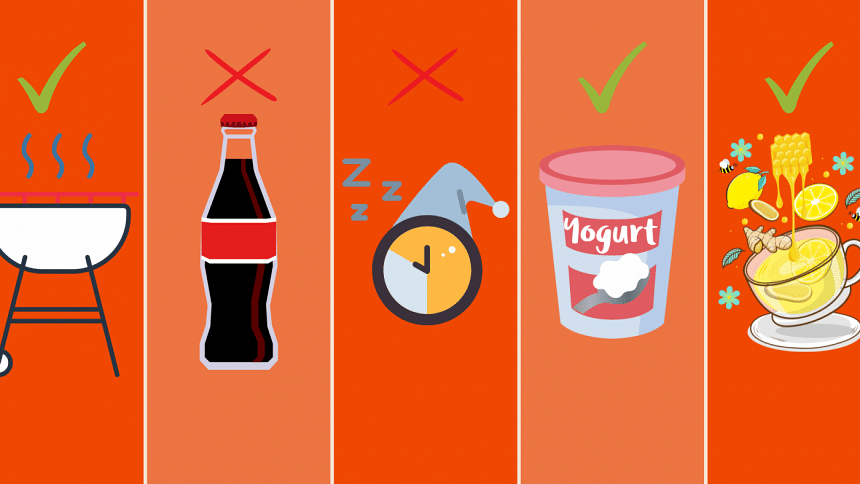 Eid-ul-Azha is here, and many of us are looking forward to a few days of sinful gluttony at meat galores, at our own homes as well as at house parties at others' places. While this is a common phenomenon every year, we usually tend to forget how consuming too much oil and fat can negatively impact our health, both in the short and long terms.
Here are 5 ways you can tackle your excessive consumption of greasy food this Eid.
1. Opt for Healthier Cooking Styles
Prevention is better than cure, and in this situation, it's always better to turn to healthier cooking styles. For instance, instead of cooking all the meat with excessive oil, you can try grilling some as grilling requires much less than cooking or frying. Similarly, you can also use a skimmer to separate excess oil from your gravy and meat as you cook.
2. Skip Cold Drinks and Desserts
Once you have your fair share of the rich, oily, delicious food on the table, you might be tempted to wash it down with a glass of cold drink and some dessert afterward. But it'll be better for your health if you don't. 
The coldness of these items affects the functionality of our intestines, liver and stomach and this combination means your digestive system will have a harder time digesting the fats in your body, which in turn might give rise to gastric issues.
3. Avoid Napping
Another temptation we often face after consuming oily food is the desire to nap because we feel so full and heavy. However, sleeping right after a greasy meal encourages fat deposition in our bodies and obstructs efficient digestion of the fats in our system and can also potentially trigger acid reflux, gas formation and bloating. In fact, going on a stroll (not jogging or running) after a meal is shown to increase metabolism and encourage better digestion in people after their meals. It also helps with weight loss.
4. Indulge Yourself with Probiotics and Fibres
When we consume too much fat, the number of healthy gut bacteria decreases and the population of unhealthy gut bacteria grows. Research has tied these changes to multiple fatal diseases like cancer, obesity and Parkinson's disease.
A good way to balance these changes is to have probiotics like yoghurt and some cheese kinds (e.g. cheddar and mozzarella) before or after an oily meal because probiotics will keep replenishing the good bacteria in your gut.
5. Sip on Drinks that Aid Your Digestive System
Certain drinks help us with our digestion. For example, it is commendable to drink warm water after a greasy binge because warm water speeds up digestion by making it easier for our digestive system to break down the fats and other macromolecules in our system into smaller and softer molecules. 
Similarly, ginger in warm water relaxes our gut muscles and thus helps prevent build up of gases and lukewarm green tea, with its abundance of antioxidants, counters the oxidative load on our digestive system, which is caused by the excess fat in our food.
At the end of the day, it's Eid. So it's understandable if you wish to indulge in all the mouthwatering food around you. However, for the sake of your health, do make sure that it doesn't happen too often and that you take some minimal precautions.