What your favourite shoe says about you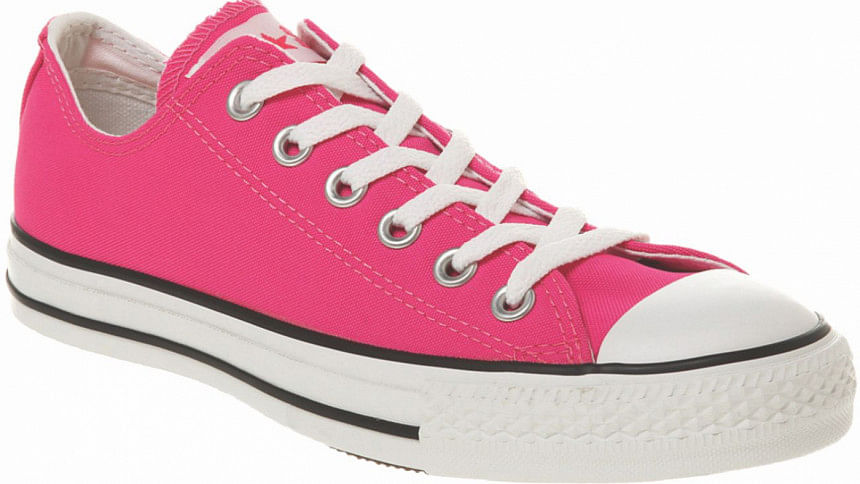 They say you shouldn't judge a person unless you've walked a mile in their shoes. Well I'm feeling a little rebellious and I'm about to judge you just by the type of shoe you wear. *pushes in glasses and sips tea*
CHAPPAL
You're the type of person who has three tee shirts in the same colour yet wears the same one throughout the week. Your mother is always pestering you about cutting that Meyedermotolombachul of yours and your dad only shakes his head in disapproval when he sees your humongous headphones. People may think you like wearing these ugly, leathery, two strapped foot wear, but honestly, this is just the only thing they make in your size.
CONVERSE
This is most likely the only pair of your shoes that you've ever worn which makes it your favourite by default. You're the type of person who's still into knock knock jokes. Other than that, you're just another tomato cube in life's enormous salad bowl.
Unless you wear neon orange converse. If you do, then you're a freak, and I respect that.
FLATS
If you're someone who always turns to flats, chances are you an extremely hard worker, who's always on her feet. You're humble and down to earth, and that's how you like your shoes.
Well it's either that or you're 5 feet 8 and your boyfriend won't let you wear the shortest heels, because even though he doesn't admit it, he's an easy two inches shorter.
KNEE-HIGH BOOTS
Perhaps you're a decent bathroom singer and you've somehow grown the impression that you're Beyoncé and you can rock these boots. You say these are your favourite pair of shoes but you've only ever wore them once, in the store when you bought them. All the impact these "favourite shoes" of yours has brought onto your life is the 302 likes you got by posting an aesthetic picture of it on Instagram and the fact that anytime a celebrity appears with boots on TV you go like "Yeah, I've got those too".
PUMPS
If you're into pumps, chances are you're a total girl boss. You're fierce, competitive and a leader. Your dominant and powerful aura makes people stutter in fear when you're around. Or maybe, it's just because they're just of afraid what may be the fate of their toes if you were to "accidentally" step on them.
WEDGES
You aren't exactly vertically blessed and heals are a menace. You are eternally grateful to the shoe industry for this beautiful invention. Now you get to be tall, and comfortable.
Samin Sabah Islam believes, there are very few problems in life, if any, that a good nap can't fix. If she isn't asleep, your queries may be answered at [email protected]