Where Vogue meets Value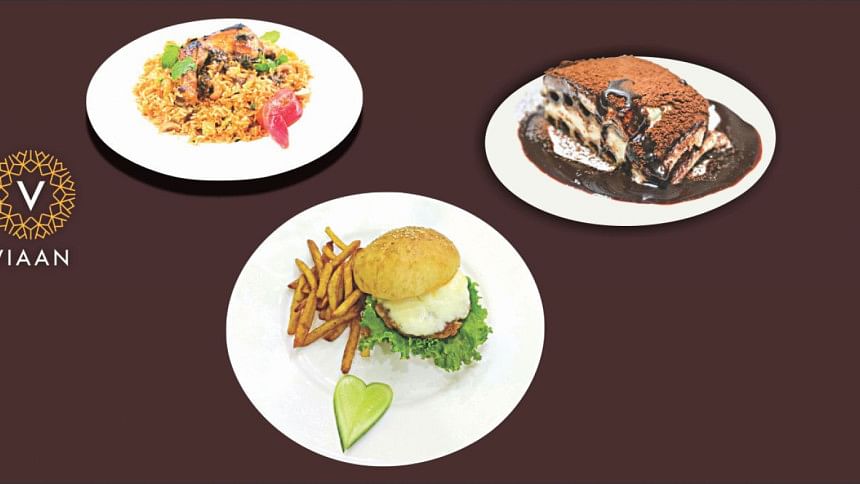 For quite some time now, I had been looking for a multi-cuisine eatery that provides warm ambience, scrumptious food and a wallet-friendly menu. It's pretty hard to find one which can hit that sweet spot in Dhaka these days. But as I walked towards the Bashundhara gate from the residential area a week back, I encountered this gem of a place named Viaan Restaurant. 
Viaan fashions itself as a restaurant that is perfect for families and friend circles, while keeping room for elegant dates too. In the background, the soothing music from the '80s surely helps set the mood. The medium-sized TV ensures that you wouldn't have to miss your favourite match as you chow down your food. 
I'll start with the Italian food. The lasagne Bolognese was cheesy, meaty and you'd be hard-pressed to find something this good within Tk 350.  Try out the seafood pasta or the penne with smoked chicken too, as they are top-notch. Their pizza game is pretty strong. I ordered a Viaan special pizza topped with tomato, egg, cheese, mushroom and spinach. Point to be noted: all pizzas currently come in 10 inches; you can ask for thin or thick crusts. Tuna, pineapple, anchovy, ground beef, and seafood – the varieties are well-balanced, while staying between 380 and 500 bucks. 
Middle-eastern food is always fascinating, and Viaan's is no exception. The chicken khabsa (Tk 300) was simply delightful, and I would strongly advise you to have it while it's hot. I made the mistake of taking it home once – it was nothing like the taste you get in the restaurant. I am really excited about trying out their Koel or Pigeon Khabsa too! The Arabian Shwarmas are delectable enough to give the nearby shwarma places a run for their money. 
Thai soup, corn soup, cream of chicken or mushroom, minestrone soup – you name it, they have it. For a soup fan, their range is pretty exciting. Thai and Chinese food are also available although I am yet to try them. I was pleasantly surprised to find hummus and pita bread, alongside fish and chips at Viaan. 
I saved the best for the last. If you love desserts, the tiramisu here can be the happy ending to your culinary adventure. It was a joy for my taste buds, as I took time in devouring the goodness. Tea? Coffee? Brownies? Pudding? Pie? Viaan has it all.
Just like their well-lit interior, Viaan makes it clear that they have nothing to hide. The prices in the menu are all VAT inclusive, so there's no need to worry about rummaging your pocket for unplanned expenses. I would most certainly commend the waiters for being hospitable. Alkaline water is complimentary. There's home delivery starting soon, and the place takes reservations for special programmes as well. 
In my opinion, the abundance of options is quite the double-edged sword – it might take you ages to figure out what to settle for. But Viaan's tagline "A quality, multi-cuisine experience at affordable prices" truly does justice to whatever they offer. There is something for everyone and that is exactly what makes it such a great place for frequent hangouts. 
Find them on Facebook: www.facebook.com/viaanbd