Fearless Strokes: Wall art to show a future we want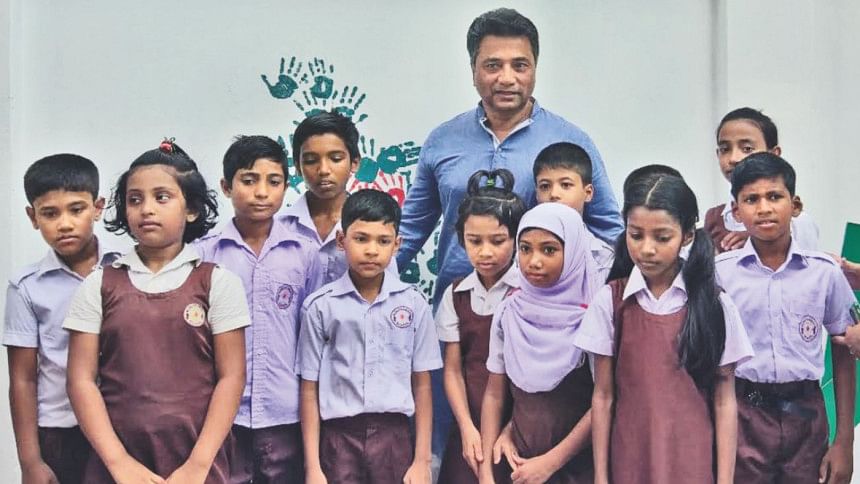 With an aim to enlighten the minds and souls of the youth and children Alokito Hridoy Foundation along with Dhaka North City Corporation organised an initiative titled "Fearless Strokes". Fearless Strokes began as a street art competition and was launched by the foundation on Facebook in mid-April. The youth community was invited to take part in groups based on the theme – "A Bangladesh of Your Dreams".
Over a period of 25 days, around 200 submissions were made, among which only 15 submissions were shortlisted by a prestigious jury panel. It consisted of Kanak Chanpa Chakma, Rafiq Azam, Enamul Karim Nirjhor and Syed Rashad Imam Tanmoy. The paintings were submitted by groups of students from various universities such as North South University (NSU), Independent University Bangladesh (IUB), University of Liberal Arts Bangladesh (ULAB), BRAC University, American International University Bangladesh (AIUB), Dhaka University Fine Arts Department, Bangladesh University of Engineering and Technology (BUET), Bangladesh University, Rajhshahi University (RU), etc.
The selected teams were then invited to a workshop with the jury panel on May 12 at Moar in Banani. The members of the jury panel interacted with each of the participants and guided them on different ways of how to enhance their paintings and their skills as artists. The judges also shared their own experiences and insights on local art and culture and its significance in our lives. The session that began as a workshop ended with a rich philosophical and ideological exchange between the judges and the participants.
From the 17 paintings on the long stretch of WAPDA Field wall in Banani 11, two paintings on two blocks of walls were done by some of the children of Alokito Hridoy Primary School. These students came all the way from Tangail. They had previously participated in an art workshop and an interschool art competition based on the same theme. The workshop and competition was hosted by Alokito Hridoy Primary School and conducted by Voiceless Bangladeshi and students from ULAB.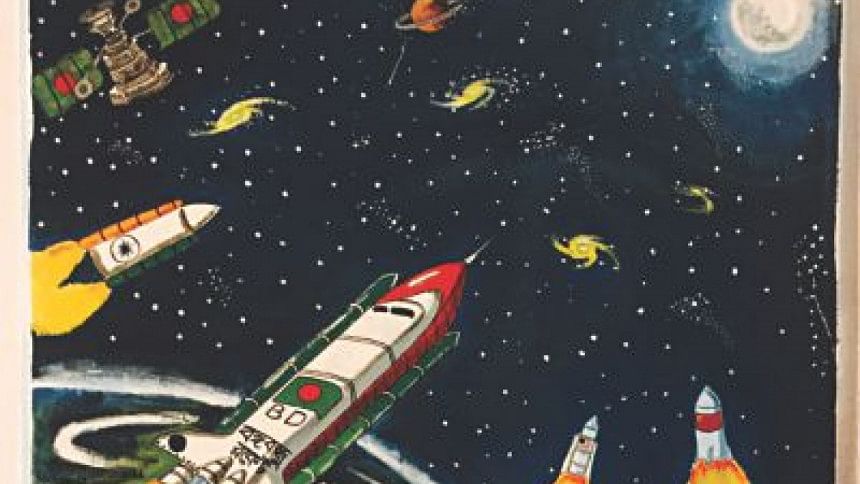 On May 20, the shortlisted participants were invited to recreate their paintings on the wall surrounding WAPDA Field. Berger Paints Limited provided the paints and Takeout Burgers provided lunch for the participants during the event. Amidst the sweltering heat the participants relentlessly worked to transform the walls with their fearless strokes into meaningful images of how they dreamed of a future Bangladesh. The young generation can be motivated and inspired to build a prosperous Bangladesh with such positive initiatives of this scale.
Mayor of Dhaka North City Corporation, Annisul Huq, arrived right before sunset and observed the paintings while hearing stories and thoughts behind each work of art from the participants.
However, to sustain the impact of such an event, and to ensure that the artists get recognition, motivation and a source of revenue, a website will be launched titled www.fearlessstrokes.com by Alokito Hridoy Foundation. On this website all the participating artists and many more aspiring artists will be able to put up their artwork using their profile. The artwork would be imprinted on various merchandises like cups, mugs, cushion covers and sold on the website.
The writer is Founder & Chairperson, Alokito Hridoy Foundation and Lecturer, Department of Political Science and Sociology, North South University.